WASHINGTON — In a shock to almost no one, this year has been officially hot.
So far, the nation's capital has hit that 90 degree temperature mark a total of 62 times through Wednesday, October 2nd.
For context, on average, D.C. sees 36 days of 90+ temperatures for the entire year. Last year, we had 45.
That being said, the record for days above 90 is actually 67 days - hit in both 2010 and 1980.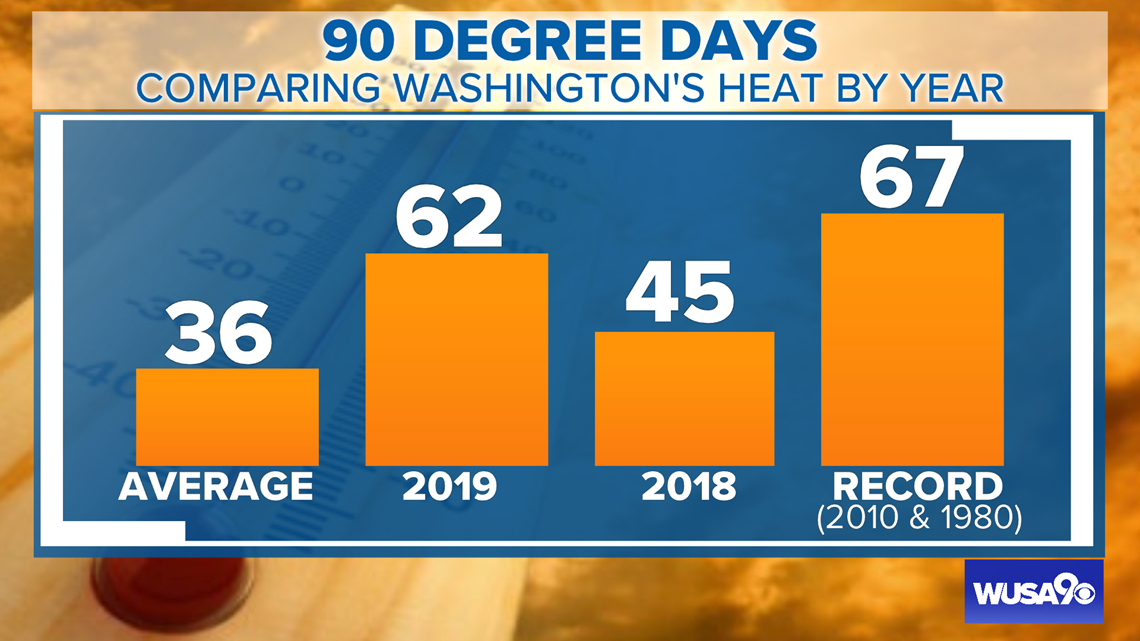 We haven't hit 100 degrees this year – not officially, anyway, the heat index has felt hotter – and we haven't seen 100 degree temperatures since 2016. National recorded highs of 101, 100 and 100 from Aug. 13 through Aug. 15 in 2016.
This past July was the ninth warmest on record - tied with 1955. The average temperature - not the average high, to be clear - for July was 82.1. The long term average for July is 78.1.
Who can forget the heat after the Derecho in 2012? Reagan National Airport hit 104 on June 29 in 2012, the day of the Derecho. When power was out, it stayed hot in the DMV.
Here are the highs from July 1 through July 8 in 2012: 99, 95, 98, 100, 100, 105 and 102.
All the temperatures we're referencing were taken by the National Weather Service at Reagan National Airport.