WASHINGTON — A poorly forecast blizzard hit the D.C. Metro Area on February 18-19, 1979. Snow began falling at night on February 18 and ended in the morning of February 19. National Airport recorded 18.7" inches and it still remains DC's third largest snowstorm on record. Only the Knickerbocker Storm in January of 1922 and the Valentine's Day blizzard in 1899 were larger.
The February 1979 storm produced a snow depth of up to 23" downtown and 18" fell in a mere 18 hours! Snowfall reports of 2" to 3" inches per hour occurred with temperatures in the single digits and teens. Early forecasts was for only 4" to 6".

FEBRUARY 1979: This was the second snowiest February on record in Washington, D.C. for 31 years – until 2010. A total of 30.6" of snow fell at National Airport that month, with the bulk coming on February 18-19. That's when 18.7" of snow was measured in a paralyzing winter storm which remains the third largest snow total in DC history. This storm is also significant because it ranks as the largest snowfall on record since National Airport opened in 1941. The two largest snowstorms in DC history occurred in January of 1922 and February of 1899, respectively, when weather measurements were made downtown.
Photo: Snow Totals from February 18 - 19, 1979. App Users CLICK HERE.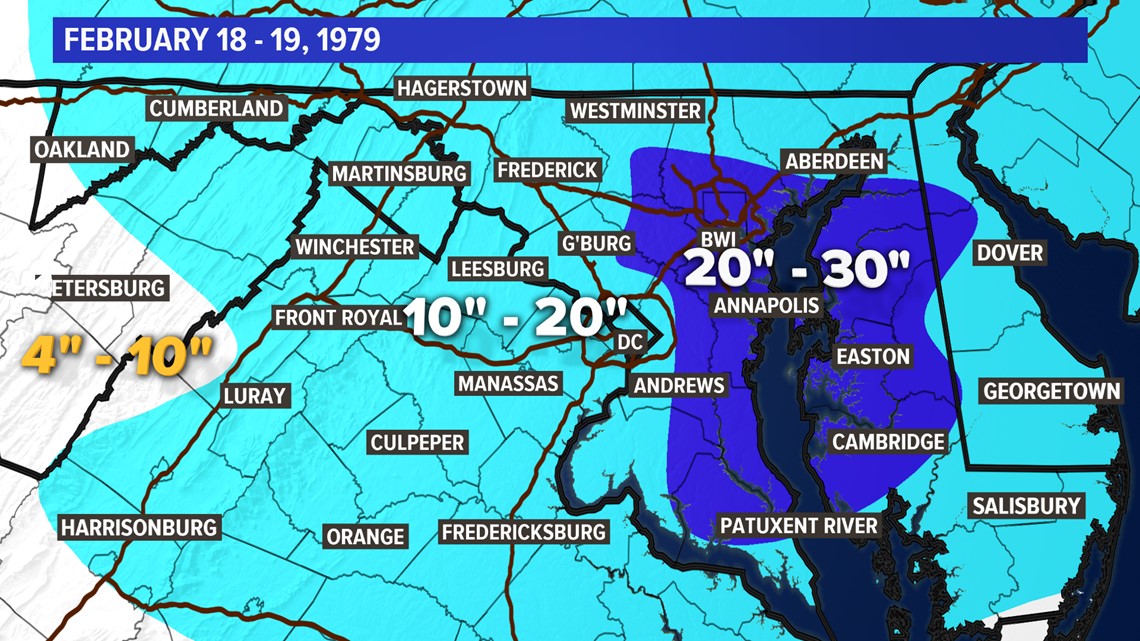 Setup - Why It Slammed DC
At the time, weather computer models were not as sophisticated as they are now. It was not a well forecast event. It was a case of the storm not going out to sea, but rather sliding up the coast close enough to bury the Mid-Atlantic region in heavy snow. New York City had less than 5" and there was no snow in Hartford or Boston. Baltimore had 20", which was its third largest snowstorm on record at the time.
Below is a satellite image of the Presidents' Day storm on the afternoon of February 19th, 1979. This was in the early days of weather satellites, so the picture is not as clear as what you see in modern day on television. Look at the outline of the US, then look for the big comma-shaped clouds on the map. At the head of the comma is the center of the low pressure or blizzard, which brought heavy snow to DC and Baltimore.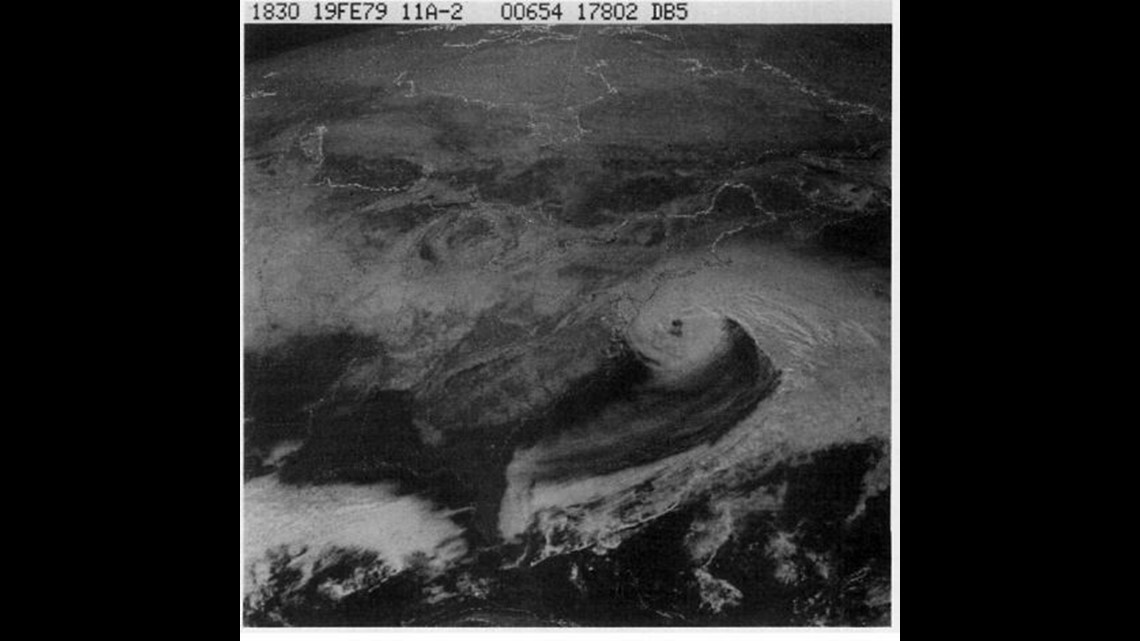 Blizzard Aftermath: Digging Out
Many farmers, who had driven their tractors to the Mall to protest agriculture policy raising prices. When the blizzard hit, they were still in DC and helped to dig the city out and clear away the snow from the streets.
Metro had just expanded from 5 to 38 stops in the years before this event. They struggled to clear snow from the 15 miles of track. There were very few public commuter buses at the time. Driving was difficult with snow-covered roads and mounds of snow blocking cars parked on the street. Many Washingtonians ended up walking to get where they needed to go in the days after the blizzard.
DC had a total of 37.7" of snow that fell during the 1978-1979 winter season, with 30.6" falling in February alone. The snow melted quickly and the winter as a whole was warm and wet.
President's Day Weekend -- Some Of DC's top snow storms
1979 is not the only year that DC has had a big snow on President's Day weekend. A few years later in 1983, the city picked up over 16" of snow. And then in 2003, another big snow with over 16" at Reagan National.

RELATED: DC's 15 worst winter storms
This video is from DC's 2003 President's Day Storm, also known as the "Big Dawg Storm", featuring Howard Bernstein.
There is more snow possible this Presidents' Day weekend in DC. Click the link below to read more about when the snow is possible and accumulation potential.