WASHINGTON -- On April 28, 2002, an F4 tornado with max winds between 207 and 260 miles per hour hit La Plata, Maryland, and many other towns in the twister's 68 mile path.
Houses and businesses were leveled to the foundation. Buildings that had stood for hundreds of years crumpled from the 200 plus miles per hour winds.
Sturdy brick walls came toppling down. Trees were shredded in half. Power lines snapped. The tornado was so strong it even knocked the town's 75-year-old water tower.
PHOTOS: 2002 La Plata, Maryland tornado
Here's a video from the day after the tornado hit, showing Bruce Johnson interviewing then La Plata Mayor William Eckman.
Eckman described the obstacles in the aftermath of the storm -- having to get water and sewer systems back in order before being able to clear debris and start a path to rebuilding.
Meteorology: What Happened
The tornado formed from a supercell thunderstorm that first produced a tornado in Shenandoah County. As it crossed over the Potomac, it produced another tornado that stayed on the ground for 68 miles, including 24 miles on the ground in Charles county.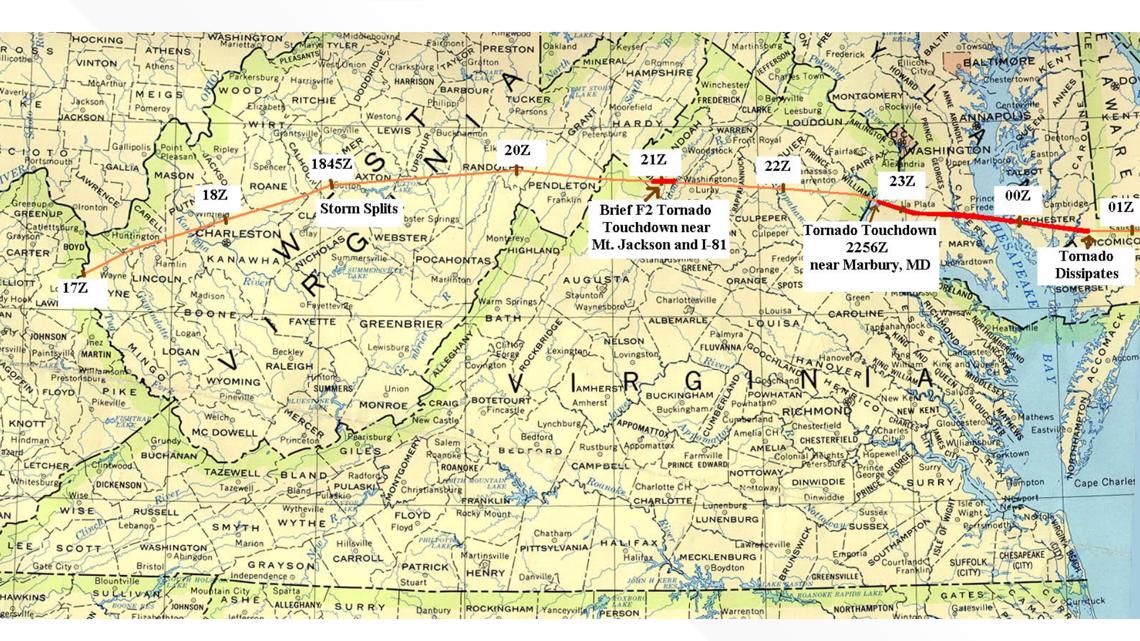 The tornado strengthened and grew as it neared the town of La Plata. It was roughly a half-mile wide and had multiple vortices. It produced a large swath of F3 and F4 damage right through the historic district and old business district in La Plata.
The storm would have been classified as an EF-5 with the current Enhanced-Fujita Scale used from 2007 to present.
Chief Meteorologist Topper Shutt and Meteorologist Howard Bernstein were working that day and remember it vividly.
Bernstein was the first reporter on scene. When he got there, there were people still wandering around aimlessly.
They were in triage-mode trying to help the injured. Here was his report and account from that night after the storm hit.
The La Plata tornado was the second strongest tornado ever recorded in the East at the time, coming behind the 1953 Worcester, Massachusetts twister.