WASHINGTON — Multiple counties in the DMV region are under severe thunderstorm watches, and warnings have been declared for some areas of the DMV region by the National Weather Service this afternoon.
A Severe Thunderstorm Watch is in place until 9 p.m. for the following areas:
Anne Arundel, Prince George's, Calvert, Charles, & St. Mary's counties

Areas in light yellow included in Severe Thunderstorm Watch until 9 p.m. A watch means that conditions are ripe for severe storms to occur. Storms may produce winds up to 60 mph or a small, brief tornado.
A Wind Advisory has also been put in place by the National Weather Service from 8 p.m. until 4 a.m for most of the areas included above.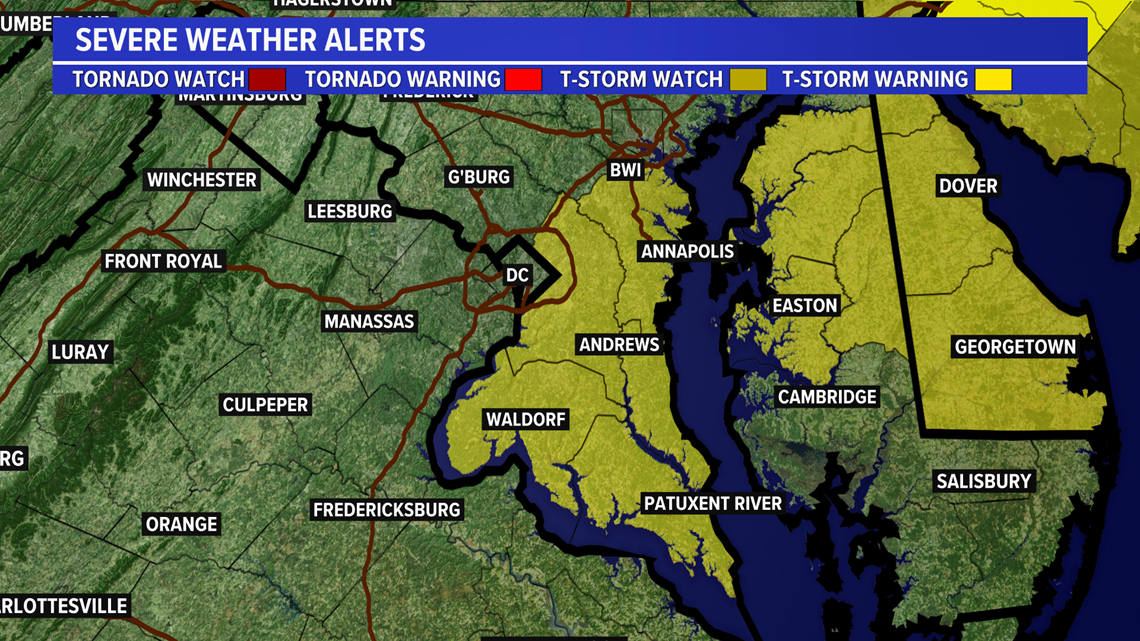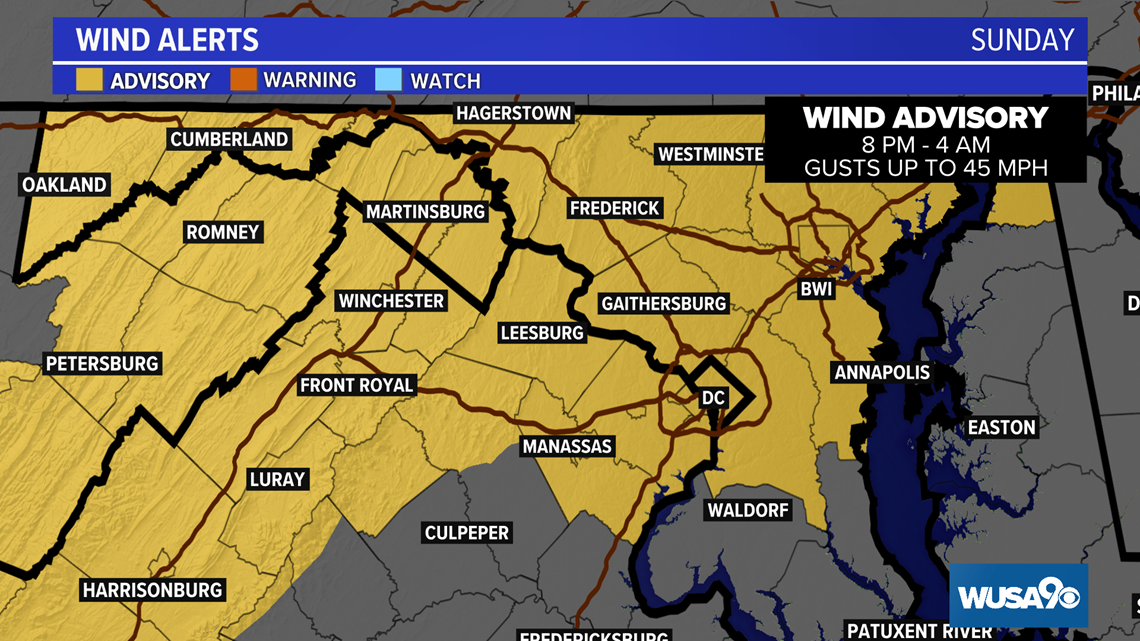 Strong to severe thunderstorms are possible on Sunday, mainly in the afternoon. We are under a Yellow Weather Alert Sunday.

The Storm Prediction Center has placed the D.C. region under the slight risk category for severe storms. The main hazard is damaging winds, with a very small chance of hail and a small tornado threat.
Sunday will be warmer periods of showers and thunderstorms. Some strong storms are possible afternoon.
You can keep an eye on the radar for free from the WUSA 9 app.
In the afternoon, more showers and thunderstorms will flare up as a cold front moves across the region. Critical timing for strong to severe storms is now - 9 p.m. in metro Washington.
Thunderstorms in this period may produce wind gusts in excess of 60 miles per hour. Additionally, a low-end tornado and hail threat is forecast. A couple of thunderstorms may spin up an isolated tornado.
Thunderstorms will mainly be east and southeast of metro Washington by 7 p.m. In Southern Maryland,. expect strong thunderstorms through 9 p.m.

Storms will end in most places by 9 p.m. Clearing to a colder and dry night across our region.
6:30 p.m.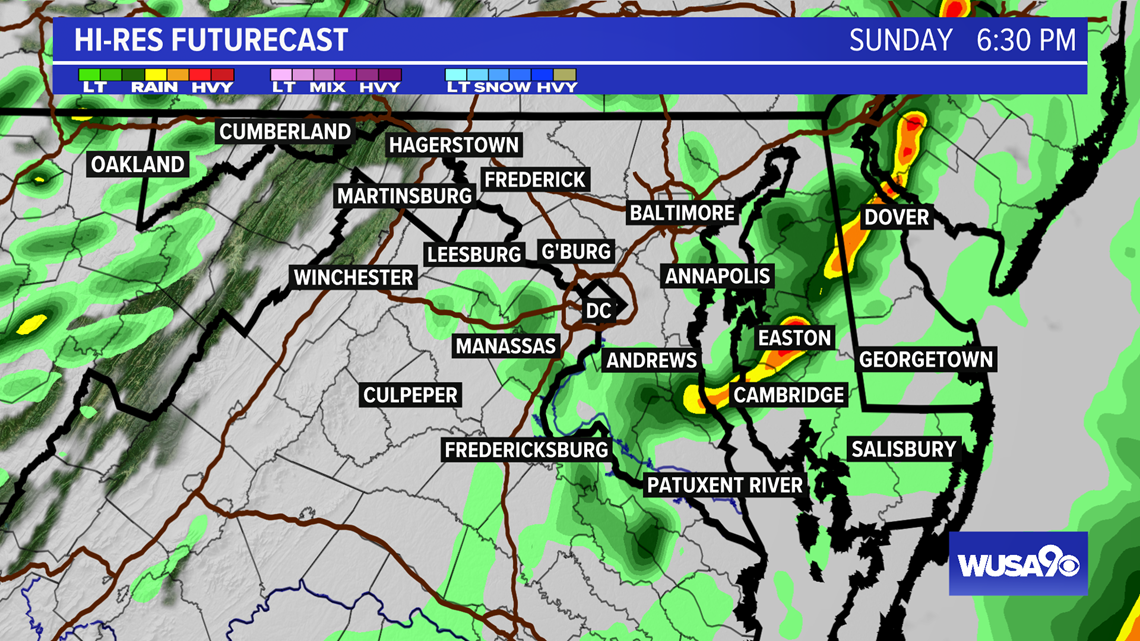 9:00 p.m.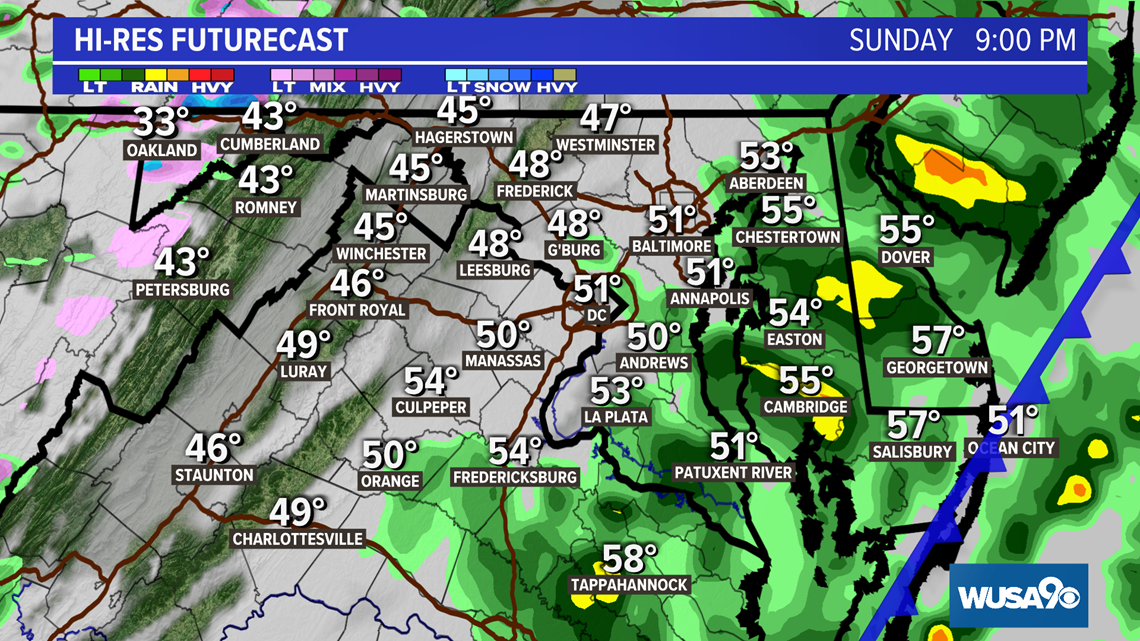 WIND THREAT
In addition to the thunderstorm threat, winds will become breezy on Sunday with gusts up to 45 mph and stronger. Items like trash cans and patio furniture may get blown around. A few weak trees may snap and there could be minor power outages. Expect gusty winds through Sunday night and blustery conditions into Monday. A wind advisory goes into effect 8 p.m. Sunday until 4 a.m. Monday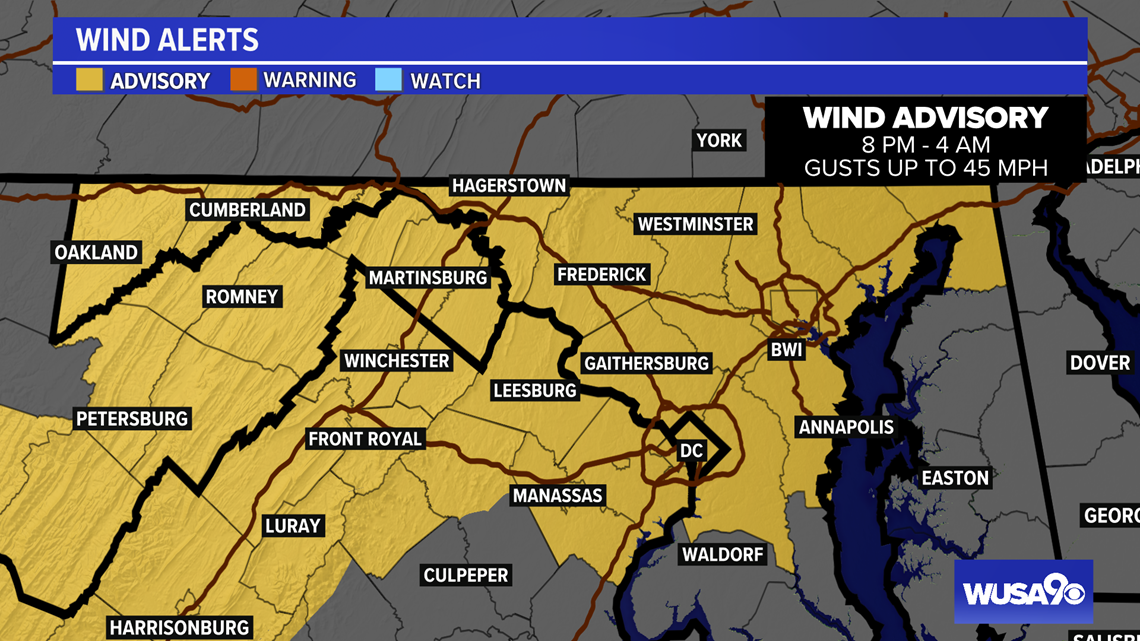 Quiet weather returns for Monday, with sunshine and cooler 50s and 60s in the weather forecast.