WASHINGTON — A Tropical Storm Warning and Flash Flood Watch are now in effect for the DMV region due to Isaias moving up the East Coast. Here is how flooding and strong winds could impact us:
Isaias was downgraded to a tropical storm Tuesday morning after it made landfall as a Category 1 hurricane at the North and South Carolina border late Monday night. It is currently moving through the DMV with heavy rain and strong winds on Tuesday.
Isaías pulled away from the eastern coast of Florida Monday then headed to the Carolinas. Isaías had winds of 70 miles per hour as of Tuesday 9 a.m., making it a Tropical Storm, with gusts to 85 mph.
This inland track should not require mass evacuations from East Coast beaches, although Governor Ralph Northam just declared a state of emergency for Virginia.
For the D.C., Maryland and Virginia areas, Isaías' moisture will affect us through midday Tuesday. The critical time for the metro D.C. area is now until 1 p.m.
A Tropical Storm Warning is in effect for the metro D.C. area, south through Charles County and east from Prince George's County to Anne Arundel County too. Also in the warning, is parts of Northern and Central Virginia along I-95, all of the Delmarva and the Northern Neck, Calvert & St. Mary's counties.
Flooding due to excessive and heavy rain: Evacuations and water rescues may occur. Rivers, creeks, ditches, and canals may overflow their banks rapidly. Floodwaters may enter some structures, especially in flood-prone areas.


Limited wind impacts will be felt, but isolated wind damage is possible, especially south and east of D.C. Winds could gust to 45 mph in D.C.


A localized storm surge of one to three feet may flood beaches, low-lying spots, roads, and may cause moderate beach erosion.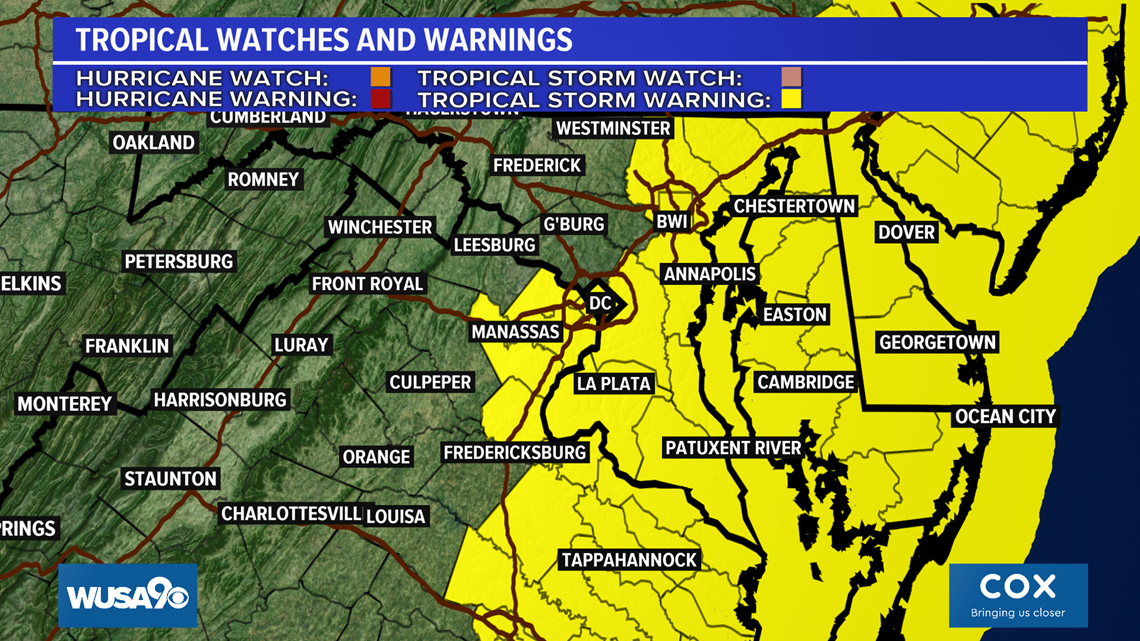 Additionally, a Flash Flood Watch is in effect for DMV through Tuesday evening. Most areas will see two to four inches of rain, with isolated spots seeing up to six inches of rain. Lesser amounts west of the Blue Ridge, highest totals along and east of Interstate 95.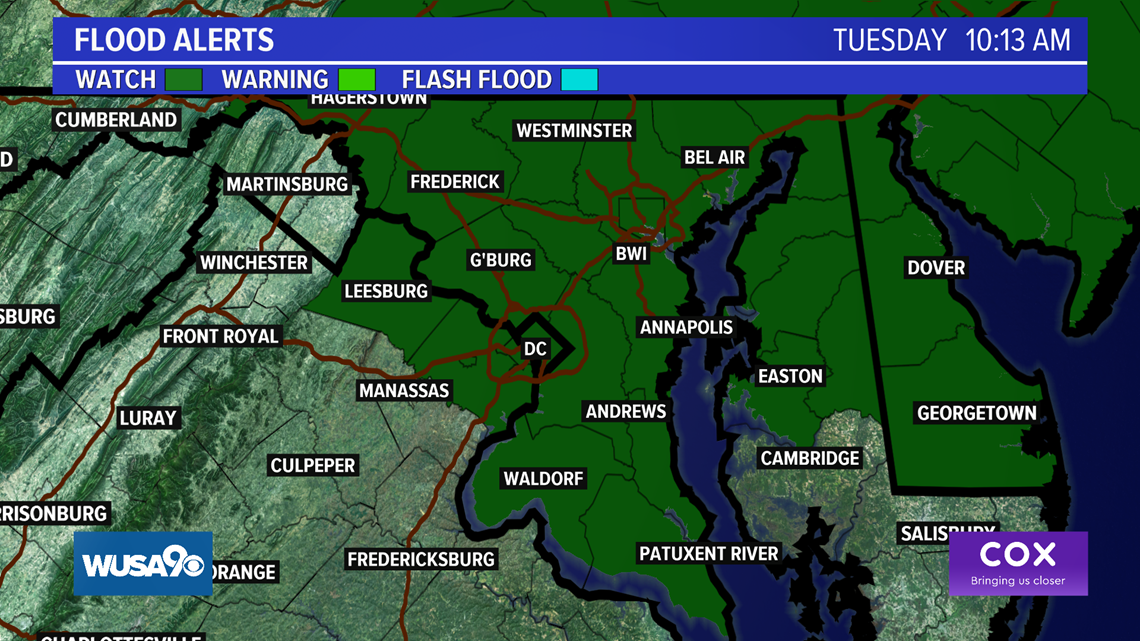 Tropical storm winds will occur along the Delmarva, including the ocean resorts on Tuesday with some gusts in excess of 70 mph.
If the track of the storm shifts further out to sea, there will be less rain. Please check back for updates.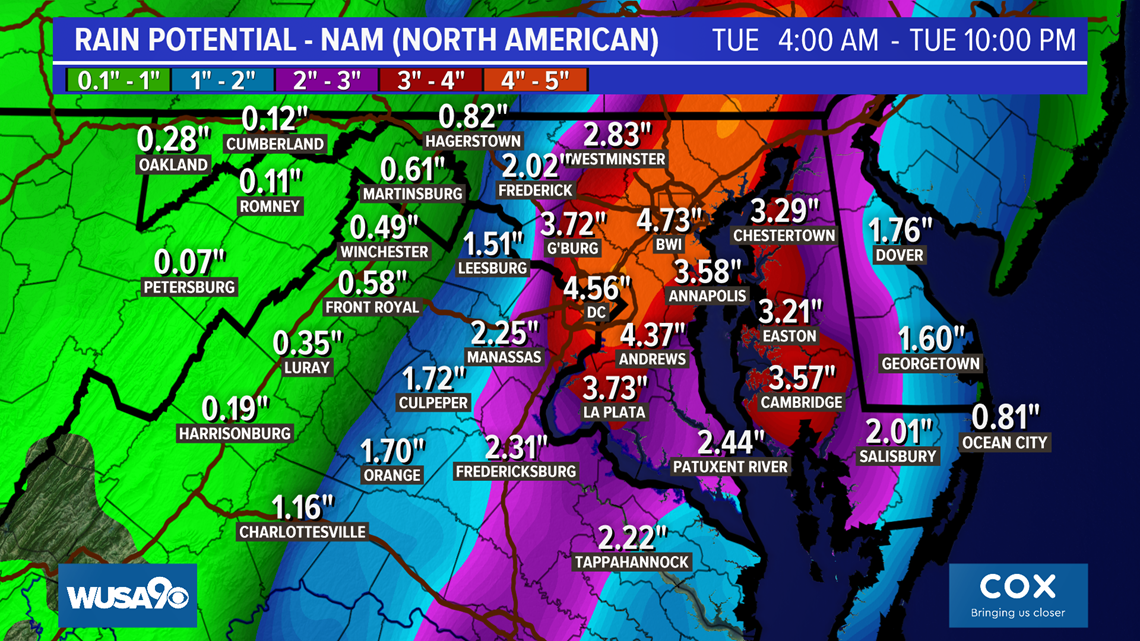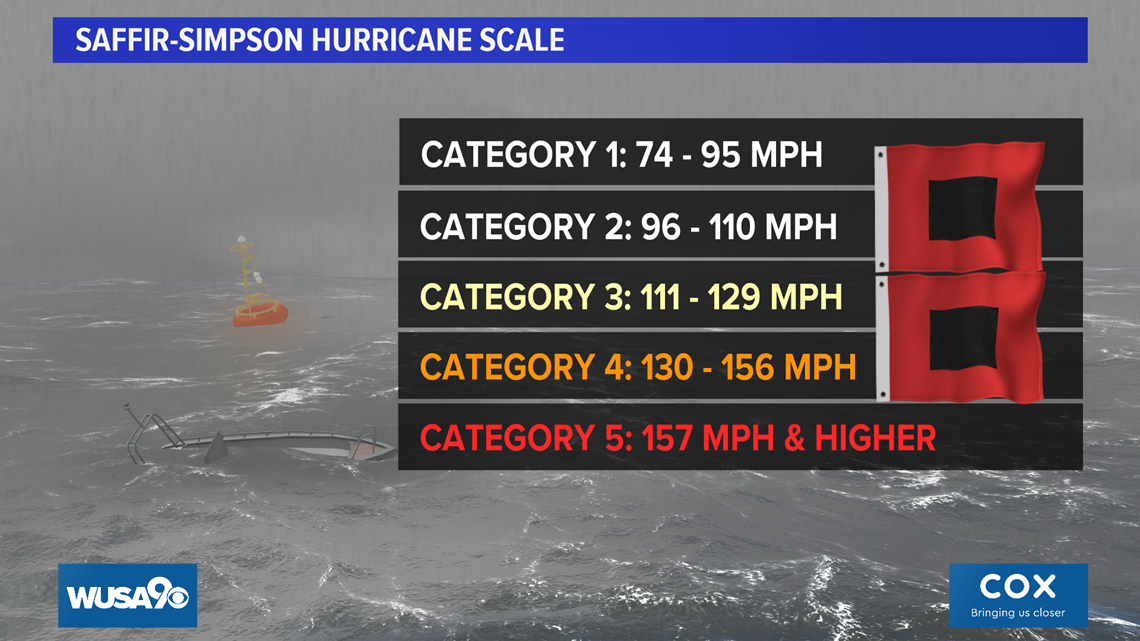 LINKS: Severe Weather Alerts | Live radar | All hurricanes to hit or come close to the DMV | NOAA hurricane season outlook Derecho 2012

View the latest track of Isaías from the National Hurricane Center: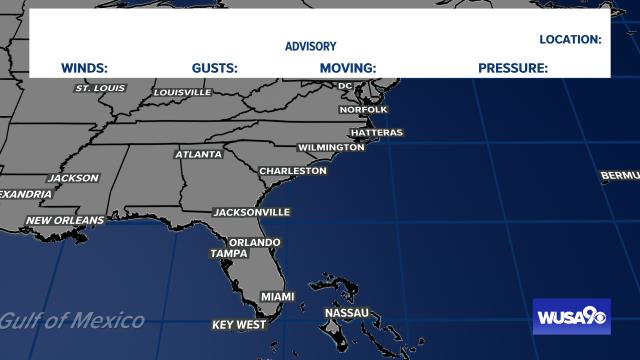 Here's the latest advisory from the National Hurricane Center:
Take a look at the Isaías radar loop: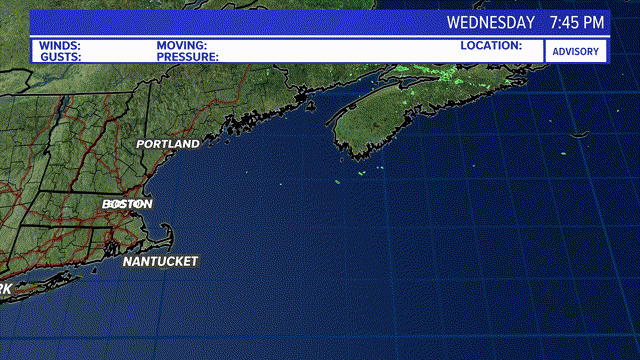 Check out the latest discussion from the National Hurricane Center:
Isaías model tracks (Spaghetti Plot):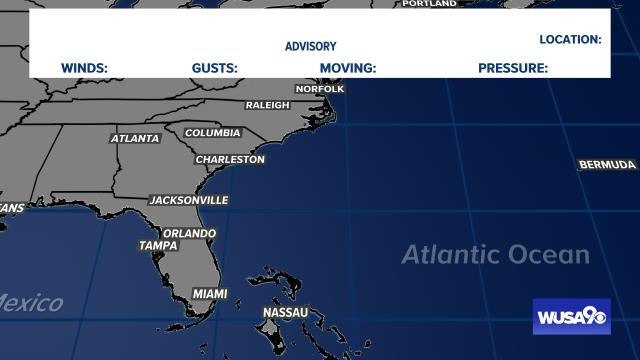 Here's the latest forecast advisory from the National Hurricane Center:
View Isaías satellite loop below: