Key Points:
Timing: 3pm-11pm. Strongest storms 5 p.m. to 10pm.
Threats: Damaging wind (58 mph or stronger), hail, heavy rain, flooding
Impacts: Downed trees, power outages, outdoor plans moved inside
Your holiday barbeque and pool time may have to temporarily be moved indoors as storms pass across the area Saturday afternoon and evening. Showers are possible at any point, but the key timing for storms is 3 p.m. to 11p.m. Stronger storms are likely between 5 p.m. and 10 p.m. Storms may bring damaging wind gusts up to 58 miles per hour and stronger, along with hail and heavy rain. There could be enough heavy rain to cause flooding. The National Weather Service has issued a Flood Watch for parts of the region from 2 p.m. until 10 p.m.
TIMELINE:
Now - 4 p.m. Some ares will still be dry, but a few showers and storms start to pop up in the DMV area. At this point, storms are scattered. This means some areas may be getting a storm, others could still be in a dry pocket without much rain.
4 p.m. - 5 p.m. More showers and storms start to move into the area. Most areas will at least start getting some rain and storms. A few storms could become strong to severe producing gusty winds and hail.
5 p.m. - 10 p.m. This is the window for the most active weather. Expect more areas to start getting showers and storms. Some storms will produce strong winds, hail and heavy rain. Storms will be scattered.
10 p.m. - Midnight - Storms gradually move out of the area. Some showers will linger overnight and gradually end.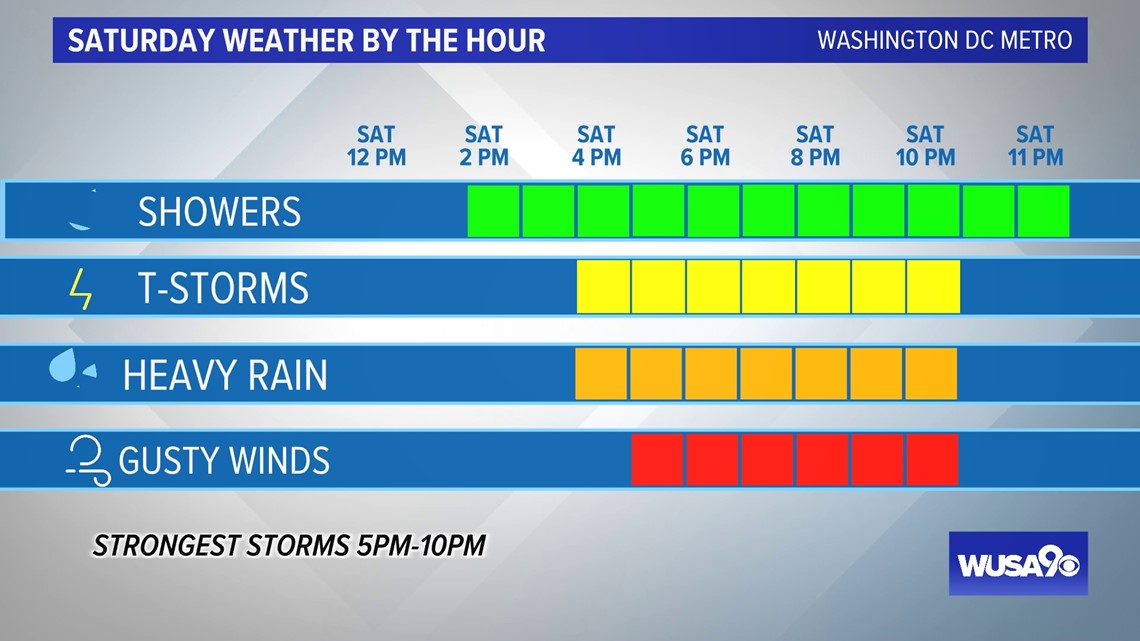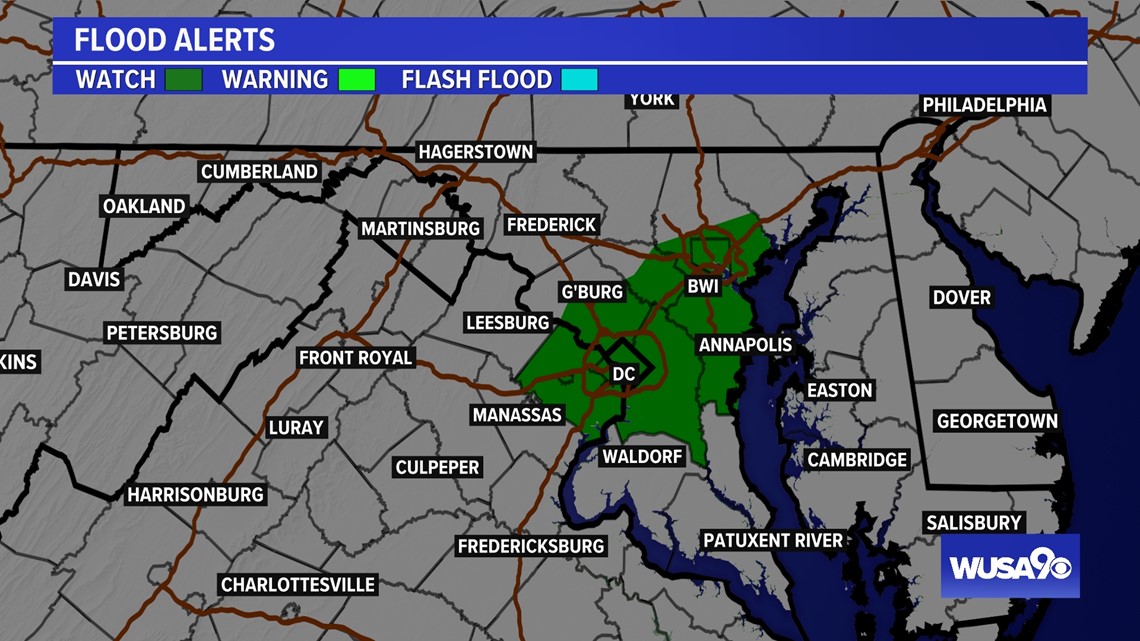 A Flood Watch has been issued for parts of the region. A watch means flooding is possible. Here are the areas included in the Flood Watch: District of Columbia-Southern Baltimore-Prince Georges-Anne Arundel- Central and Southeast Montgomery-Central and Southeast Howard- Fairfax-Arlington/Falls Church/Alexandria.
Cities and towns included are: Silver Spring, South Gate, Bowie, Arlington, Annapolis, Chantilly, Odenton, Falls Church, Bethesda, Severn, Centreville, College Park, Columbia, Herndon, Severna Park, Greenbelt, McLean, Camp Springs, Rockville, Arnold, Suitland-Silver Hill, Laurel, Ellicott City, Reston, Baltimore, Alexandria, Clinton, Glen Burnie, Washington, Annandale, Gaithersburg, and Franconia.