WASHINGTON — Light snow has started to fall across parts of the region. A steady, and possibly heavier, snow will fall Friday evening and overnight Friday into the predawn hours of Saturday.
The key timing for the metro area is now through 4 a.m. Saturday.
If the track were farther west, we would see heavier snow over the DMV. This will be an intense storm so just a shift in the track by 50 miles will bring heavier snow to parts of the DMV.
Models are in fairly good agreement on this timing, but it's the amount of snow that's still in question.
TIMING:
Now - 6 p.m.: Light snow. Rain will mix in with snow in some areas.
6 p.m. - 10 p.m.: Light to moderate snow in most areas.
10 p.m. Friday - 4 a.m. Saturday: Snow in most areas. Winds will become breezy after 12 a.m.
SATURDAY
4 a.m.- 7 a.m.: Snow moves east and gradually ends. Winds will get a bit stronger, blowing at 10 to 20 miles per hour and gusting at 30 t0 40 miles per hour with higher gusts in some areas.
Latest warnings, watches and advisories: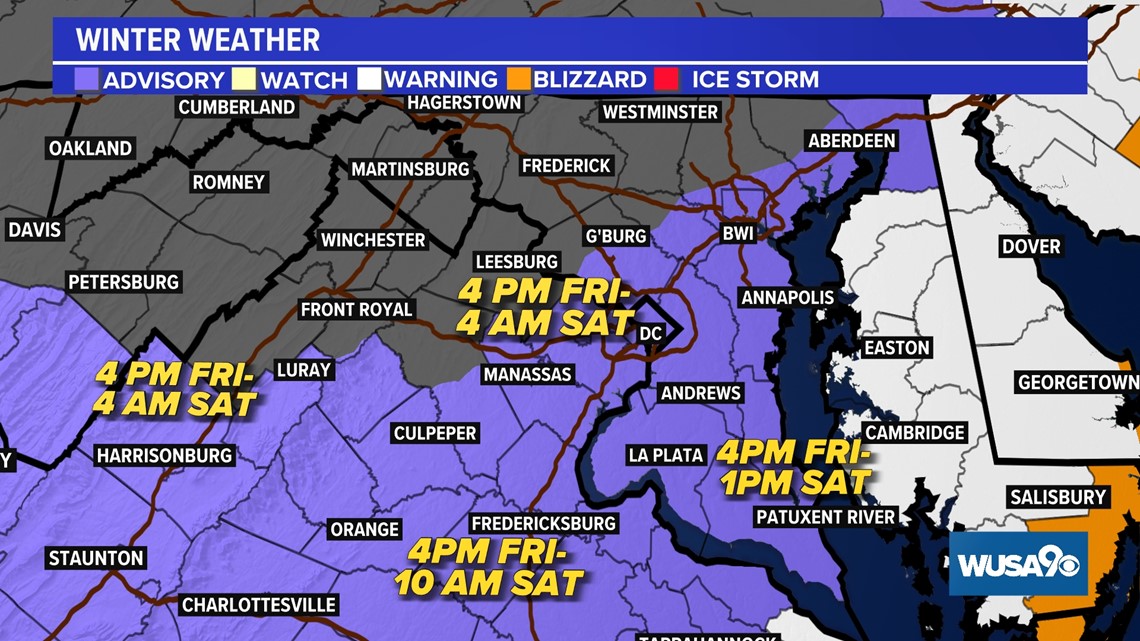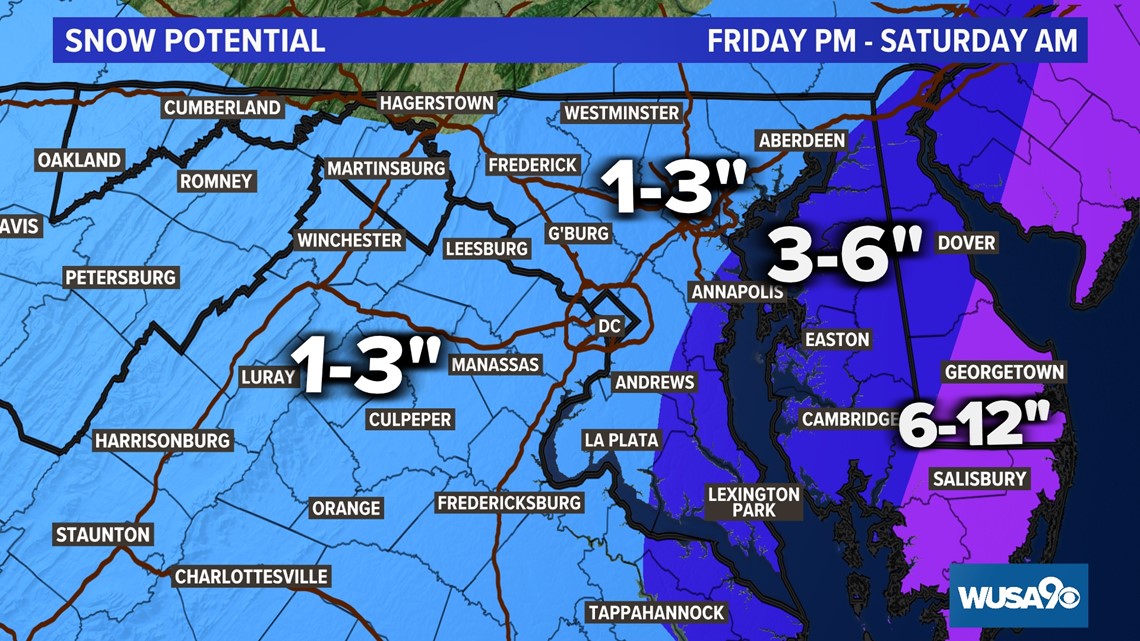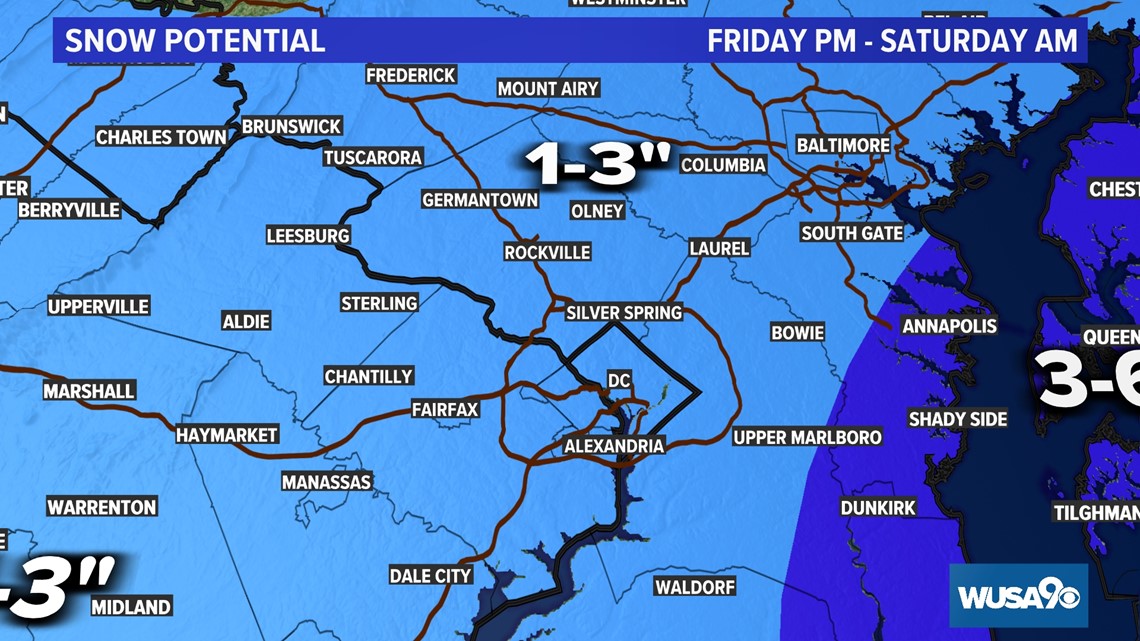 The models at a glance.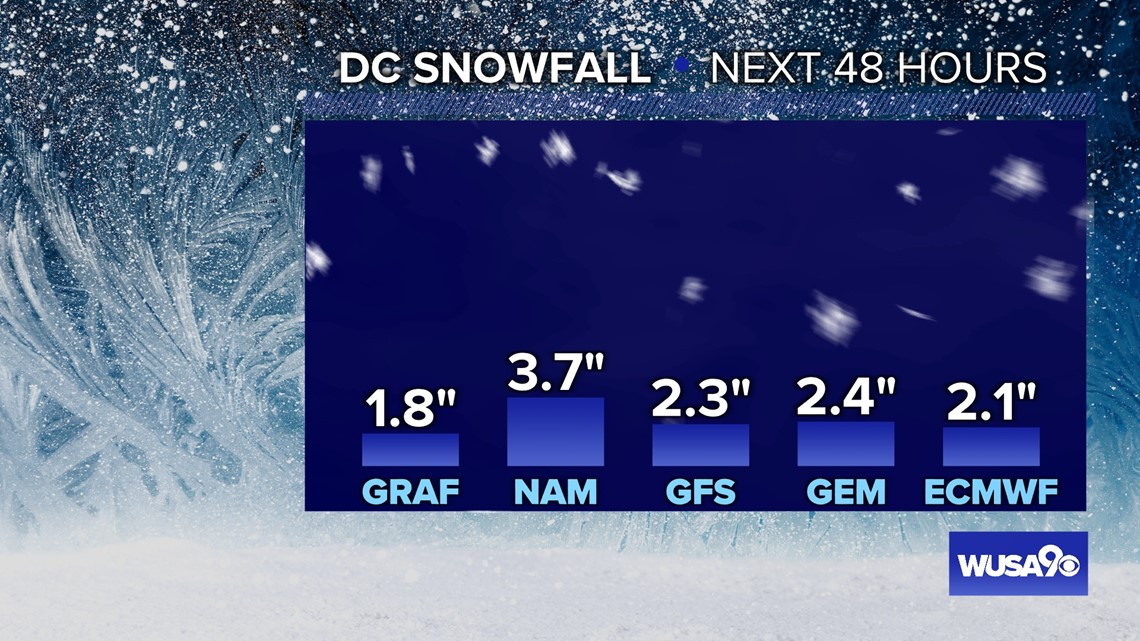 GFS
The GFS shows put out anywhere from 1 to 3 inches for the D.C. Metro area with slightly higher amounts along the Eastern Shore, lower Eastern Shore, Southern Maryland and Ocean City areas. The latest change in the GFS is to forecast very little snow north of D.C.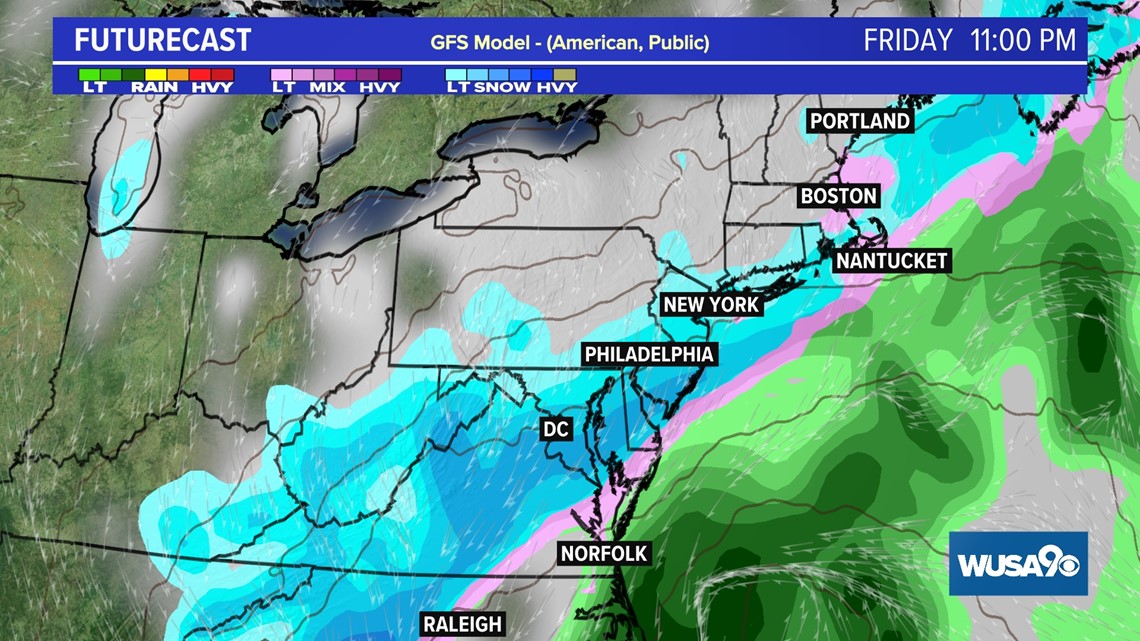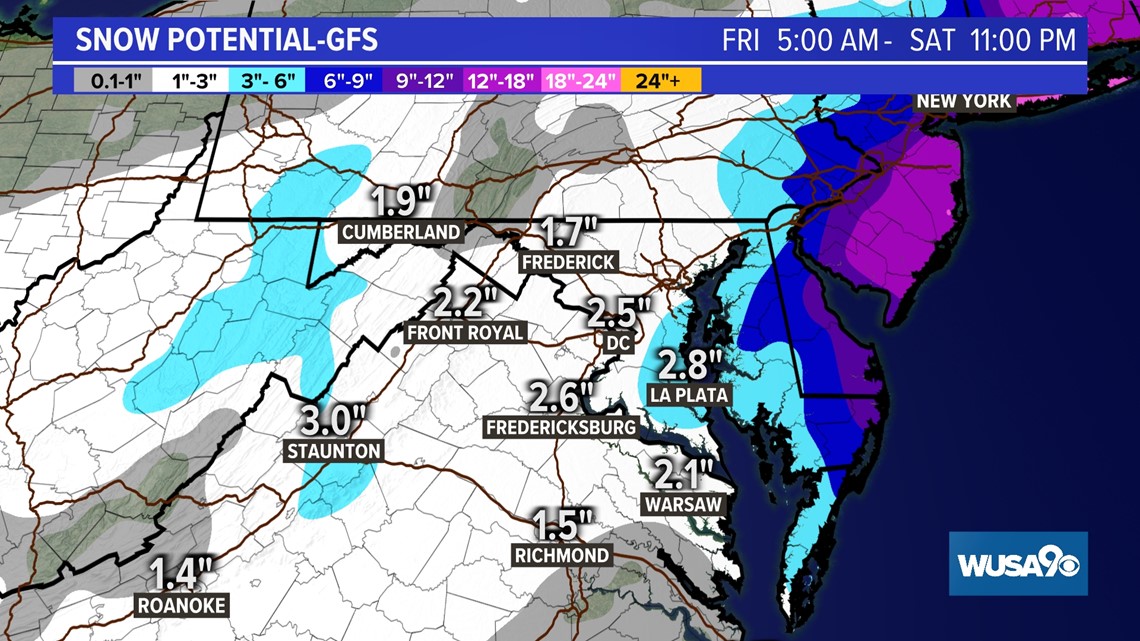 Euro
The Euro also has a general 1 to 3-inch range in most of the immediate D.C. metro area, but with much higher amounts along the Ocean City and Eastern Shore areas. It brings more than a foot of snow to those areas. The Euro is trending a bit farther east keeping significant snow well east of D.C. Blizzard conditions are possible at our ocean resorts late Saturday morning and early Saturday afternoon.

The NAM (North American Model) looks more like the Euro than the GFS. It has even higher amounts along Ocean City and Delaware. This model could be overdoing the snow potential.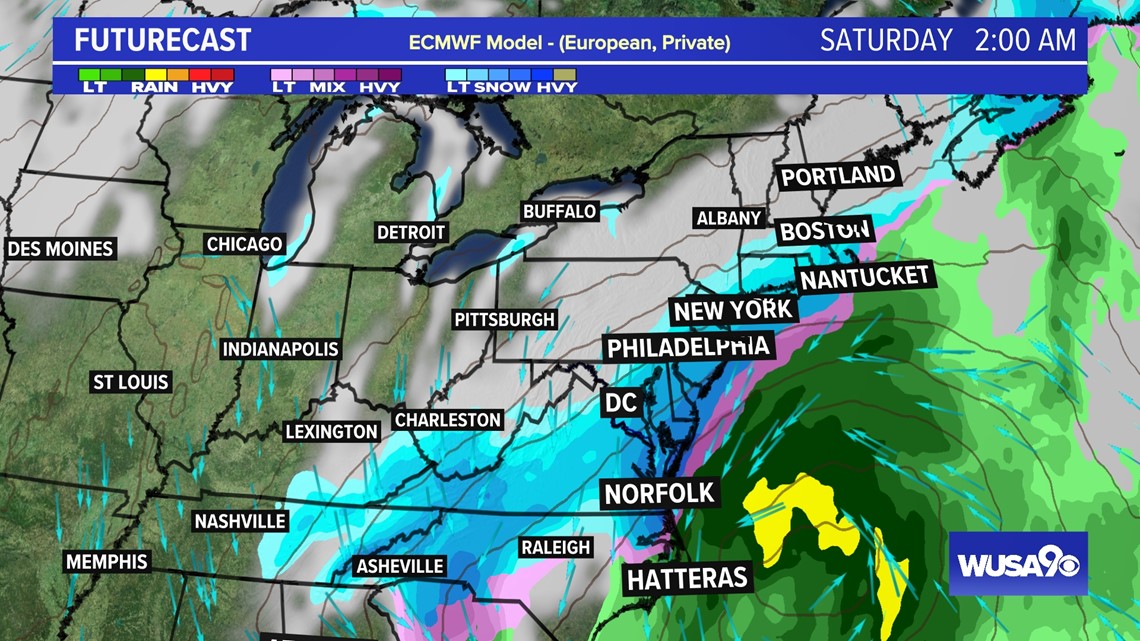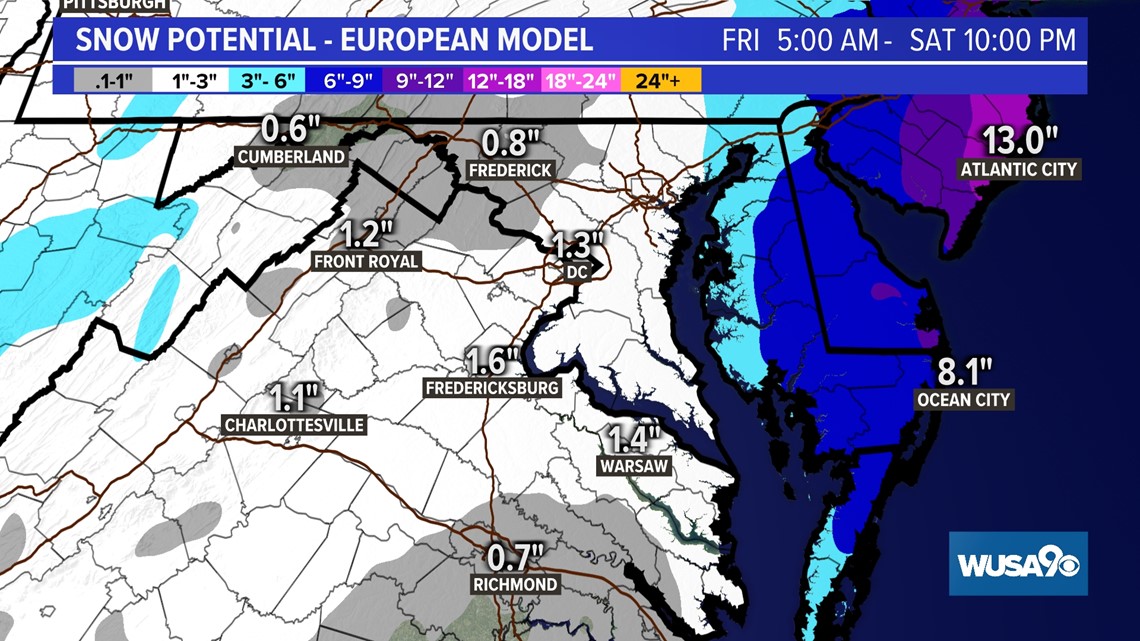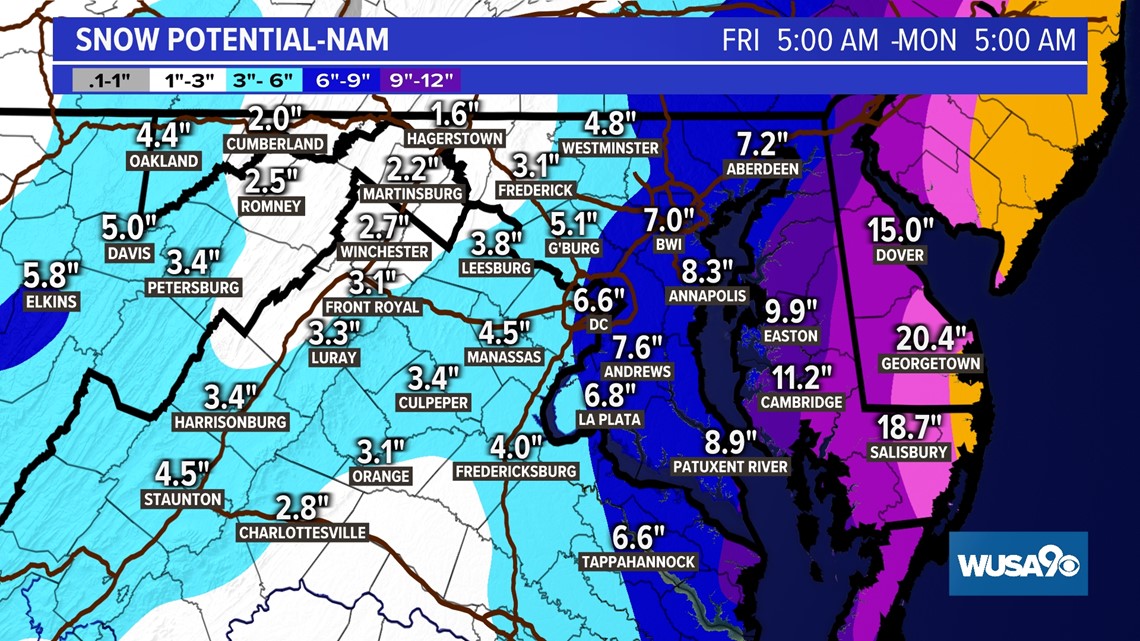 If you're not a fan of the snow, you'll be happy to hear this news...
A WARMING TREND
Both the 10-day temperature trend and the 3-month temperature outlook point to a warming trend in the coming days and months. The Climate Prediction Center's 3-month outlook shows the probability for warmer than average temperatures in the DMV.
There are other atmospheric symbols that point to a warming trend. For example, the North Atlantic Oscillation or NAO, is trending toward a positive phase, which is typically associated with warmer than average temperatures in the Eastern United States. The NAO is an index that tracks pressure differences between large areas of high and low pressure over the Atlantic.
A trend in warmer overall temperatures is not conducive to snow.