WASHINGTON — Several counties around the DMV are under a Flash Flood Warning Thursday as heavy downpours cause widespread damage and flooding across the region.
Parts of the Prince George's County area has been slammed with heavy rain and flash flooding. Prince George's County Fire crews had to rescue some people out of vehicles that were stuck in the middle of the Birchview Drive Road in Clinton due to flooding.
WUSA9 crews were at the scene and noticed that one person even tried to jump-start a car but it remained stuck.
PGFD crews are also conducting a water rescue on the 1200 block of Cherry Tree Crossing Road in Brandywine, fire officials said. They rescued two people from a car.
A waterspout, or a "water tornado" was spotted around the Patuxent River area in Maryland just before 7 a.m. Thursday. It was up for only a brief moment, according to social media posts.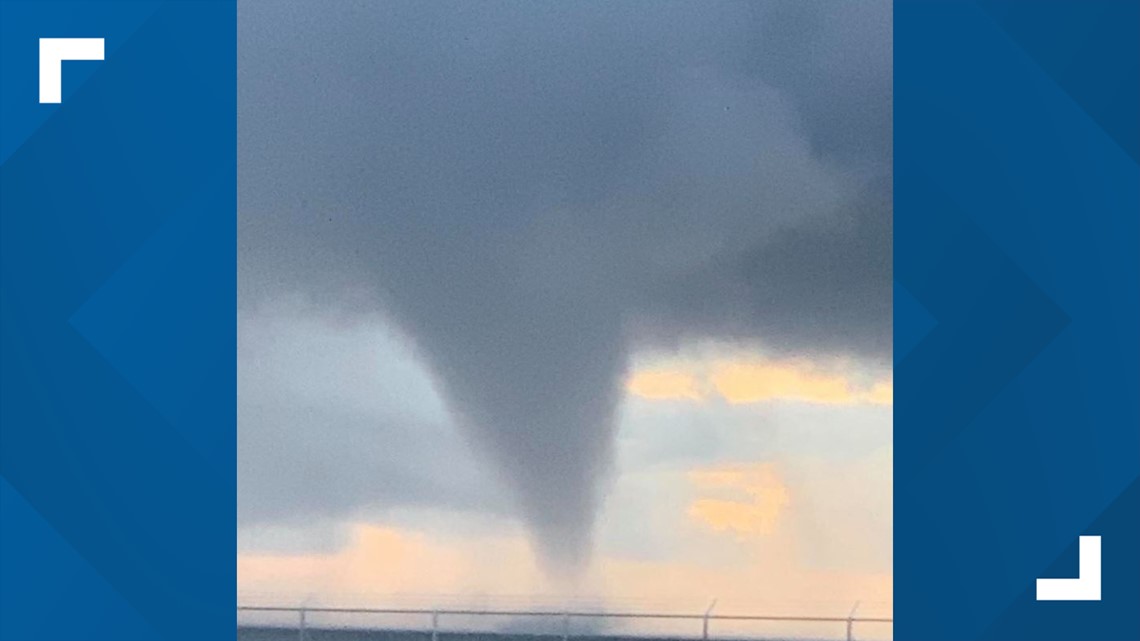 In Fairfax County, some major roads are closed due to flooding, officials report. Virginia Route 699 Prosperity Avenue between U.S. Route 50 and Virginia Route 236 are shut down as of 9:59 a.m. Woodburn Road near Spice Drive is closed too.
Highwater has also blocked portions of Virginia Route 28 at Nokesville Road between Nokesville and Manassas. Parts of Joplin Road and Artemus Road are closed due to high water.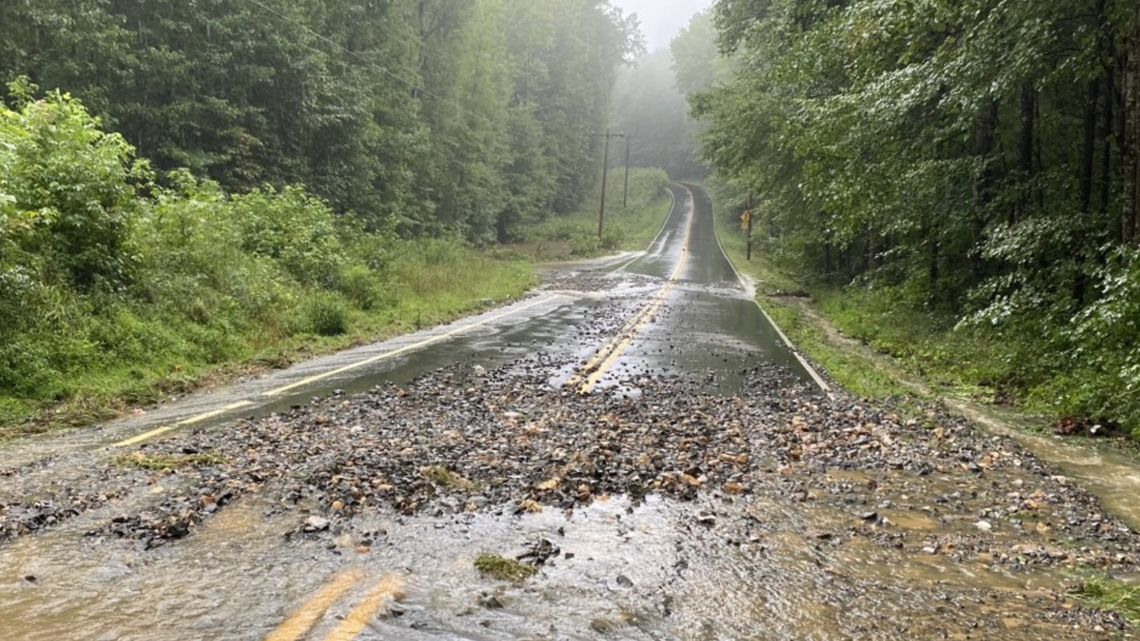 In Clifton, Virginia, a home caught on fire after being struck by lightning. The fire displaced four residents, all of whom were able to be evacuated without injury. Fairfax Fire officials estimate the total damage of the house to be around $50,000.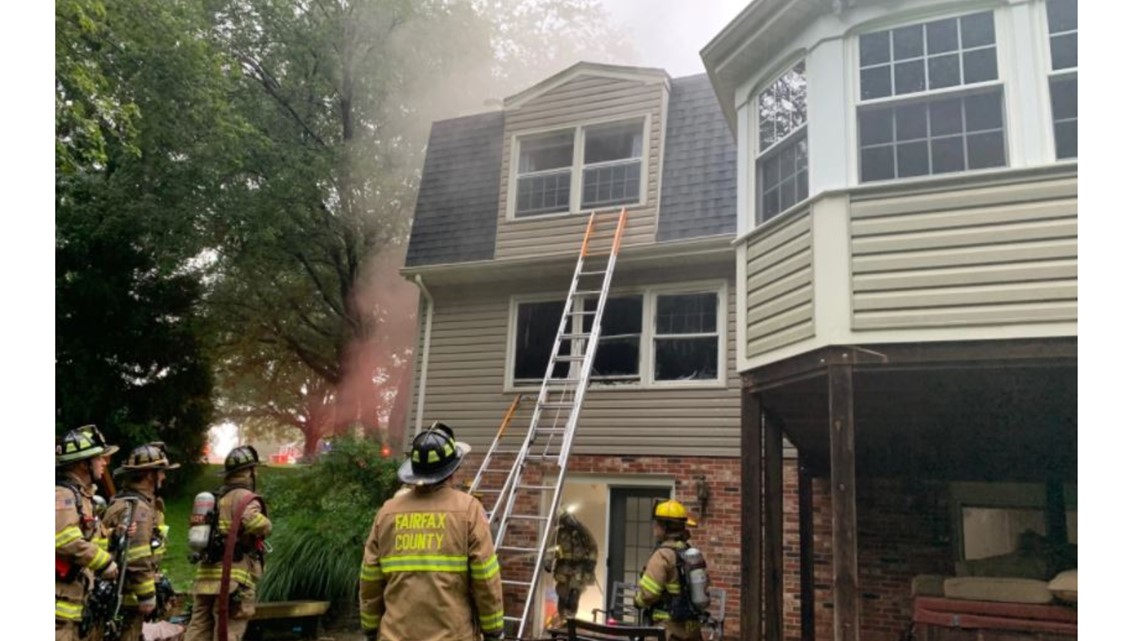 Floodwaters were entering into homes in Charles County Thursday morning. The Charles County Sheriff's Department told WUSA9 that a woman woke up with water in her house in the 2105 Boxwood Circle near Bryans Road. Fire crews were called to the scene to assist the homeowner.
PHOTOS: Heavy downpour, flooding around DMV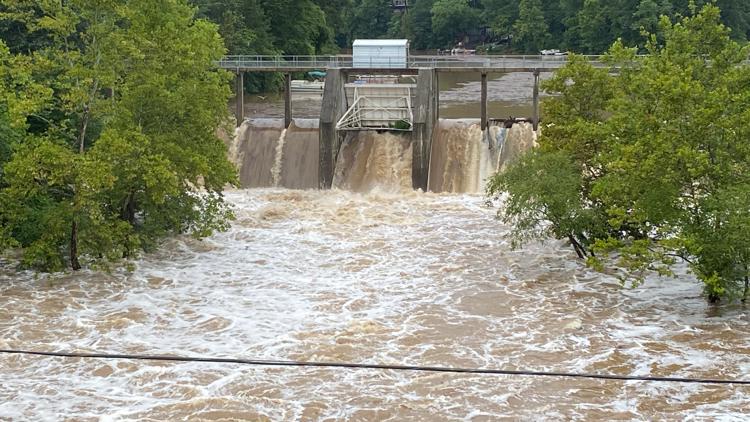 On Wednesday, Flash Floods also impacted the area, especially Loudoun County and Montgomery County.
A water main break on Bradley Boulevard closed roads from Huntington Parkway and Rayburn Road in Bethesda, impacting 25 families in the area. Road closures remain in place overnight, as repair crews said they are aiming to have the 16-inch water main fixed by Thursday morning. County officials warned it could impact morning commutes.
A large tree fell onto a house on Strathmore House in Montgomery County, causing extensive structural damage and displacing the family, but none of the home's occupants were injured.
In Silver Spring, several homes along the Sligo Creek Parkway were struck by lightning, but did not appear to cause any local fires.
Seneca Road between Berryville Road and Esworthy Road was also closed due to a lightning strike dowing trees and wires.

In Loudoun County, the Sheriff's Office warned residents in Leesburg, Broadlands, Lansdowne, Lowes Island, Brambleton, Ashburn and Sterling to be extra cautious, as those regions were particularly prone to flooding.
Several water rescues occurred in Sterling, Virginia, including on Williamsburg Road, where floodwaters were so high, they covered car tires.
"NEVER attempt to drive thru a flooded road. Just 6" of fast-moving water can knock over & carry off an adult," the Loudoun County Sheriff's Office tweeted. "12" of water can float a small car. If water is moving, it can carry that car away. 18 to 24" of moving water can move most vehicles, including SUVs."
Last week, Leesburg was hit hard, with more than five inches of rain falling in less than three hours, causing multiple roadways to be washed out and water rescues to occur.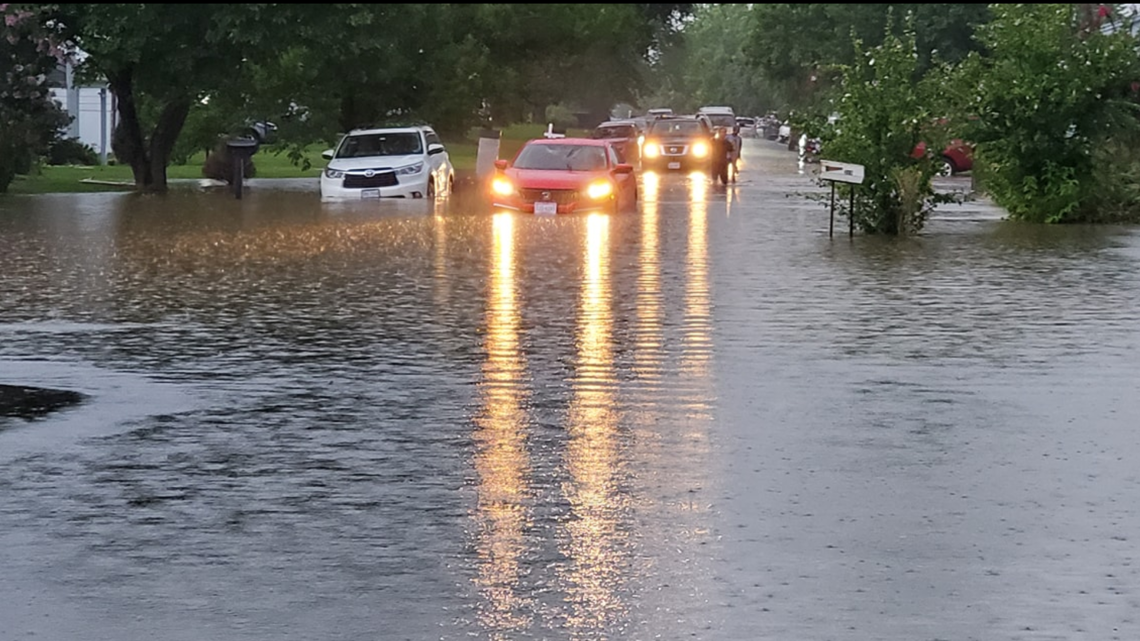 Ellicott City, no stranger to dangerous flooding, once again prepared to batten the hatches Wednesday evening, as the new emergency sirens were activated. The historic city recorded around 2-3 inches of rainfall in just a few hours, and residents reported high rivers, flooded roads and washed-out bridges.
Early Wednesday morning, close to 400 residents in the area of Moseby Drive in Manassas Park were trapped in their community due to a road collapse caused by severe weather, Manassas Park officials said. A double-barrel sinkhole was located at the intersection of Moseby Court and Moseby Drive.
Just after 4 a.m. Wednesday, an officer on patrol in the area noticed a downed tree and flooding on the roadway, police said. The officer later realized that the downed tree was caused by flooding and the road had been compromised. Police said a nearby creek washed the roadway out.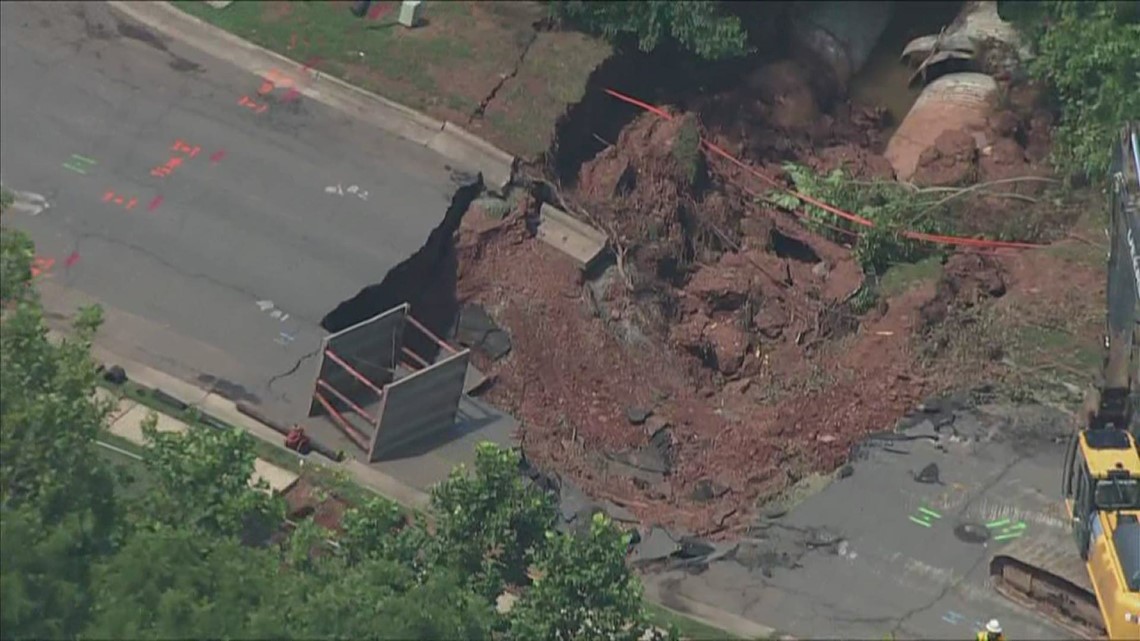 Here is a list of other flood-prone areas across the DMV area:
Brock Bridge Road near Laurel-Bowie Road (RT 197) Laurel
Areas along Route 1 and Main Street in Laurel
Baltimore Ave and Ammendale Road in Beltsville
Sunnyside Avenue between Rhode Island Ave and Edmonston Rd in Beltsville
Piney Branch Rd and New Hampshire in Adelphi
Portions of Riverdale Road in Riverdale Park
Governors Bridge Road at Anne Arundel/Prince George's County border.
Water Street in Upper Marlboro
Marlboro Pike and Largo Rd in Upper Marlboro
Livingston Road and Oxon Hill Road in Ft Washington
Livingston Road and Palmer Road in Fort Washington
MD 29 (Columbia Pike) at Paint Branch - N. of White Oak
MD 185 (Conn. Ave) at Rock Creek - S. of Kensington
MD 190 (River Road) at Cabin John Creek - Potomac
MD 193 (Univ. Blvd) at Sligo Creek - Wheaton
MD 586 (Viers Mill Rd) at Rock Creek - S. of Twinbrook Pkwy.
Beach Drive in Rock Creek Park - Kensington-Chevy Chase
Sligo Creek Pkwy - Silver Spring-Takoma Park
MD 97 (Georgia Ave) at Reddy Branch - N. of Brookeville
MD 124 (Woodfield Rd) at Goshen Branch and at Gr. Seneca Creek - N. of Brink Rd.
MD 117 (Clopper Rd) at Gr. Seneca Creek - W. of Gaithersburg
MD 117 (Clopper Rd) at Little Seneca Creek - E. of Boyds
MD 355 (Frederick Rd) at Little Seneca Creek - W. of Brink
MD 121 (Clarksburg Rd) near Little Seneca Lake - N. of Boyds
MD 118 (Germantown Rd) at Great Seneca Creek - S. of Germantown
River Rd and Berryville Rd at Seneca Creek
Blunt Road at Great Seneca Creek - S. of Brink Rd.
Davis Mill Rd at Great Seneca Creek - N. of Gaithersburg
Brighton Dam Rd at Hawlings River - NE of Brookeville
Goldmine Rd at Hawlings River - E of Olney
Zion Rd at Hawlings River - E. of Laytonsville
Hoyles Mill Rd at ford of Little Seneca Creek - Germantown
Loghouse Rd at Magruder Branch - S. of Damascus
Elton Farm Rd at Haights Branch - N. of Sunshine
Howard Chapel Rd at Haights Branch - N. of Sunshine
White's Ferry Road and River Road - White's Ferry