WASHINGTON — On a Sunday evening in late April 2002, a deadly supercell storm tore across the DMV, killing five people and causing millions of dollars worth of damage.
Twenty one years ago, the historic La Plata tornado hit southern Maryland and parts of the Eastern Shore on April 28.
The storm began in West Virginia as a supercell thunderstorm. Such thunderstorms rotate and are known to create damaging winds, large hail and isolated tornadoes. This is exactly what happened near Quicksburg, Virginia, a small unincorporated town in Shenandoah County. The storm produced a tornado in this area and caused some damage.

Three WUSA9 meteorologists, including Chief Meteorologist Topper Shutt, tracked the storm that afternoon and evening.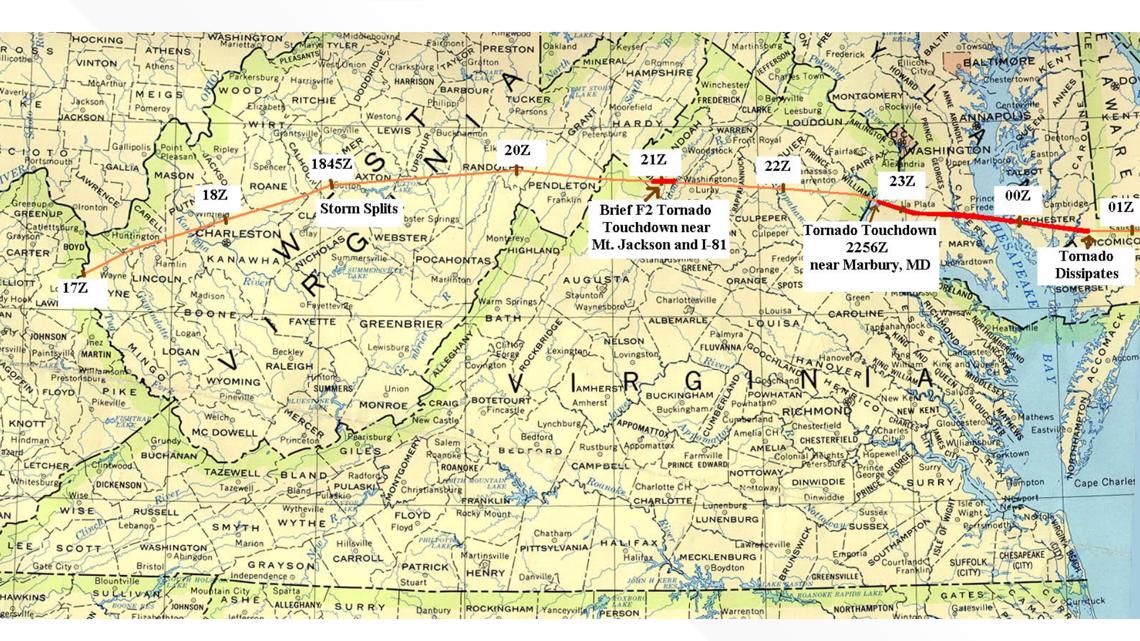 The supercell thunderstorm seemed to weaken thereafter and thankfully produced very little damage through the rest of Virginia and D.C. suburbs in Northern Virginia. However, later that same evening, the storm again produced damage in Maryland.

A tornado formed two miles east of the Potomac River in Maryland and caused damage in portions of rural Charles County.
La Plata was struck by the tornado, moving at a screaming 58 mph, just after 7 p.m. on April 28, 2002. WUSA9 was on the air tracking the tornado live. Howard was tracking the storm in our 'storm tracker' at the time and Topper was in the studio with meteorologist Tony Pann.
Damage nearly half-a-mile wide occurred in La Plata. The tornado caused severe damage and injured several people in town with three fatalities. The National Weather Service rated the tornado an F4 at this point, with winds up to 206 mph.

The tornado paralleled Maryland Route 6, Charles Street, through La Plata, before exiting the city to the east.
Farther east, tornado damage was recorded in parts of Calvert County and the Eastern Shore of Maryland.

In Calvert County, two more people were killed, as the tornado caused F1 and F2 damage.
If the La Plata tornado were to hit today, it would be rated as an EF-5 on the (newer) Enhanced Fujita Scale.