WASHINGTON — We've been unusually dry since the beginning of August. We ran about an inch below average in August. September ended up with only 0.25", which was about 3.5" below average. September 2019 is now the fourth driest September on record.
As of October 11th, D.C. has only recorded 0.27" of rain compared to an average of 4.93" for the past 6 weeks!


The dry weather has taken a toll on area lawns and many trees are starting to drop leaves as a defensive measure. This way they store what little water they have for the body of the tree.
The latest Drought Monitor shows that we are in either "Abnormally Dry", "Moderate" or "Severe" drought conditions across much of the region. (This map is updated every Thursday). Drought conditions continue to worsen as we wait for a pattern change.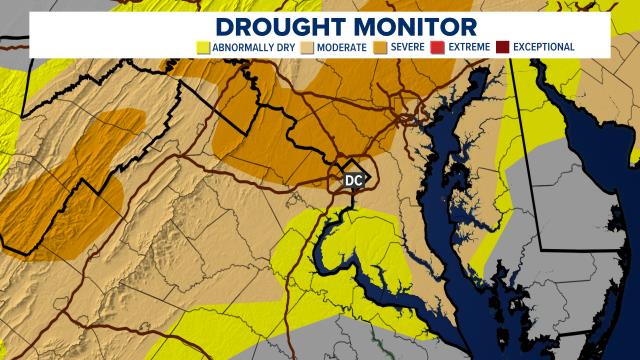 As of Friday, October 11, 2019 the outlook into early October calls for temperatures to be above average and for precipitation to be below.

Below are the Climate Prediction Center's temperature outlooks for the 6 to 10 and 8 to 14 day periods.