WASHINGTON -- An area of low pressure moves up the coast Saturday, bringing the potential for locally heavy rain, breezy northwest winds, and cooler temps. Once again a Yellow Weather Alert Day for Sunday with more showers/storms.
The steadiest and heaviest rain will fall between now and 9 PM Saturday. A Flash Flood Watch will be in effect for the metro area, northern Maryland, and southern Maryland 2 AM Sunday morning. Be mindful of low-lying points on the roads and roads near creeks/streams for possible flooding during/immediately after heavy rain. Highest rain totals will be east of I-95 and into southern Maryland, which could locally exceed 2" - 3". The Nationals Home Game Saturday night has been postponed.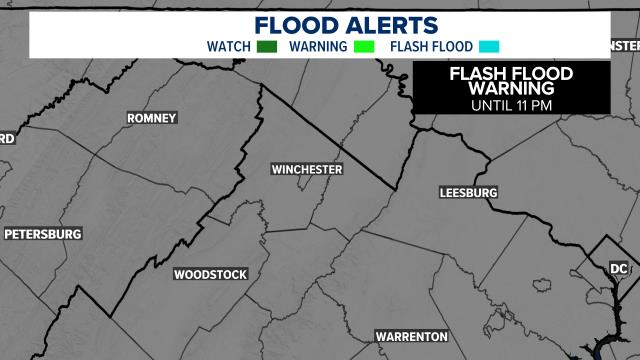 The rain exits and lifts northward in the early overnight hours. Sunday will not be as wet, but we'll still be tracking enough showers & t-storms to have a Yellow Weather Alert. Sunday will be warmer with temps in the low 80s and scattered showers & t-storms mostly in the afternoon. Mostly afternoon showers and t-storms stay in the forecast until the end of next week, so we'll continue to monitor potential additional flood threats.
SATURDAY NIGHT: Yellow Weather Alert
FLASH FLOOD WATCH
Mostly Cloudy & Mild
with Showers/Rain Tapering off after midnight
LOWS: 60s
WINDS: NW/SW 10 - 15
SUNDAY: Yellow Weather Alert
Mostly cloudy & Warmer with
Scattered PM Showers & T-storms
HIGHS: Low 80s
WINDS: SE - 10
MONDAY: Yellow Weather Alert
Mostly Cloudy & Warm
With More Showers & T-Storms
HIGHS: 80 - 85
WINDS: SE 10 - 15