WASHINGTON — Heavy snow, sleet and freezing rain has fallen across D.C., Maryland and Virginia Thursday. There is a lull in the significant winter weather for now, but freezing will continue to be an issue through Friday morning.
A Winter Storm Warning is in effect for almost the entire DMV. The impact of the winter weather could make traveling on the roads difficult and icy conditions could cause power outages.
The wintry weather has led to several school closures in the region, including the cancelation of virtual learning and COVID vaccines.
Here are the latest updates as winter weather impacts the region:
3:40 p.m. -- Roads out there are looking pretty good in Virginia
2:01 p.m. -- A tow truck pulling a car from a ditch was struck by another vehicle on the ramp from IL I-495 to SB 355.
2:00 p.m. -- From 4 am to noon today, Maryland State Police troopers responded to 148 crashes, most of which were minor, assisted 93 disabled vehicles and handled 397 calls for service, across the entire state.
12:27 p.m. -- One homeless person has died due to the extreme cold in D.C., D.C. Mayor Muriel Bowser said at a news conference on Thursday morning. She urged residents outside in the cold to seek shelter during the snowstorm and winter weather.
12:26 p.m. -- Snow plows were spotted clearing the roads in D.C. It appears the roads in the District are slushy.
11:28 a.m. -- A Metrobus (without passengers) crashed on the Outer Loop of the beltway Between Connecticut Avenue Rockville Pike prior to exit 34.
11:13 a.m. -- Virginia State Police responded to 58 disabled vehicles and 82 traffic crashes in the Northern Virginia area during Thursday's storm from midnight through 11 a.m.
10:34 a.m. -- The driver of a truck lost control and struck a pedestrian in the 8500 block of New Hampshire Avenue around 9:47 a.m., Prince George's County Police said. The pedestrian refused medical treatment by Montgomery County Fire crews at the scene of the crash.
10:12 a.m. -- On Interstate 395 in Arlington, the roads appear to be slushy.
10:11 a.m. -- Despite several warnings from officials drivers are hitting the roads. WUSA9 Reporter Michael Quander is traveling along I-270 in Frederick, Md. and noticed a lot of cars on the roadway.
9:50 a.m. -- Maryland State Police Troopers responded to 75 crashes, assisted 50 disabled vehicles and handled more than 200 calls for service during the storm from 4 a.m. to 9 a.m. Police are asking people to avoid traveling on the roads.
9:49 a.m. -- A few cars pulled over on the side of Interstate 270 in Frederick, Md. due to slippery and dangerous road conditions.
9:35 a.m. -- Slick roads in the region are causing several crashes. Here's a look at the snow-covered Interstate 66 at the Roosevelt Memorial Bridge.
9:25 a.m. -- A crash has closed the left lane on northbound Interstate 270 at exit 4A/MD 927 in Montgomery County.
9:23 a.m. -- The majority of the MDOT MVA offices are closed today. The MVA will contact customers with canceled appointments to reschedule. Only branches in Easton and Salisbury will be open.
9:21 a.m. -- There are a lot of delays in the region. Expect slowdowns on the Inner Loop in Lanham and near Galer road. Two lanes are blocked on Interstate 95 south in Woodbridge. Click here to see the latest traffic updates.
9:20 a.m. -- Some parts outside of Winchester, Va. are reporting about 5.8 inches of snow with low snow totals of .1 inches in Damascus, Md. It appears mostly sleet is falling in major areas in the DMV.
9:11 a.m. -- In Upper Marlboro, Md. in Prince George's County, WUSA9 Reporter Matt Gregory is reporting that a layer of ice and slick spots caused by big chunks of sleet are building up on pre-treated roads.
8:53 a.m. -- The snow in Basye, Va.in Shenandoah County is coming down hard. A viewer sent us a video of the snowfall in the area. While areas like Leonardtown, Md. are getting freezing rain.
8:34 a.m. -- Sleet is taking over most areas further north, but there is still some snow. There also appears to be some freezing rain in the south and slick roads are widespread.
8:01 a.m. -- Here's a video of roads in Frederick, Md. This area was hit with 3-4 inches of snow, while areas like downtown D.C. got about .5 inches.
7:30 a.m. -- WUSA9 Reporter Michael Quander was out in the Weather Explorer in Frederick, Md. where a reported 3-4 inches of snow impacted the area. Many roads appear to be snow-covered as they drove around the area.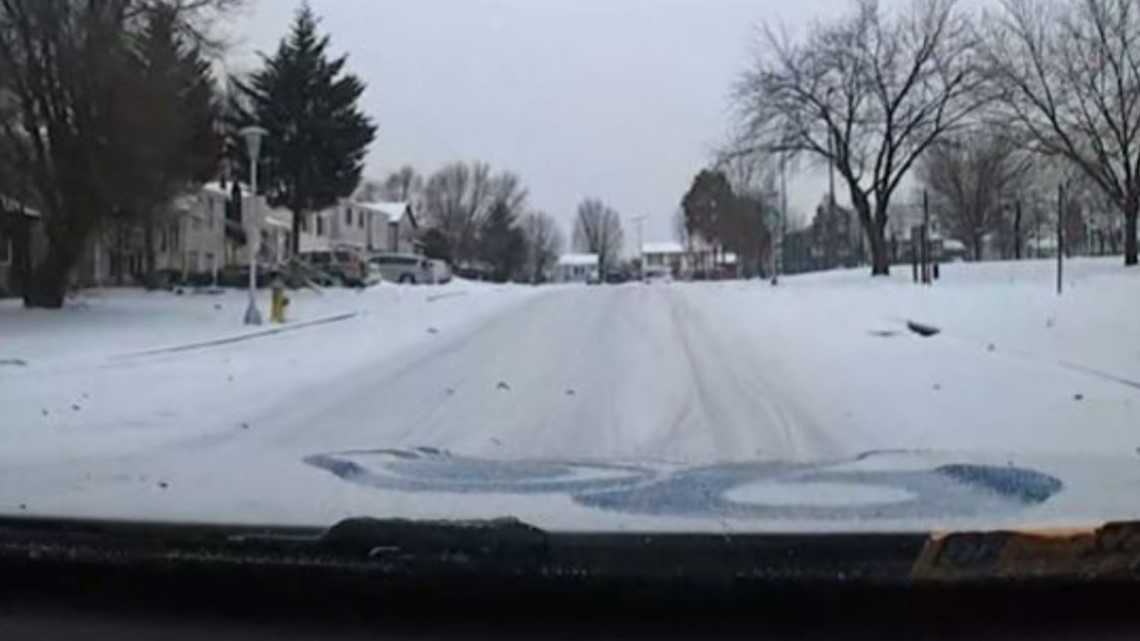 7:24 a.m. -- Here's a time-lapse of the snow falling in Rockville, Md. in Montgomery County just before sunrise. You can see the roads are snow-covered and a few drivers on the roadway.
6:59 a.m. -- The sidewalks in Manassas, Va. may not have been hit with heavy snow, but there are icy spots. Here's a look at a sheet of ice spotted on the sidewalks.
6:58 a.m. -- Roads in Manassas, Va. appear to be a bit clear. WUSA9 Reporter Nicole DiAntonio is along Route 28 where on a normal day would be a busy road, but there are barely any cars on the roadway.
6:57 a.m. -- As we continue to monitor the roads, we are not seeing a lot of accidents, but we continue to track a lot of slowdowns and delays. Be sure to keep an eye out for black ice and beware of slick spots on the roads.
6:28 a.m. -- The latest traffic map shows major delays and slowdowns across the region.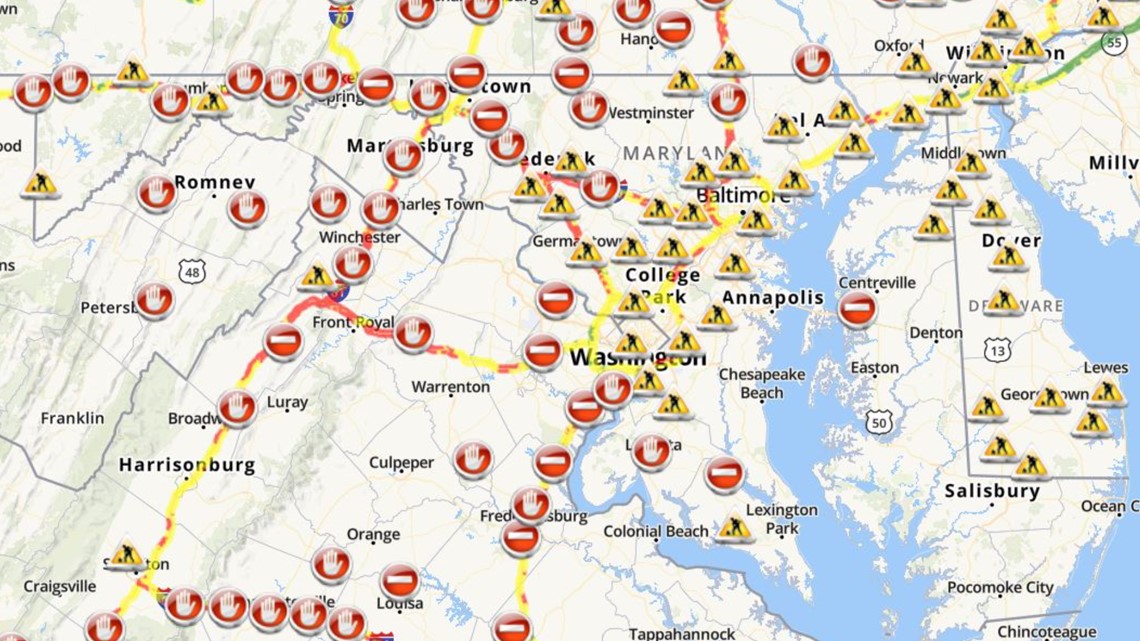 6:26 a.m. -- Looks like some areas are getting hit hard with snow. Areas such as Manchester, Md. are reporting up to 5 inches of accumulation. While areas like Cascade, Md. in Washington County are seeing just under an inch of snow.
6:12 a.m. -- Big changes in our models led us to reduce the snow totals across the DMV. But instead, we could see more icing and sleet, making road conditions still a mess throughout the day. About .25 inches of ice or more can cause downed branches and power outages.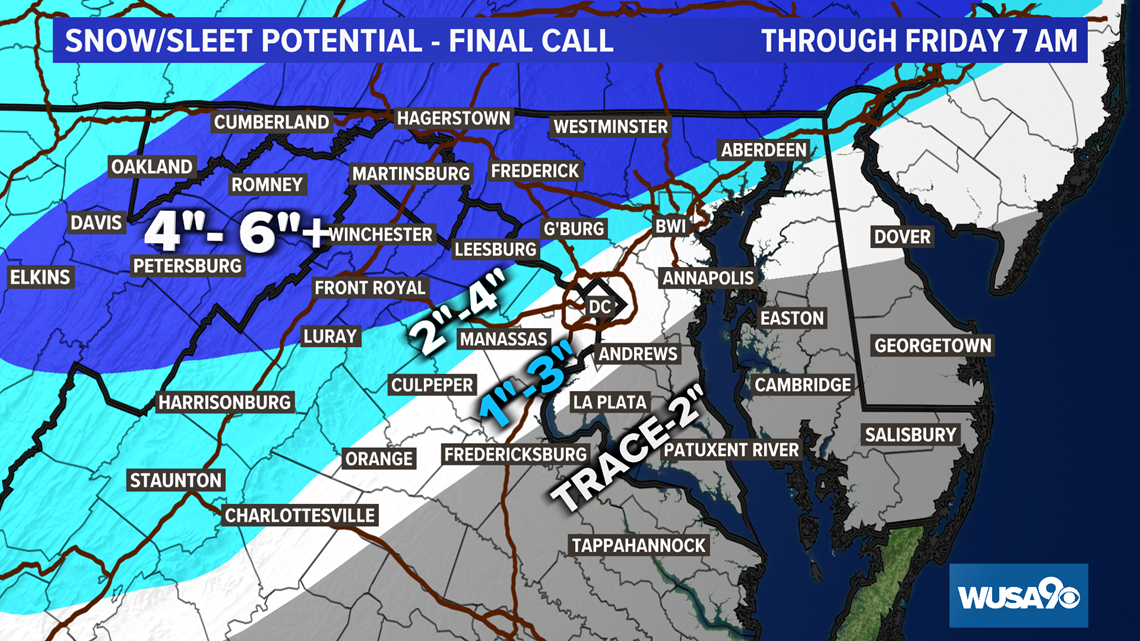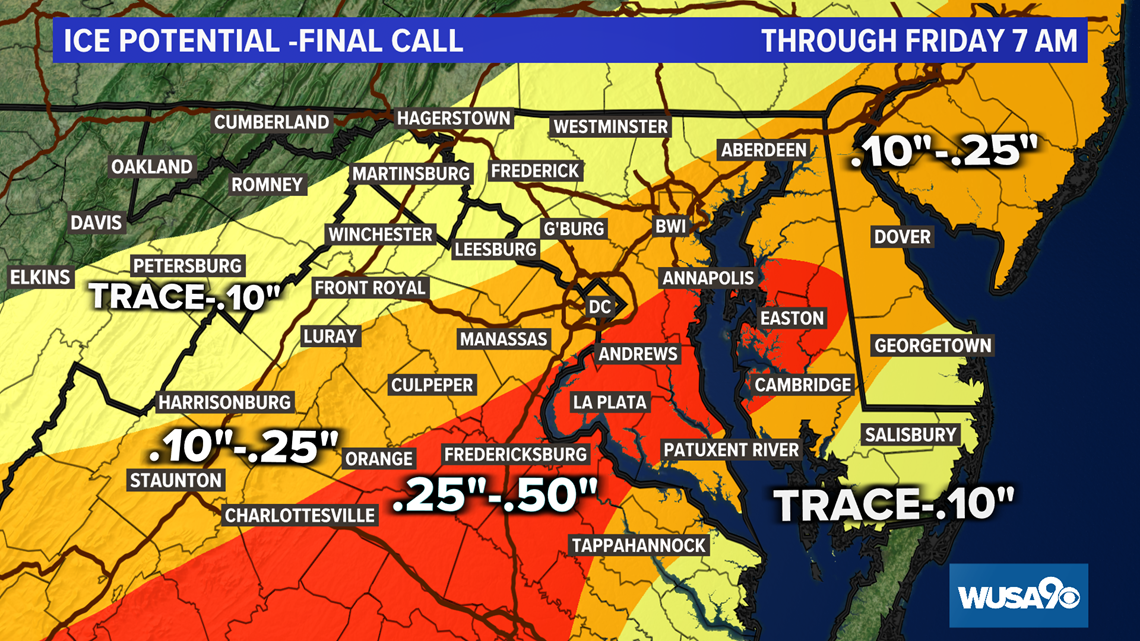 6:03 a.m. -- WUSA9 Reporter Matt Gregory is noticing the snow transition to sleet in Prince George's County, Md.
5:50 a.m. -- The latest snow totals shows that some areas already feeling the brunt of the winter storm. Bloomfield, Md. in Loudoun County is reporting about 3 inches of accumulation while areas like Herndon, Va. are reporting .1 inches.
5:39 a.m. -- Snow plows are filling up their trucks at the salt dome in Manassas, Va. About 20 plows are set to hit the roads to pre-treat the roadways during the storm.
5:27 a.m. -- WUSA9 Reporter Nicole DiAntonio said the snow has transitioned to freezing rain. She said crews are out on the roads pre-treating the roadway to help with the expected icy conditions.
5:26 a.m. -- In the D.C. area, the snowfall has transitioned to mostly sleet. There is a light coating on the WUSA9 Weather Terrace, WUSA9's Miri Marshall said.
5:21 a.m. -- A wintry mix of snow and ice is coming down in Manassas, Virginia and is causing slick roads. VDOT urges drivers to stay off the roads, but if you have to be out there, drive slowly and safely.
5:07 a.m. -- Anne Arundel County Public Schools are closed due to forecasted inclement weather, officials said. There will be no instruction or meal service today, and all schools and school system offices will be closed. All school-sponsored activities are canceled.
5:04 a.m. -- A car is stuck on southbound Interstate 95 due to accumulating snow on the roadway. Drive times look like it may take a little over an hour to commute on some major highways.
4:51 a.m. -- Charles County Government is closed Thursday due to inclement weather. Essential personnel and employees required to maintain operations during inclement weather are to report to work as scheduled.
4:44 a.m. Heavy chunks of snow have started to fall quickly in Prince George's, Md. In the last half-hour, there is already a noticeable coating of snow. WUSA9 Reporter Matt Gregory said the roads look pre-treated.
4:34 a.m. -- A viewer reports seeing heavy snowfall in Alexandria, Va.
4:27 a.m. -- VDOT is already seeing snow-covered roads in much of the region.
3:08 a.m. -- The snow has started to fall west of the D.C. metro region. We can expect the heaviest snow/sleet to come down between 5 a.m. and 1 p.m.
Timing
Thursday Now to 7 a.m. -- Snow and sleet develop and will pick up in intensity through the early hours. Untreated roads will become slick and snow-covered.
Thursday 7 a.m. to noon -- We will see heavy to moderate snow and sleet for all areas. As early as 8 a.m. areas south and southeast of D.C. will mix with sleet and freezing rain. Travel will be difficult.

Thursday noon to 5 p.m. -- After the main burst of snow, sleet and freezing rain in the morning, there will be a lull in the weather for a few hours in the afternoon. Light snow still likely in areas well northwest of D.C. with a light mix elsewhere but with rain or freezing rain in parts of Calvert, St. Mary's, the Northern Neck and the Eastern Shore south of Queensland. Travel will be difficult. Precipitation will be lighter than the morning.

Thursday 5 p.m. to 10 p.m. -- Spotty snow, sleet and freezing rain. The snow/mix line will be from D.C., north and west. South and east of I 95 freezing rain will continue into southern Prince George's, Charles, Calvert and southern Anne Arundel Counties. Some power outages likely south of D.C. where ice buildup will be affecting power lines. Travel will be difficult.

Thursday 10 p.m. to Friday 3 a.m. -- Light snow, sleet, freezing rain and rain continue in the same areas. There will be more power outages around metro D.C. as ice continues to build up. Travel impossible in areas with a heavy glaze of ice and where snow totals are nearing a foot. Travel will be difficult.

Friday 3 a.m. to 7 a.m. -- Light snow, sleet, freezing rain and continue for most, but start to shut down west of the Blue Ridge. Travel will be difficult.