JACKSONVILLE, Fla. — Claudette will move into the Atlantic and away from the US tonight.
The storm was named Saturday morning and became our third Tropical Storm of 2021 in the Atlantic. After landfall, it was downgraded to a tropical depression but as it moves east towards the Atlantic there is a chance it could intensify back into a Tropical Storm.
The storm produced significant flash flooding and tornadoes along the gulf coast resulting in several deaths and damage there with dozens of homes reportedly being destroyed. This goes to show even a "weak" storm system can still have serious impacts.
IMPACTS ON THE FIRST COAST.
For the first coast, we continue to see indirect impacts from the storm. This all thanks to the onshore flow behind it triggering scattered showers and thunderstorms Sunday afternoon. A few passing showers are still possible overnight with another round Monday and into Tuesday on the backside of the low along with an approaching cold front from the northwest.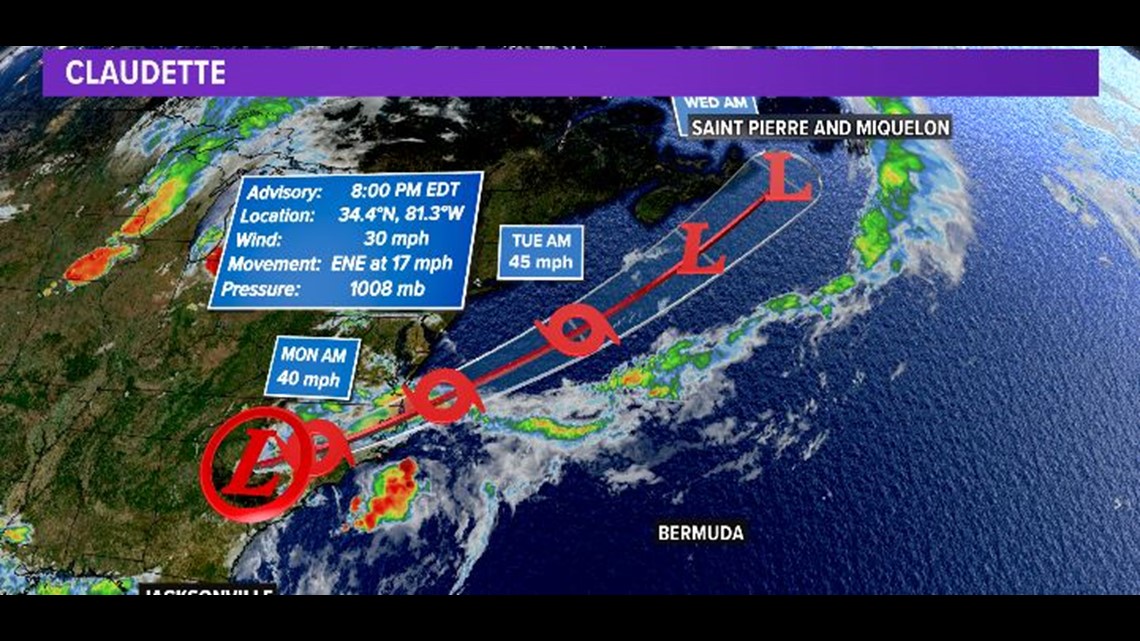 Hurricane season is here and the time to prepare is now. Make sure you have had conversations with your loved ones about what you would do if a storm were to threaten.
This year, NOAA released the new seasonal averages for the Atlantic basin. According to the 30-year data from 1991 to 2020, the new averages include 14 named storms, 7 hurricanes, and 3 major hurricanes. The previous Atlantic storm averages, based on the period from 1981 to 2010, were 12 named storms, 6 hurricanes, and 3 major hurricanes. The averages from 1951-1980 , were 11 named storms, 5 hurricanes, and 1 major.
The Atlantic hurricane season officially runs from June 1 to November 30.