WASHINGTON — It's that time again! Now that fall has settled in and the pumpkin spice latte is hot, it's time to see vibrant red hues, rustic orange, and golden yellow leaves take over the trees.
Right now in the D.C. metro area, you may spot a leaf or two changing colors, but most of the trees are still green with little to no color change.
But as we get fewer hours of sunshine and cooler weather comes in, we will notice the change in the coming weeks.
In Virginia, the Virginia Department of Forestry reports a dramatic change in the higher elevations of southwest Virginia with some areas ranging from 25-50% coloration. Along the Blue Ridge, the department reports spotty red coloring, with patchy color in other locations.
We will likely start to see some light and patchy color change in the first two weeks of October with more hints of color after October 15. On average, around D.C. fall colors peak around November 7; inside the Beltway around October 31; northern and western suburbs around October 24; Skyline Drive around October 16; and Garrett County around October 10.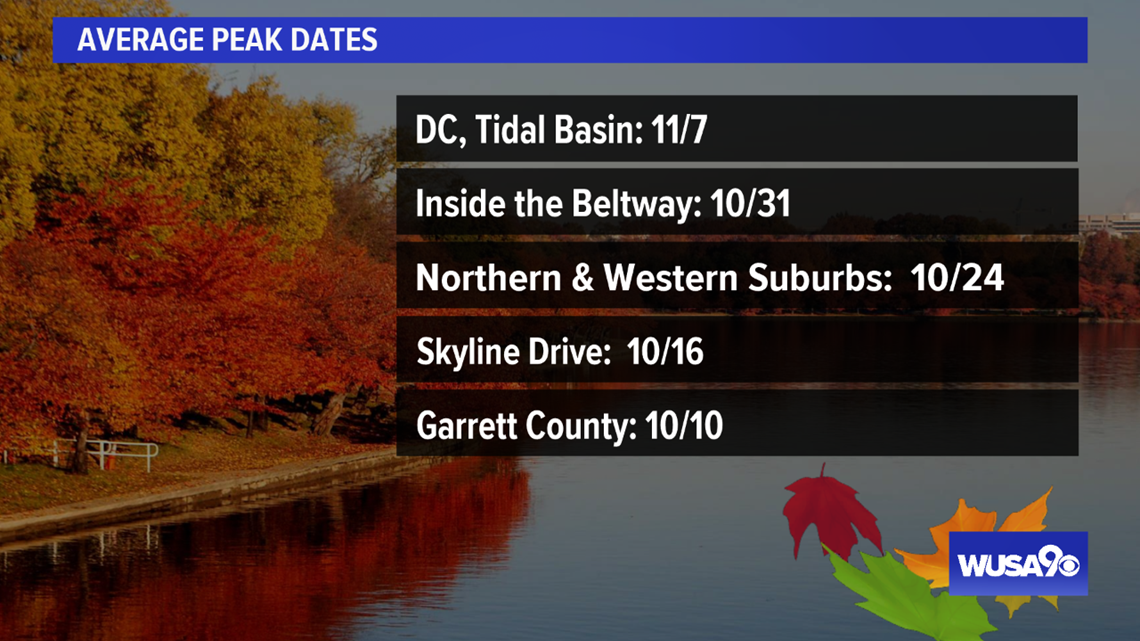 So why do the leaves change color? The short and simple answer is plants have less chlorophyll . Chlorophyll is a pigment in plant's cells that gives leaves the vibrant green color. With chlorophyll taking a back seat, the hues of red, orange and yellow show up.
Now let's dig into that explanation a bit further. In spring and summer, longer hours of daylight aid in production of chlorophyll.
Chlorophyll absorbs sunlight and processes energy from the sun to make sugars and starches that trees use for food.
In the fall, daylight hours are shorter, meaning less time in the sun to produce chlorophyll. When chlorophyll production slows and is cut off, instead of green, the other brilliant colors are unmasked from the other pigments in the leaves. Carotenoids give leaves their yellow and orange colors. Anthocyanin give leaves hues of red.
Warm sunny days and cool, but not freezing, nights are ideal weather conditions for great fall colors.
See it. Snap it. Share it.
Once you start seeing the fall colors in your neighborhood, send us a picture so we can share it using the Near Me feature on our website.