WASHINGTON — Crews are on the streets cleaning up the last of fallen trees, power outages and flooding after a severe thunderstorm moved through the area Monday evening.
As of 4:15 a.m. Tuesday morning, thousands are still without power in the region. According to Pepco, there are dozens of active outages following the severe storm, leaving more than 2,000 customers without power. Dominion Energy is also experiencing outages with more than 1,700 customers without power.
Utility crews were spotted in the area just outside of Trinity Washington University on Michigan Avenue in Northeast D.C. working to restore power lines.
Around 5:30 a.m. Tuesday, A downed tree on Sligo Creek Parkway in Silver Spring, Md. has shut down the roadway in both directions between Piney Branch Road and Maple Avenue. The road is expected to reopen by 10 a.m., Maryland National Capital Park Police said.
A downed tree on a house was reported Tuesday morning in the area of Piney Branch Road in Takoma Park, Md. As of 5:25 a.m., the Road is also closed in both directions from Maryland Route 410 and Eastern Avenue.
Pictures and videos posted to Twitter Monday evening by emergency services and residents show the severity of the storm and damage left behind.
D.C. Fire and EMS shared photos of a large tree that fell on a house in the 1300 block of Webster Street in Northeast D.C. Fire and EMS said the house sustained no structural damage and no one was injured when the tree fell.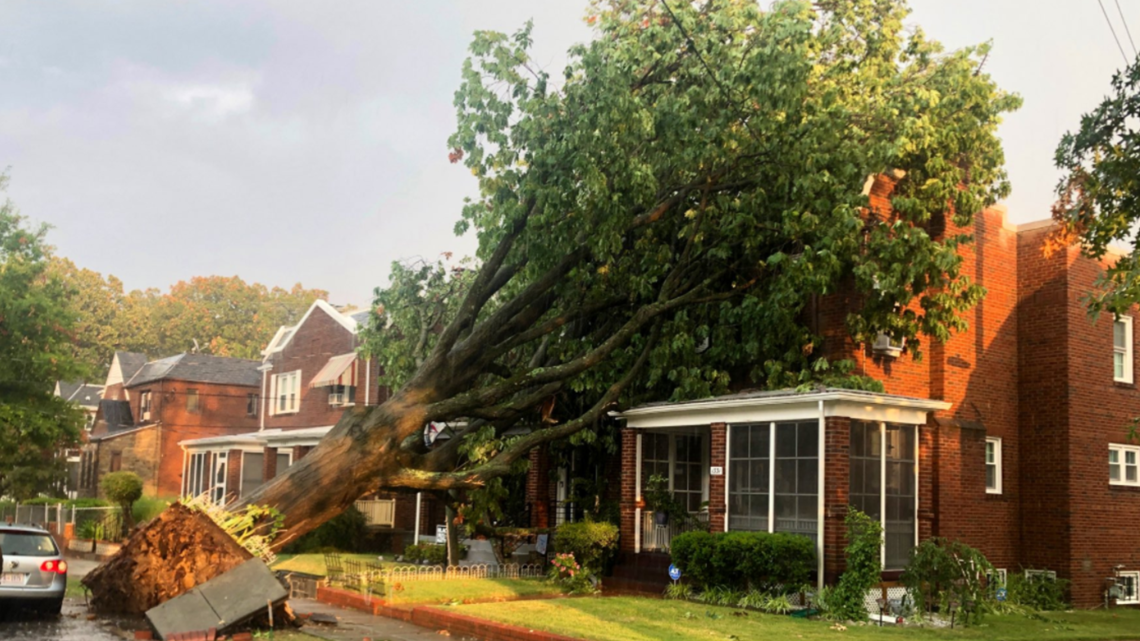 D.C. Fire and EMS said another large tree fell on a house in the 600 block of Irving Street in Northwest D.C. Eight adults and a child was displaced from the home and Fire and EMS called for a building inspector due to apparent structural damage.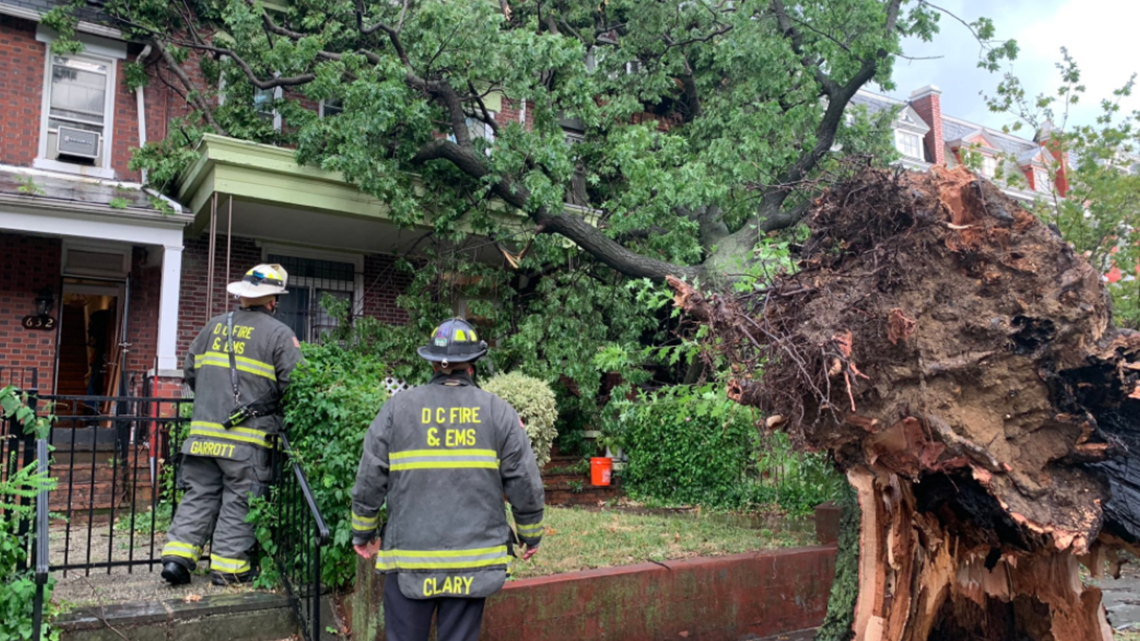 D.C. Fire and EMS shared a video after a gas line was ignited by a fallen power line on Kennedy Street in Northeast D.C. during the storm.
A person was rescued in the 400 block of Rhode Island Avenue in Northeast D.C. from high water beneath an overpass, according to D.C. Fire and EMS. That person was not injured.
Three people were shot Sunday around 4 p.m. in the 100 block of Q Street, Northwest.