WASHINGTON — With the 2020 hurricane season off to an early start, I decided to research how many hurricanes have moved through the DMV, dating back to 1842. Turns out that over 178 years, only 18 hurricanes have hit the region.
For this story, I used NOAA online data to see what tropical systems with 74-mile-per-hour winds or greater passed within 150 miles of Washington, D.C. I excluded tropical storms and tropical depressions -- storms with winds less than 74 miles per hour -- as well as any system that is classified as a former tropical system.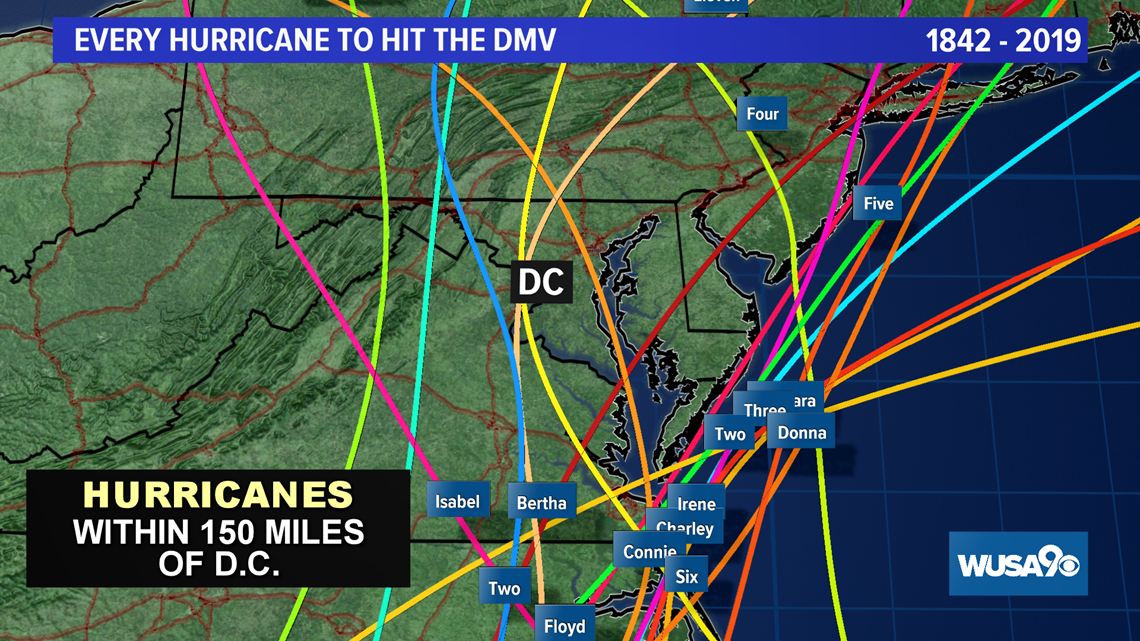 Some of the highlights are listed below:

The hurricane of 1878: Gale of '78 is a category 2 hurricane and is considered to be the strongest recorded hurricane to ever hit the DMV. The storm, which formed over the western Caribbean, moved through the night of October 22nd through the 23rd. In Virginia, the storm killed nearly 2 dozen in a shipwreck in Virginia Beach. In D.C., roof damage and flooding came with the storm, and several roads were washed, among other damage. Maryland also saw widespread damage, including flooding, wind damage, and a shipwreck in St. Mary's County that killed five.

The hurricane of October 1893: This unnamed category 1 hurricane caused massive flooding across the DMV, including in Alexandria and D.C. Additionally, a supreme court justice was injured in the storm, the Calvary Baptist Church in D.C. was damaged, and multiple ships sank in the region.

The hurricane of September 1896: This storm, also a category 1 hurricane, was the most damaging storm on record for places like Georgetown in D.C. Wind damage and flooding was felt across Virginia, Maryland, and D.C. on Sept. 29 and 30. Several dozen windmills were wrecked in Falls Church. Churches were damaged in Manassas, Alexandria, and in the capitol. In fact, widespread wind damage was reported in D.C. and the surrounding communities. Many buildings lost their roofs. A wind gust of 80 miles per hour was recorded within the District. Additionally, there was a massive flood along the Washington, D.C. waterfront. Most vessels around the wharf and several nearby structures were destroyed. Sixteen people were killed in the DMV by this hurricane.
Connie, 1955: This storm crossed the DMV on Aug. 13. Flooding was the largest problem, with flooding along Rock Creek and the Anacostia Rivers. Some places in Prince Georges County saw over 9 inches of rain, with nearly eight inches recorded at National Airport from Aug. 12-14. This storm also set the stage for massive flooding that occurred five days later as the remnants of hurricane Diane moved through the region.

Floyd, 1999: The storm made landfall in North Carolina on Sept. 16 as a category 2 hurricane. It's infamous in our region for dumping 12 to 14 inches of rain in Maryland. There was a 2 to 3-foot storm surge along the Chesapeake Bay. Four people died in the DMV because of the storm.
Isabel, 2003. Our region saw impacts from the record-setting storm in September of 2003. Tropical-storm-force winds were felt across the entire DMV, along with major river flooding along the Potomac, Shenandoah, and Rappahannock Rivers. Low lying portions of Old Town Alexandria also experienced flooding and damage. At one point, two-thirds of Pepco's customers were without power. The storm is most remembered for its 5 to 9-foot storm surge along the Chesapeake Bay in Virginia. Ten people in the DMV died as a direct result of the storm.

Honorable mention -- Agnes, 1972: While not a hurricane when it reached the DMV, it was one of the most destructive and memorable storms in our region's history. 10 to 14 inches of rain fell over the DMV in late June of 1972. The storm cost over $2 billion worth of damage in the U.S. Additionally, 13 people were killed in Virginia, and 19 died in Maryland.
Honorable mention, Hazel --1954: Also not a hurricane when it reached the DMV, this storm is known for having the highest recorded winds ever in D.C. Washington National saw a sustained wind of 78 miles per hour, with gusts to 98 miles per hour. The former hurricane walloped the D.C. area with roof damage, a large amount of tree damage, and caused over $40 million ($380 million today) worth of damage.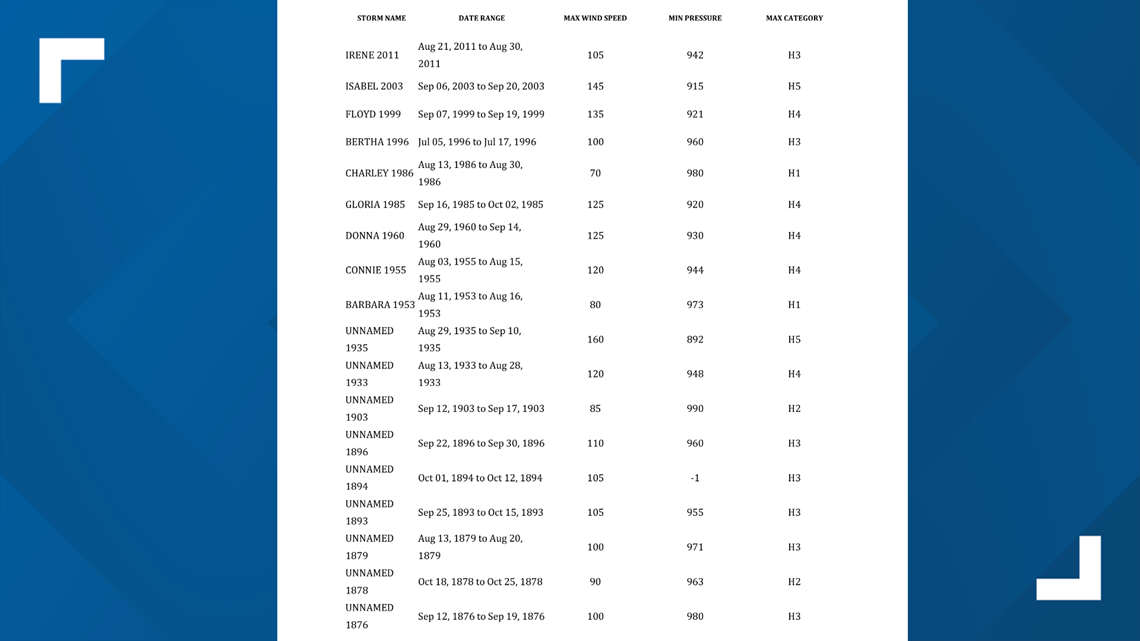 Every hurricane in the DMV, most recent to least recent:
IRENE 2011 Aug 21, 2011 to Aug 30, 2011
ISABEL 2003 Sep 06, 2003 to Sep 20, 2003
FLOYD 1999 Sep 07, 1999 to Sep 19, 1999
BERTHA 1996 Jul 05, 1996 to Jul 17, 1996
CHARLEY 1986 Aug 13, 1986 to Aug 30, 1986
GLORIA 1985 Sep 16, 1985 to Oct 02, 1985
DONNA 1960 Aug 29, 1960 to Sep 14, 1960
CONNIE 1955 Aug 03, 1955 to Aug 15, 1955
BARBARA 1953 Aug 11, 1953 to Aug 16, 1953
UNNAMED 1935 Aug 29, 1935 to Sep 10, 1935
UNNAMED 1933 Aug 13, 1933 to Aug 28, 1933
UNNAMED 1903 Sep 12, 1903 to Sep 17, 1903
UNNAMED 1896 Sep 22, 1896 to Sep 30, 1896
UNNAMED 1894 Oct 01, 1894 to Oct 12, 1894
UNNAMED 1893 Sep 25, 1893 to Oct 15, 1893
UNNAMED 1879 Aug 13, 1879 to Aug 20, 1879
UNNAMED 1878 Oct 18, 1878 to Oct 25, 1878
UNNAMED 1876 Sep 12, 1876 to Sep 19, 1876