WASHINGTON — The DMV got hit with its first real snow of the season, and the biggest storm the area has seen in several years. And you know what that means? Dogs and cats all across town experienced the joy of a snow day -- many for the first time!
The only thing better than possibly getting a day off work or school is watching your furry, four-legged creatures decide how they feel about snow. Whether they are bounding through fluffy, white piles at full speed, like the majestic creatures they are, or cautiously dipping a manicured paw into the cold, foreign substance, pets + snow = pure happiness for humans.
From first timers, like Ms. Tenley above, to snow veterans, like our husky friend from Leesburg, here's how pets of the DMV spent 2020's first snow day!
Pets enjoy 2020's first snowfall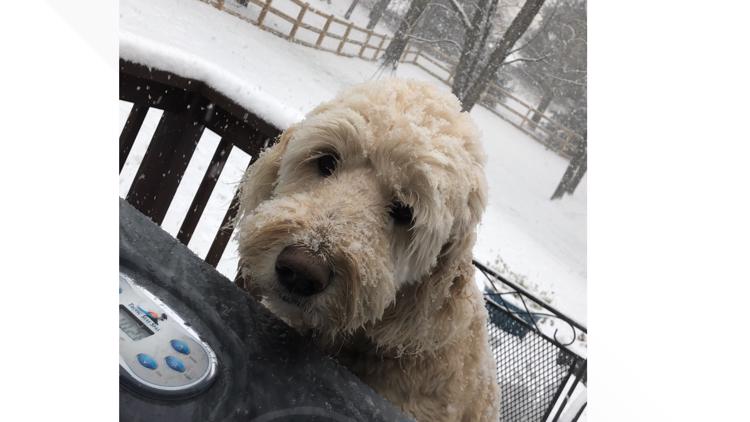 Don't forget, walking your dogs in the snow takes a little more preparation than your typical afternoon stroll. Here are a few winter walk tips:
Stay warm: Dogs with short hair, and older dogs who get cold easily, need an extra layer when walking outside. But make sure you take off the sweater or coat as soon as you're home since snow can linger on fabric. It's also a good idea to trim your dog's hair between the toes to prevent snow from sticking.
Beware of salt: Salt that's poured on icy sidewalks is often irritating to dogs' paws. There are newer pet-safe versions you can buy for your own property. But if you're taking your dog for a longer walk, booties are a great option.
Know the warning signs: It's important to keep up with a walking routine for you and your dog, but don't push it in extreme temperatures. If your dog is shivering, acting sluggish, or seems to be seeking warmth, these can be signs of hypothermia. Get him back inside and warmed up. If he doesn't bounce back in a timely manner, reach out to your veterinarian.
One thing we know for sure is our canine and feline friends will sleep well tonight! Sweet dreams and may you have many more snow days ahead!
We want to see your snowy pet photos! Tag us on social at #WUSA9weather or text them to us at 202-895-5599.