People in the northeastern United States struggling with steamy August air will have to wait until the middle of the week or later before some relief by way of thunderstorms arrives, but not everyone may get drenched.
It has been nearly a week after Isaias tore up trees and downed power lines from North Carolina to New England and more than 150,000 still had no electricity in this corridor as of Monday, according to PowerOutage.US.
More relatively quiet days in terms of thunderstorm activity are in store for hard-hit areas of the mid-Atlantic and New England as crews continue to work on restoring power. However, the quiet weather into midweek will come at a price. Temperatures will soar into the 90s F over a broad area of the mid-Atlantic, central Appalachians and New England.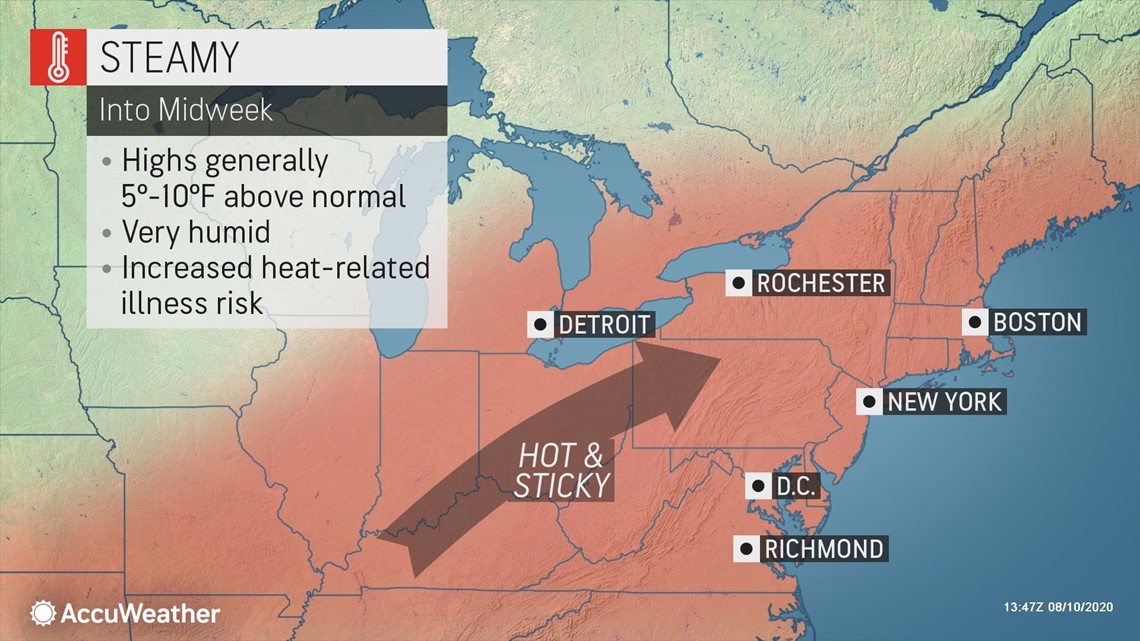 "It looks like a real scorcher from parts of Pennsylvania to New England relative to average through Tuesday," AccuWeather Senior Meteorologist Mike LeSeney said.
"And in some areas near the Atlantic coast the heat may last through Wednesday," he added.
During the middle of August, typical highs range from the upper 70s in northern New England to the upper 80s around the Chesapeake Bay.
"During August, the normal high and low temperature tends to drop by a degree every three days or so in the Northeast states as the nights get longer and the sun angle begins its decline that continues through the winter solstice in late December," AccuWeather Senior Meteorologist Dave Dombek stated.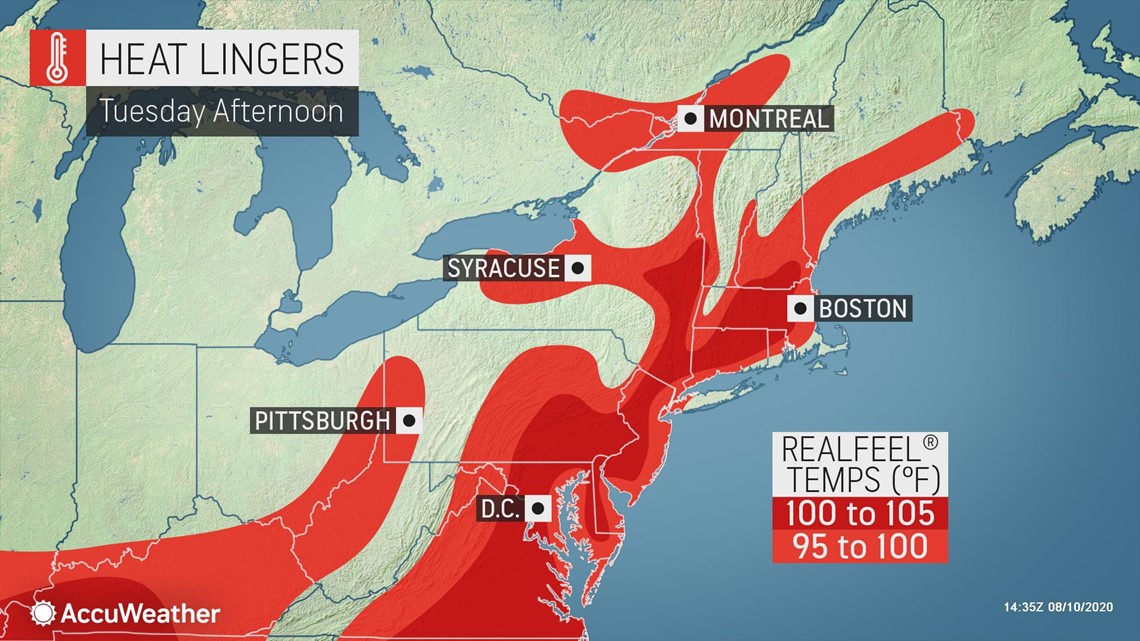 A moist ground in the wake of Isaias will hold temperatures back just a bit in the coastal mid-Atlantic. This area was pummeled with several inches of rain on Tuesday as Isaias rampaged through the area ahead of more downpours into Friday. When the ground is wet, more of the sun's energy is used up evaporating moisture from the ground instead of heating the air in the lowest part of the atmosphere. This is why dry areas tend to behave more like a desert and can have a faster temperature rise during the day, compared to areas that are wet.
Not everywhere has been wet across the Northeast, however. Portions of central Pennsylvania, upstate New York and New England have avoided thunderstorm downpours in general since the middle of summer.
"It has been feast or famine in terms of rainfall this summer and especially during the past couple of weeks," AccuWeather Meteorologist Courtney Travis said.
"Reading, Pennsylvania, has already achieved its third wettest August on record with only one-third of the month gone by," added AccuWeather Meteorologist Brandon Buckingham.
Reading received 10.47 inches of rain through Aug. 7, which was nearly three times the average of 0.82 of an inch.
Meanwhile, about 100 miles to the northwest, State College, Pennsylvania, has only received about one-third of its average rainfall since July 1 and some areas in Centre County, Pennsylvania, have received even less during the same period.
A motorist traveling from central Pennsylvania to the southeastern part of the state would find brown lawns, stunted crops and small streams running a trickle to start off and then end up finding a green and lush landscape and many streams running near bankfull.
Variations in summer rainfall are to be expected due to the random nature of thunderstorms, but in the case of this summer, it is more extreme than average with impact from Isaias playing a big role. Areas that got whacked by Isaias are well above average in terms of rainfall, while areas that got missed are generally well below average in the rain department.
A change in the weather pattern during the middle part of this week will allow moisture from the Midwest to shift eastward, and at the same time it will begin to allow some moisture to flow northward from the Gulf of Mexico, but only to a certain point.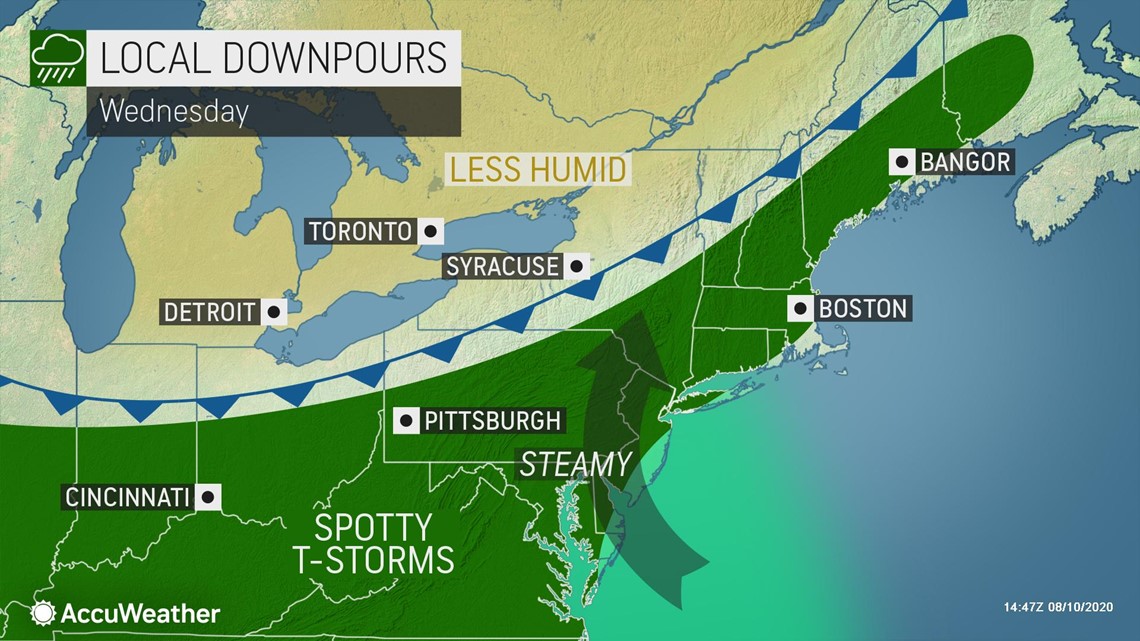 However, after a surge of moisture with midweek showers and thunderstorms, a sweep of dry air is forecast to cut across upstate New York and New England.
Exactly where the boundary between the dry air and frequent showers and thunderstorms sets up late this week and this weekend is unclear, forecasters say. It might end up near New York City and Buffalo, New York, or it could be farther to the southwest or farther to the northeast.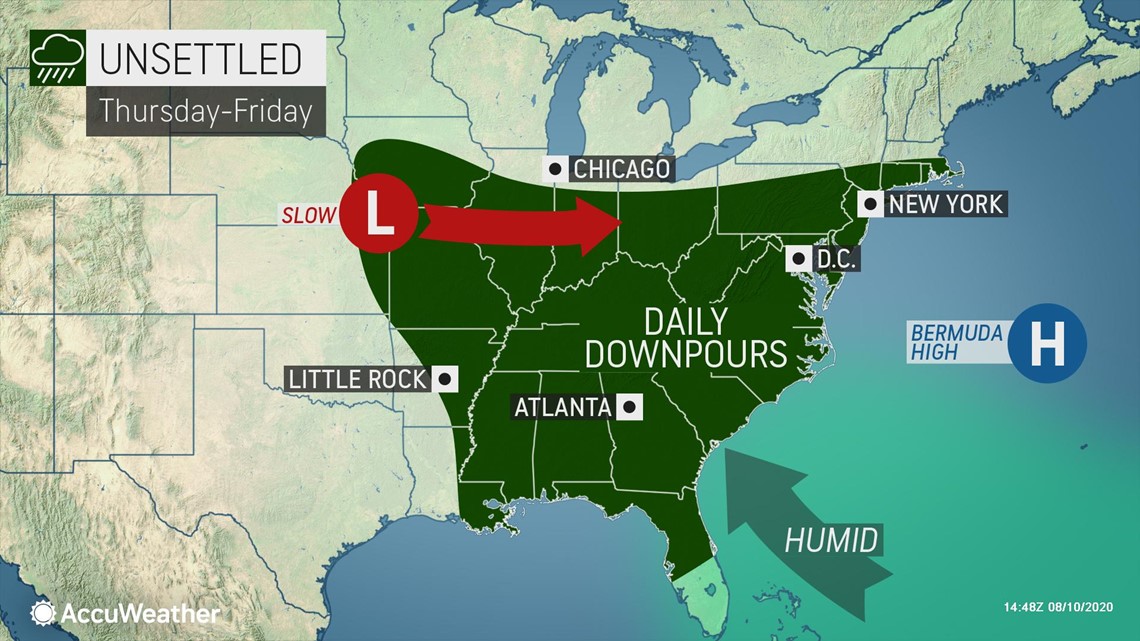 Areas that are in the moist zone could potentially end up with a few inches of rain over a several-day period. But, areas farther to the northeast may only get a single shower or thunderstorm that brings a few tenths of an inch or less around midweek.
Toward the weekend, moisture from the Atlantic may also join in and add to the stormy pattern across parts of the region.
The risk of flash flooding will be elevated for areas that were impacted by Isaias and drenching thunderstorms in the tropical system's wake. Urban-style flooding can occur in just about any of the storms, even if they should wander over areas in need of rainfall, such as in central Pennsylvania, upstate New York and New England.
The clouds, showers and thunderstorms will hold back daytime temperatures, but the uptick in humidity that accompanies the wet weather could make for more muggy conditions, especially at night. By the end of the week, high temperatures in New York City will be close to 80, while the low temperature will only drop to near 70. In Burlington, Vermont, where midweek rain may be scarce and clear skies may rule later in the week, highs are forecast to be in the mid-80s with lows in the lower to middle 60s.