STEPHENVILLE, Texas — With slightly rolling green hills and plenty of room to roam, the wide-open pastures surrounding the Tarleton State University Equine Center are remarkably inviting -- especially in the midst of a global pandemic.
Serenity is one thing that draws people to the center. But science is another.
"I can actually feel this horse's heart rate going up right now. She's nervous," said Kimberly Guay, an associate professor in Tarleton's equine science department.
She had one hand on a horse and the other on the equivalent of an equine Fitbit – a monitor that tracks a horse's heart rate and other vital signs.
"She's getting warmer. She's being more active. She may start sweating. These are all things we can measure," she explained.
"We put them in stalls. They're made to be outside roaming around. They are herd animals. When we separate them from other horses, it's normal for them to get nervous."
Just like in humans, Guay said, a chronic state of nervousness can lead to illness and autoimmune disorders in horses.
And she thinks we humans owe it to horses to help them heal.
"Everybody who has a horse says horses are good therapy for stressful days," she said. "If they are our companions and working for us, I think it's important that we make their lives acceptable."
But there's not a lot of data to prove if it really works.
So, before the COVID-19 pandemic began, Guay launched a research study to track the effects of CBD on horses.
Macy Keating, a Tarleton student from Midlothian, is helping with the research.
Keating is on medication for her own anxiety, and she's seen it in BG, too.
"If he's dealing with it, I know I want to everything I can do to prevent it," she said.
Keating trained BG to run the barrel pattern at competitions, but they had a "horrible fall" during her junior year of high school.
"He flipped over on top of himself," Keating said.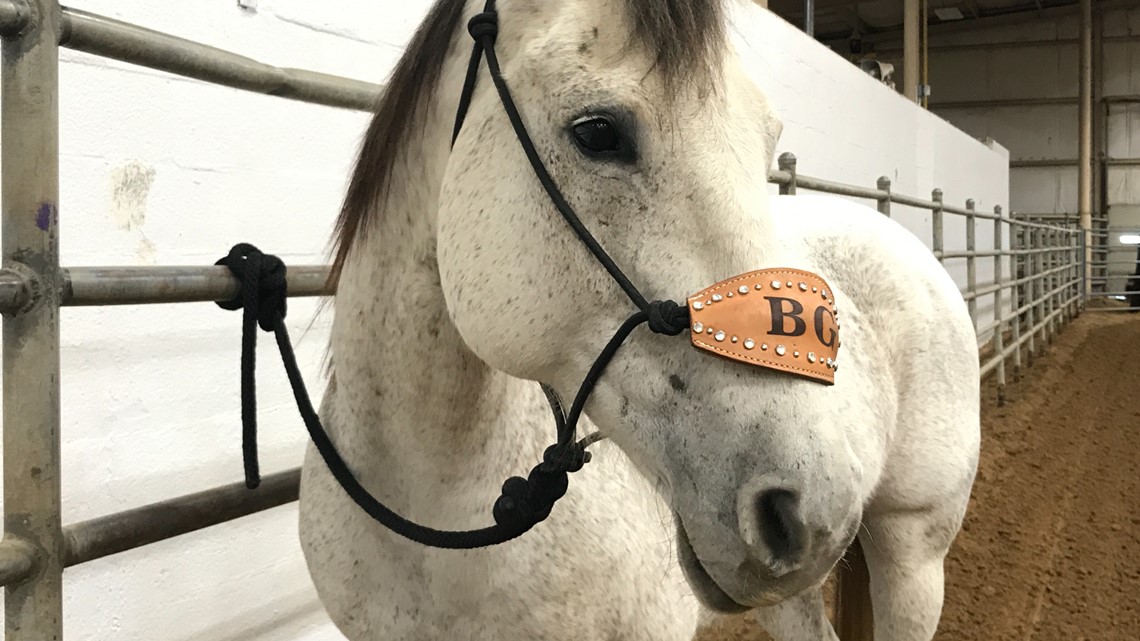 After the incident, BG became a different horse.
"He would kick, try to buck me off, slam me into fences," she described. "It changes your heart. You don't want to put your heart through that."
"I'd bawl my eyes out. I'd gotten to the point where I didn't want to ride anymore."
Keating and BG had been best buddies for years and she worried he'd never be the same.
After trips to several veterinarians, an acupuncturist, and a chiropractor, Keating tried CBD on BG.
And now he has "no issues at all."
Keating is excited to help with Guay's study.
But she said convincing other horse owners to take part has been tricky.
One woman hung up on her, she said.
"I think they assume we're trying to get their horses high," she said, laughing.
Guay has not yet completed the research, but said data appear to show a trend of a potential decrease in heart rates after CBD is administered.
CBD is still forbidden in many horse shows and competitions across the country, Guay said. The outcome of her study might have an influence on those rules and regulations.
"Did you see that big breath?" she asked, after administering CBD to one of the horses in the study. "That was an indicator of relaxing."
Keating said at one point she worried she'd have to give BG up.
"I'm so thankful that this horse can stay in my life," she said. "I honestly don't think I can find another horse that I love as much as I love him."