WASHINGTON — Agriculture impacts everyone's life every day. The United States Botanic Garden has a long history of agriculture.
"We wanted to take that original idea of founding in the United States Botanic Garden and look at it from a modern perspective and modern agriculture," explains Amy Bolton, the Manager of Learning and Engagement for the United States Botanic Garden.
And so the idea for "Cultivate: Growing Food in a Changing World" was born. The exhibit highlights the science and technology of growing food, cultural connections to growing food and the stories of those involved with farming.
Starting in the East gallery of the Botanic Garden, you're greeted with a display that's both beautiful and educational, teaching visitors about how corn is used in so many of our everyday products.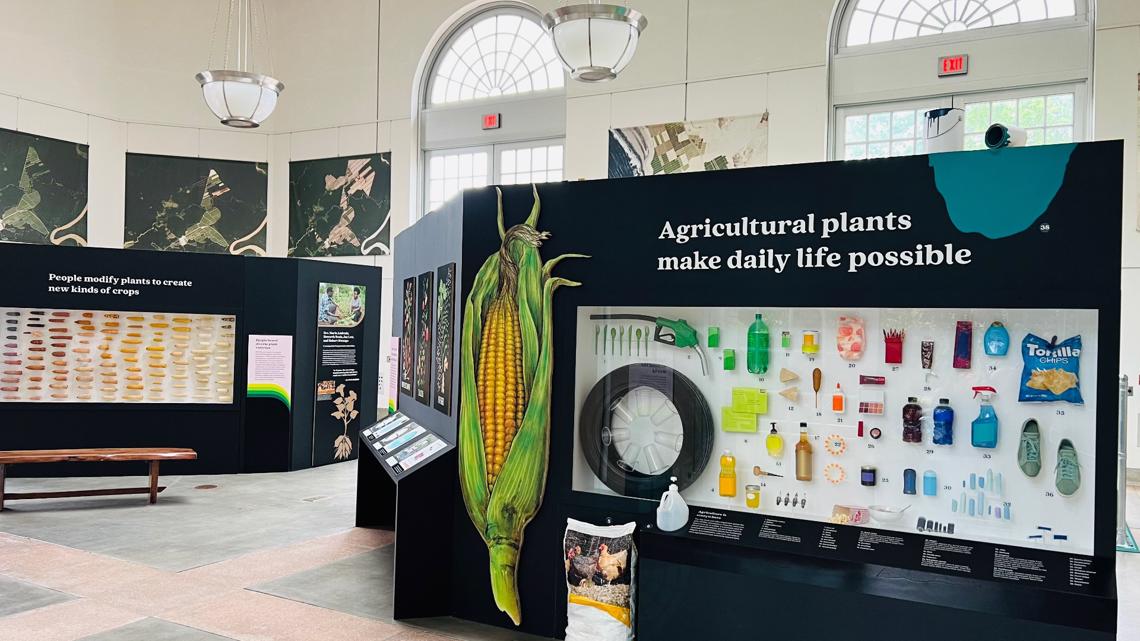 "And what I love about the display, other than being beautiful and colorful, is that it allows people to make a personal connection to something on here," Bolton said. "There are shoes, there's chalk, there's makeup, there's corn products, like corn oils, spark plugs -- who knew that corn was part of a spark plug?"
You might also be surprised to learn that food production generates about 25% of greenhouse gas emissions.
But you can see the unique ways farmers are helping to offset carbon emissions through alfalfa.
Alfalfa roots can extend as far as 12 feet deep into the earth and the plant is incredible at storing carbon.
From measuring how you stack up to alfalfa roots, and seeing what it would be like to farm in an urban setting, to feeling how much weight different types of foods produce in carbon dioxide when you take into account things like processing and transportation. The entire exhibit is interactive.
"We know that people learn in different ways. We know that people connect to ideas in different ways," Bolton said. "Our goal from the very beginning was to create an exhibit where people can read about interesting ideas that they like to read, where if they need to physically experience something to get an idea across that they can do that as well."
The West gallery focuses more on people and how farming has evolved.
"There's a historic section that talks about some of the famous foods that impact our world today," Bolton said. "We look at farming from before the Europeans arrived up until modern day and look at some of the big trends in farming."
There is also a section dedicated to local chefs that highlights how they use food in their everyday life and how it connects to their culture.
"I think one of the most impactful parts of the exhibit is What Tastes Like Home, where people can put their ideas up on the exhibit. They can leave their ideas and their answer to the question, "What tastes like home?" We've seen an incredible array of ideas, from recipes to personal stories about how the smell of mom's bread, baking in the morning, you know, brings back such wonderful memories to them."
The Cultivate exhibit will be at the U.S. Botanic Garden at least through the end of this year, but it's been such a success it may get extended.