WESTMINSTER, Md. — In many ways, Sarah Pennington is just like any other college student—her colorful dorm room is decorated with photos of friends and family, Harry Potter posters and inspirational quotes. She can't decide on her major at McDaniel College yet, but she has a strong interest in filmmaking.
But two things set Sarah apart from her peers: she's bald and a beauty pageant queen.
Sarah keeps her brown hair shaved close to her scalp because she has trichotillomania, a compulsive disorder that causes her to pull out the hair on her eyebrows, eyelashes and head. Her hair is cropped to even out bald spots and to prevent herself from pulling out strands.
Diagnosed when she was 11 years old, at first Sarah only pulled out her eyelash and eyebrow hairs. But as her condition, which was coupled with anxiety and depression, got worse, her loved ones knew she needed to get help. She began to pull out the hair on her head, leaving her with noticeable bald spots she tried to hide with hats and wigs.
Sarah underwent counseling for years, with varying degrees of success. She continued to feel depressed and even thought about suicide. By the time she got to high school, she missed weeks of school.
That's when she decided to take the serious step of seeking help at a residential treatment program in Wisconsin, miles away from her home in Pennsylvania.
She lived at the facility for three months. It was there that she first took off her hat in public and began to love herself for who she was.
As she regained her confidence, Sarah started making YouTube videos to share her story, educate others about trichotillomania and fight the stigma surrounding mental illness. A friend who watched the videos suggested Sarah revisit an old interest—beauty pageants.
As a kid, Sarah competed in pageants. She liked dressing up and always had an interest in acting. But once she began pulling out patches of hair, she stopped competing.
After treatment, she felt empowered to return to the world of pageants and tell her inspiring story. She shared her fight with trichotillomania during interviews and opted out of wearing a wig for almost all her competitions.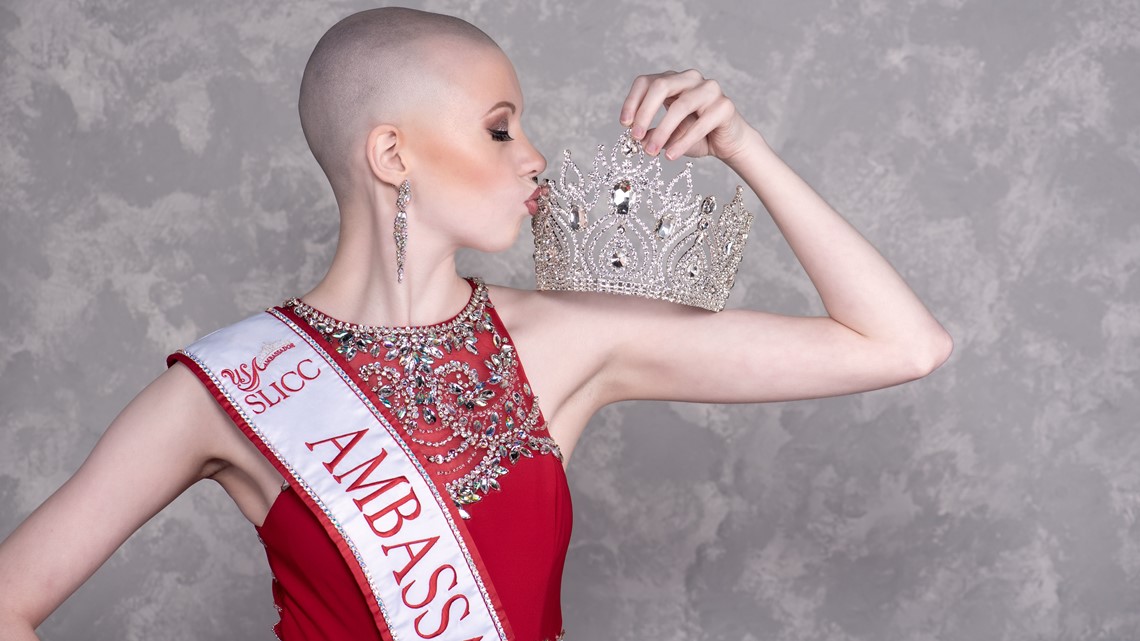 "It's been so crazy for me because I never expected to be able to get to this point," Sarah said.
"There was a point where suicide was a thought in my head, so being able to encourage people and change other's lives is something that I want to continue for the rest of my life."
Pageants gave Sarah a public platform she never had before. In 2018 she was crowned Miss Maryland USA Ambassador and went on to earn the national title of a Success Through Leadership, Integrity, Character and Confidence (SLICC) Ambassador in 2018, one of three awards given to candidates who shows outstanding commitment to community service. She also currently serves as an ambassador for the Trichotillomania Learning Center (TLC) Foundation for Body Focused Repetitive Disorders (BFRBs.)
By sharing her story, Sarah hopes she can help other young people who also struggle with mental illnesses.
"It's not about looking pretty or wearing a crown… it's about me having the opportunity to use the crown as a microphone to share who I am and why I feel that other young people should embrace themselves, flaws and all," she said.
If you or someone you know may be struggling with suicidal thoughts you can call the U.S. National Suicide Prevention Lifeline at 800-273-TALK (8255) any time of day or night or chat online. The crisis text line provides 24/7 support (Text 741-741)
HeartThreads are the best stories about the best of us. Want more? Follow us: