FAIRFAX, Va. — Ellen Graham is used to hearing everything her daughter Cameron can't do.
"There were many times over the years of raising my daughter where I had doctors and other specialists say to me, 'Your daughter's never going to be able to do that,'" Ellen said.
But when her daughter is in the kitchen at Cameron's Chocolates, her abilities, rather than her disability, define her.
The story of Cameron's Chocolates started when Cameron herself was a little girl.
According to Ellen, she was "the perfect baby." But as she got older, Cameron wasn't able to speak. Her parents took her to many doctors and learned she had developmental delays.
Eventually, Cameron began to babble around age six and spoke in full sentences at age nine. Doctors were never able to diagnose her with anything more specific than an intellectual disability.
But her parents Ellen and Jim made a concerted effort to keep her involved in traditional school activities as she grew up. Cameron attended regular classes, in addition to her special education classes, and played on both Special Olympics and regular sports teams.
"Like so many people who have intellectual challenges, she has pockets of brilliance and areas of weakness," Ellen said.
Cameron developed an interest in baking and participated in a special event where she made sweet treats alongside Virginia chef Patrick Bazin. That's where she solidified her love for baking.
After high school, she also completed a job training program where she worked in a culinary class, catering meals for real customers.
Cameron also worked at a Giant grocery store. Ellen credited Giant with being a supportive and welcoming employer for people with disabilities. And while Cameron was successful at the grocery store, she sometimes got lonely.
Ellen said Cameron would call her while on break because she missed working with her friends.
That led Ellen and Jim to think about work environments where Cameron might feel included and still challenged.
They were both knowledgeable about starting businesses. Jim had started other companies before, and Ellen was a banker. And so, with both of their expertise, the idea for a candy store was born.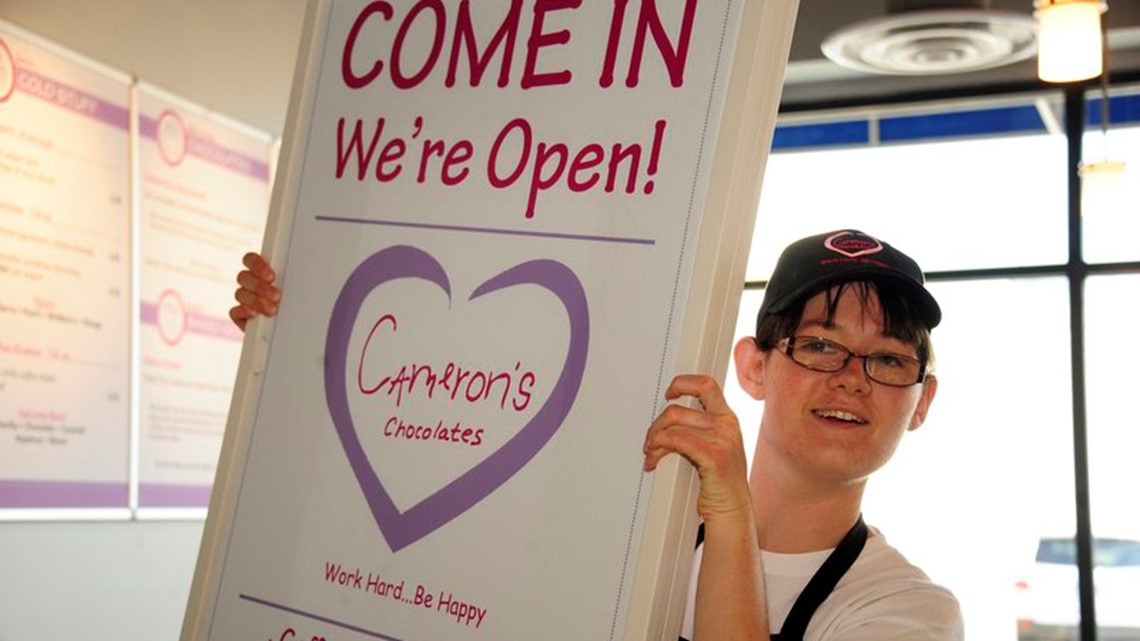 After researching stores that focus on hiring workers with special needs, they decided on a model where people with disabilities would work alongside volunteers and culinary experts. It was important to Jim and Ellen that they hold their employees to a high standard and produce high quality products, while also teaching staff social and life skills.
In October of 2013, Cameron's Chocolates opened for business. Cameron and her coworkers stocked the shelves with freshly-made chocolates, pastries, jams and other treats, and fulfilled catering and holiday orders. Ellen and Jim developed a system where teams of workers rotated assignments every day, learning new recipes and skills.
As the store grew, so did the community behind it. Staff organized activities outside of work for the employees, and friendships blossomed.
"It's so much fun… I love it," Cameron said about her job.
The store's employees, volunteers, supporters and families made Cameron's a success, said Ellen and Jim.
"People think we did this just for Cameron, and that's not the case," Jim said.
"For us, it wasn't about promoting Cameron. But Cameron was kind of the embodiment of what was going on here. She was the spirit and the 'I can do one more thing' kind of attitude, so it just kind of made sense," he said.
The impact of Cameron's Chocolates resonated beyond just Cameron and the Graham family, encouraging customers and community members.
"A lot of times, people will come here not having a real connection to our community but finding inspiration in it," Ellen said.
The Grahams hope other parents who have children with special needs can learn from and be encouraged by their business model. Many people with intellectual disabilities face unemployment, Ellen said, though they want to work and contribute to their community.
Cameron, who was once told she might never speak, now thrives in a fulfilling, meaningful career, thanks to her parents' belief in her.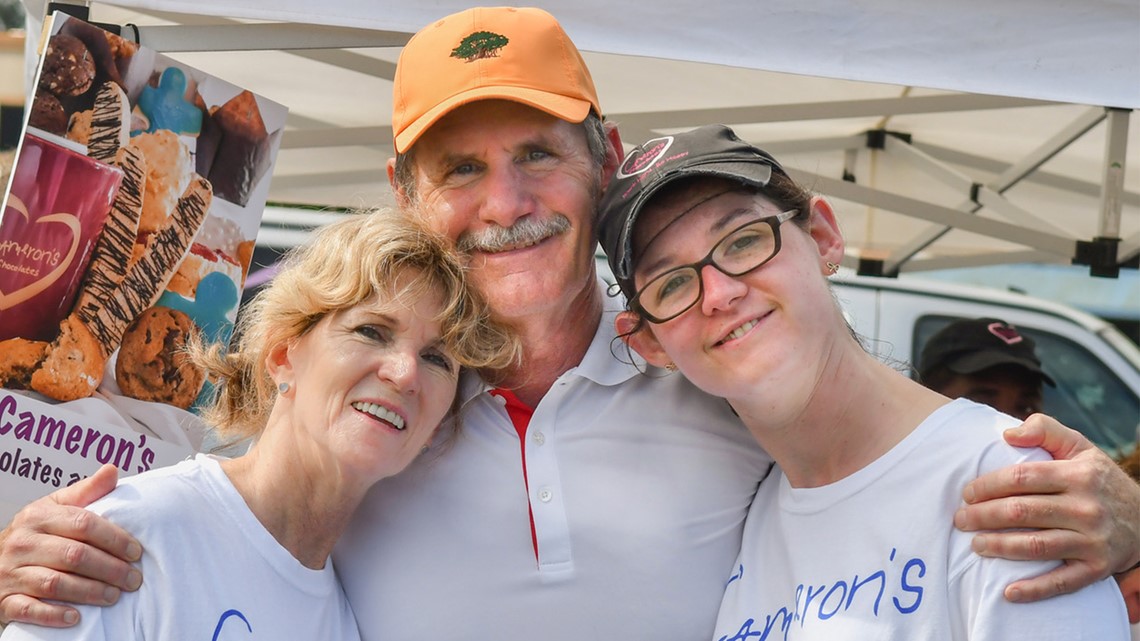 "As a parent, you disregard all the things people tell you you can't do, or that your child can't do, and instead you listen to your heart and you say, 'I know what they can do, and I'm going to help them get there.'"
HeartThreads are the best stories about the best of us. Want more? Follow us: