BALTIMORE — Friends Kaitlyn Smith and Aeric McCoy both agree: It was a miracle they ever met in the first place. In fact, their first encounter was so unlikely, they can only explain it as a product of divine intervention.
"So many things had to happen to make this meeting happen," Kaitlyn said.
Their saga begins after Kaitlyn was the victim of a car break-in.
The burglar found recently-copied spare keys in her glove compartment and used them to break into her home in the Patterson Park neighborhood of Baltimore. She determined the next morning that the crook was able to steal her purse off a countertop before getting scared off by her dog.
After canceling her credit cards, Kaitlyn made amends with her lost bag and moved on—it was not the first time she had been the victim of a crime since moving to Baltimore. So later that week, she was shocked to find a man walking down her street, her purse in hand.
An unexpected meeting
Aeric McCoy had been homeless for more than a year. Before that, he was living with a family member who eventually stopped tolerating his heroin use. He turned to the streets, crashing in abandoned houses and shelters, desperately scraping by in between fixes.
"Two weeks before I met Kait, I was like, 'God, I can't do this no more. I cannot live like this no more,'" Aeric said.
He stumbled into an alley to use drugs when he found the black-and-tan purse abandoned and stripped of its money. But something struck him about the bag. It seemed "lived in."
Aeric recalled advice his mother once imparted upon him: "Never touch a woman's purse." Besides, his sleeping bag was recently stolen, so he knew what it was like to be the victim of a crime.
"I said to myself, 'You gotta find the owner. You gotta do the right thing,'" he said.
So he found an address listed on a bill inside the bag and set off on a trek across Baltimore to find the owner: Kaitlyn Smith.
When he finally made it to Kaitlyn's street, she had just left her house, pizza in hand, for a friend's birthday party.
She saw Aeric on the other side of the street and assumed he was selling the bag. But when she asked him about it, he surprised her by saying he was looking for the owner.
"I just thought doing a nice thing would bring me some hope, because I'm feeling really hopeless," Aeric told Kaitlyn.
Happy to have her bag back, Kaitlyn wanted to return the favor. She started asking Aeric what he might need: A night at a hotel? Clothes? A job?
That's when Aeric revealed he was addicted to heroin. He told her it was unlikely he would be able to keep any job for very long.
So Kaitlyn posed the question: "Do you want to be a drug addict anymore?"
Recovery
Kaitlyn made her new friend an offer: If he could find a rehab facility that would take his insurance, she would help get him into treatment.
Aeric thought about it for a few days before he called her.
"I think I'm going to die soon," he told Kaitlyn.
It was also Father's Day, and his daughter's mother agreed to let him see his little girl if he pursued treatment.
Kaitlyn drove him to the airport and sent him on a plane to a center in Florida the next day.
Meanwhile, Kaitlyn also started a GoFundMe fundraiser to help Aeric cover his treatment and expenses as he got back on his feet, raising nearly $15,000.
Throughout the grueling detox process, Aeric continued to stay in touch with Kaitlyn. They got to know each other better through cross-country phone calls.
He told her about his young daughter, the landscape business he once owned, and the car accident that left him with bad back pain and an even worse opioid habit.
After Aeric eventually completed treatment and returned to Baltimore, it still wasn't easy—he faced fines, lack of transportation, and minimal job prospects as a result of his addiction—but he was clean, with a newfound friend that would never stop fighting for him.
Friendship after treatment
During Aeric's life-changing journey towards sobriety, Kaitlyn's attitude towards addiction was also changing. She started to see Aeric's condition not as a character defect, but a disease.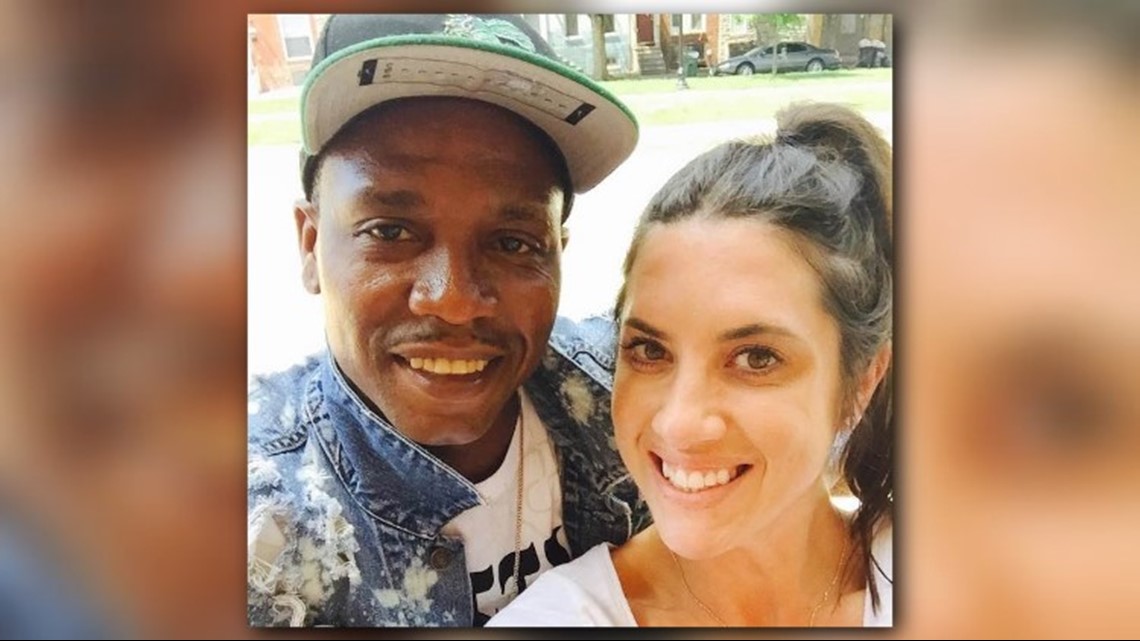 Their continued friendship after Aeric's return from Florida made her think about her own purpose. Through navigating the treatment process, she became a self-taught expert on addiction, and she wanted to share her knowledge with others.
So in April 2019, Kaitlyn decided to leave her medical sales job to pursue a career in treatment services. Today, she works as an addiction treatment consultant with Delphi Behavioral Health Group, a network of rehabilitation facilities.
Kaitlyn travels around the Baltimore and Washington, D.C. areas educating clinicians, police departments, and other professionals who interact with people addicted to drugs about Delphi's services.
Kaitlyn also started her own advocacy group for people dealing with addiction called AAdvocate, spelled with two "A's" to pay homage to both Aeric and Alcoholics Anonymous.
She used the group as a way to share resources about recovery options in the Baltimore area and to help recovering addicts find transportation, housing and employment.
Today, Kaitlyn and Aeric remain close friends. Aeric has been sober for two years and has found some work again as a handyman and landscaper. He often helps Kaitlyn with projects. They still meet to discuss Aeric's recovery, and Kaitlyn uses his story to inspire people currently dealing with addiction.
What started as a chance encounter led to a friendship neither of them could have ever expected.
"We definitely changed each others' lives," Kaitlyn said.

HeartThreads are the best stories about the best of us. Want more? Follow us!