CLEVELAND — For the last month-plus of 2019, Myles Garrett was largely silent.
The Browns Pro Bowler would make the occasional public appearance, but for the most part he has not been seen since being suspended for an ugly on-field brawl with the Pittsburgh Steelers on Thursday Night Football. Without its star defensive end, Cleveland crumbled down the stretch, and is now looking for a new head coach and general manager (again).
In fact, Garrett had not tweeted since Nov. 21, the day the NFL upheld his indefinite suspension. On the first day of 2020, however, he spoke out.
Garrett posted a 47-second-long video to his account Wednesday, with the caption, "Make the most of what you have and strive to be better in every aspect of your life. Good or bad, it all shall pass." The tweet appears to be a direct reference to what happened this past season, and how he plans to recover from it.
"For what it's worth, it's never too late to be whoever you want to be," Garrett's voice can be heard saying in the video, which features several black and white pictures of himself and others. The clip ends with the written quote "Treat every second as if its a gift," along with Garrett's own MG "flash" logo.
Garrett's season came to an abrupt end on Nov. 14 in Cleveland, when during the closing minutes of a 21-7 he got into a scuffle with Pittsburgh quarterback Mason Rudolph. Garrett ended up ripping Rudolph's helmet off and hitting him in the head with it, and multiple other players later joined the fracas before officials restored order.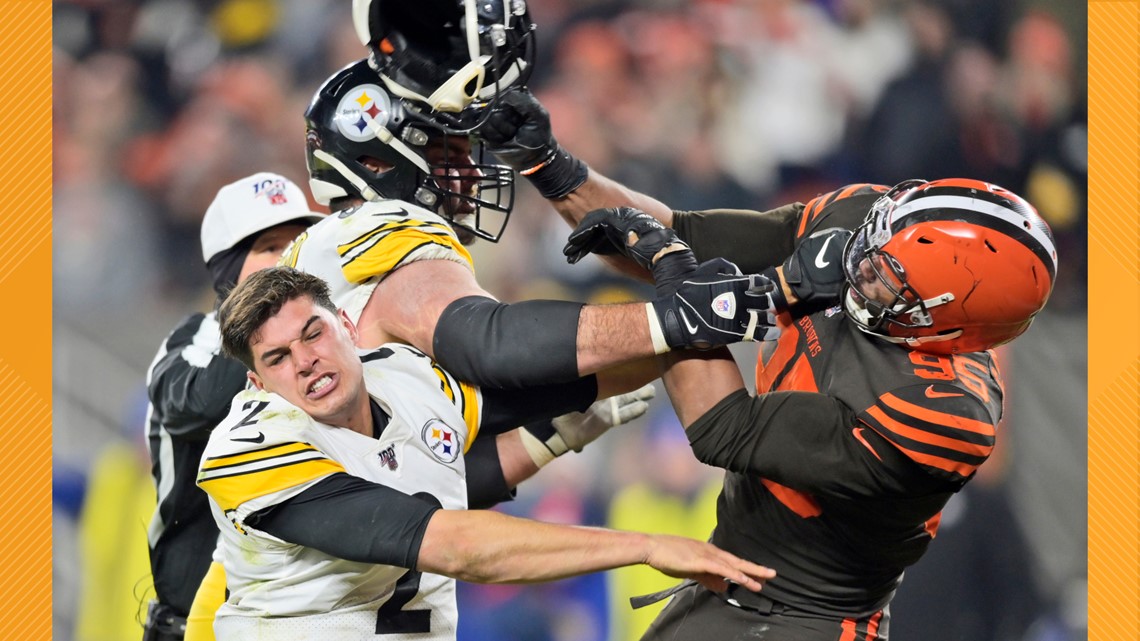 As a result of his actions, the NFL suspended Garrett for at least the remainder of the season. Garrett would later claim Rudolph called him a racial slur, but the league said it could not verify those claims and refused to reduce the punishment. Rudolph was only fined for his role in the incident.
Many Browns fans were outraged, feeling the penalties against Rudolph were insufficient as video showed him attempting to rip Garrett's helmet off first. In response, GV Art + Apparel came out with a t-shirt reading "Pittsburgh started it," and Cleveland head coach Freddie Kitchens was later spotted wearing one out in public the week of the team's rematch with the Steelers. The Browns would lose that game 20-13, and many saw Kitchens' poor judgement in wearing the shirt as a factor in his eventual firing at season's end.
Prior to his suspension, Garrett was on track for his second straight Pro Bowl with 10 sacks in 10 games. Without him in the lineup, the Browns went just 2-4 and finished the season 6-10, with both Kitchens and general manager John Dorsey parting ways with the organization.