BEREA, Ohio — Whether it be with turnovers or trying to get star skill players the football in space, Cleveland Browns quarterback Baker Mayfield has experienced his fair share of struggles during the 2019 regular season.
Despite Mayfield's slips in productivity after a strong rookie year in 2018, the Browns (6-8) have not lost any confidence that he is the franchise quarterback who will lead them back to prominence in the National Football League after 20 years of struggles.
"I think Baker's focused on this week, where I want his focus to be," Browns coach Freddie Kitchens said prior to Wednesday's practice. "I don't want him worrying about the offseason. We've got two games left, and we've still got a lot to play for. I want him focused on this week."
Mayfield entered the 2019 season with a lot of expectations placed on him following his solid rookie year.
After taking over the first-team offense in the second quarter of a Week 3 win over the New York Jets at FirstEnergy Stadium, Mayfield completed 310 of his 486 attempts (63.8 percent) for 3,725 yards and an NFL rookie record 27 touchdowns against 14 interceptions.
Although Mayfield does not get official credit for the victory over the Jets because he came on in relief of an injured Tyrod Taylor, the first-year quarterback guided the Browns to seven wins and the greatest single-year turnaround in franchise history.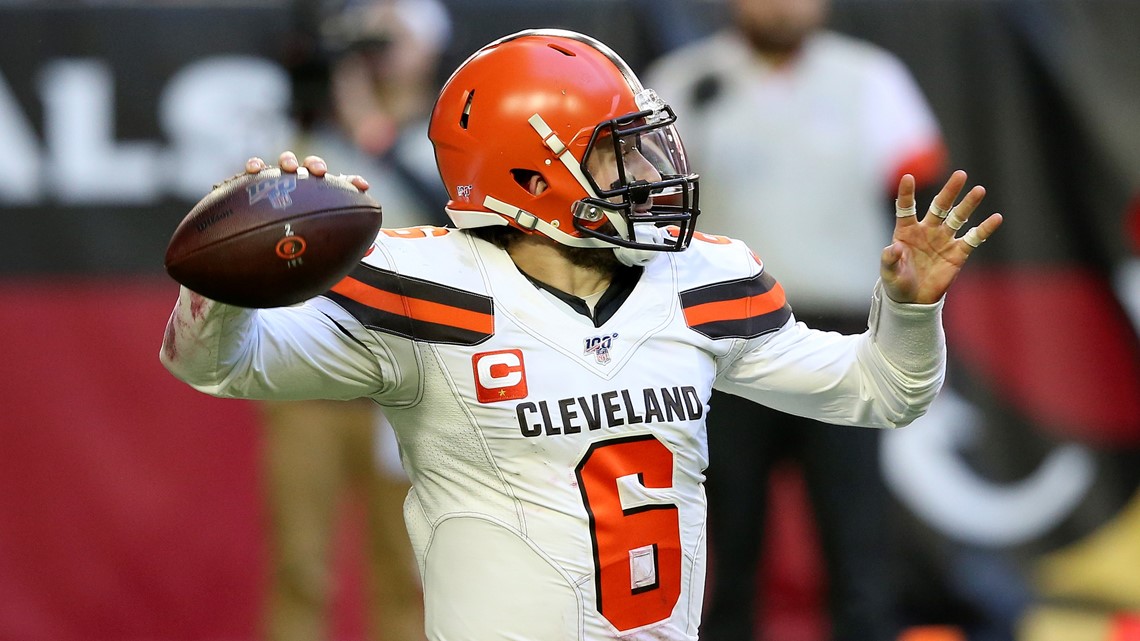 Individually, Mayfield set franchise records for the most passing touchdowns and yards by a rookie, and his 3,725 yards ranked as the sixth-best single-season total in team history, regardless of years of service. Additionally, Mayfield had three of the top five passing yards games by a rookie, as well as the fourth-most accurate season of any Browns quarterback ever.
With Kitchens calling the plays for the second half of the season, Mayfield completed 180 of his 263 attempts (68.4 percent) for 2,254 yards and 19 touchdowns against eight interceptions. Mayfield averaged 281.75 yards and 2.375 touchdowns per game under Kitchens.
"We know who we drafted, and I am happy as hell that we drafted him," Kitchens said earlier in the week. "He is going to be our quarterback for a long time, and he needs to continue to get better, just like we all do.
"Baker is not a finished product. He understands that, but that is the guy we drafted, that is the guy we believe in and that is the guy the locker room believes in and this organization believes in. I am not worried about Baker. He is going to continue to get better."

Through 14 games this season, Mayfield has completed 285 of his 474 attempts (60.1 percent) for 3,356 yards and 17 touchdowns against 17 interceptions to go along with 108 rushing yards and three scores on 22 carries.
Although Mayfield has struggled through much of the 2019 season, Kitchens is confident his quarterback can be the type of leader that makes game-winning plays as his career develops.
"He works his tail off every day to try to get better, and that is where I want his focus and that is where his focus is," Kitchens said. "Let everybody else do the judging. We will continue to work as a group to get better. Baker falls into that mindset.
"I think Baker has shown since he's been here, he's a leader. The definition of a leader is getting people to come with you, do the things necessary to win. I think Baker does a good job of making everybody understand that he's here for the team."