Melba Jacobson is spending her 93rd birthday at one of her favorite places, Redskins Training Camp.
The mother of four, grandmother of 15 and great-grandmother of 13 is at Monday's camp with her daughter, Sharon Ramboz, and three of her grand children.
They are stationed in owner Dan Snyder's tent. She's already had a visit from quarterback Kirk Cousins, her favorite player. Although she said, "I love them all!"
He signed her jersey but added a "2017" to the autograph since he also signed it last year. He put 2016 on that signature.
We first introduced you to Melba in 2014 when we spotted her burgundy and gold birthday sign. It was her first training camp visit. She's been back very year since.
The feisty fan ended up getting moved to a VIP tent so she could have a better view of practice and where players came by to autograph her sign afterward.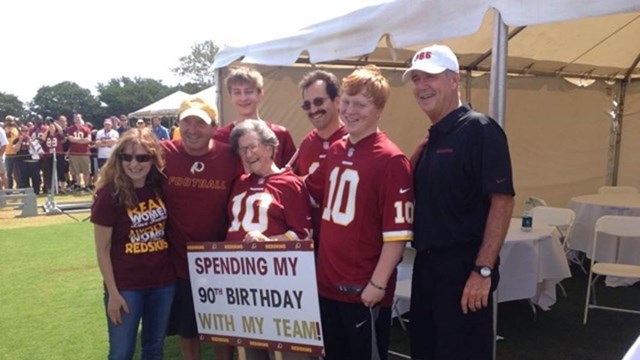 She and her family enjoyed one on one time with owner Dan Snyder and team President Bruce Allen, as well.
The Silver Spring resident was born July 31, 1924, and has been a Washington Football fan since 1941.
She has favorite players in every era, from Sammy Baugh to Kirk Cousins.
Sharon told us her Mom has listened to or watched every game since 1941. "it didn't matter what we kids had going on, the game took priority in our home."