Marvel's Black Panther made box office history within only two weeks of being released. Mainly because it's a superhero movie with an all-black cast. Something that has been missing from the Hollywood scene for years.
Many people of color have grabbed their best dashikis or other cultural attire and showed up to see the highly anticipated movie.
The chair of the Department of Afro-American Studies at Howard University, Greg Carr, said he's seen the movie three times. He predicts it'll hit the $1 billion mark due to people of color yearning to see themselves represented on the big screen.
"I mean if nothing else Disney and Marvel figured how to tap an untapped market for them," said Carr. "There have been more created toys for the Black Panther line than in any of the other Marvel movies."
Going into its third weekend Black Panther hasn't hit the $1 billion mark yet, but according to Forbes it did top $800 million worldwide.
A lot of hype surrounding the movie is because of a black superhero playing the lead and being accompanied by an all-black cast. Carr pointed out this technically isn't the first time we've seen this, and we should remember our history.
"Black independent filmmakers have been making movies like this for a long time. Not with obviously the big box office, but we have to remember that Marvel was going bankrupt," recalled Carr. "Wesley Snipes made Blade. That was the first box office smash hit for them and that's what really ignited this whole thing."
Other black superhero movies that have come out in past years are Meteor Man, Steel and Hancock.
Blade starred Snipes as a black vampire. It was released by Marvel in 1998.
Back then, Snipes originally wanted to make the Black Panther movie. But, because of script re-writes, searching for the right director, and technology not capable of creating Wakanda, the plans fell through and he settled for doing Blade.
The movie was released just two years after Marvel filed for Chapter 11 bankruptcy protection due to fallen sales of comic books and trading cards.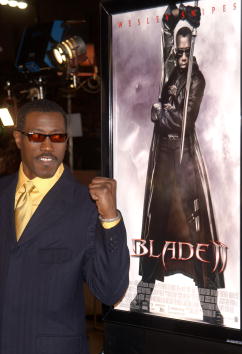 Blade was Marvel's next big win with it pulling in $70 million. However, because of the deals that were made, Marvel only took in $25,000. They later had similar success with X-Men and Spider-Man.
Carr said he is looking forward to the return of Black Panther in the next Avengers movie and thinks the crowds will be equally as big.
"What'll be interesting is in three months when the sequel to Black Panther comes out, it's not called Black Panther. It's called Avengers: Infinity War, but it's set in Wakanda," said Carr. "Will the same crowd that goes to see Black Panther go to see this Avengers movie? That's what Disney is gambling and I think it's probably a safe bet."
Marvel lovers can see the return to Wakanda in Avengers: Infinity War opening everywhere on April 27th.