GARRETT COUNTY, Md. — After 38 train cars, some of which were carrying toxic chemicals, derailed in East Palestine, Ohio, in early February, numerous videos began circulating on social media concerning how the toxins could spread.
The Environmental Protection Agency told Norfolk Southern to take all available measures to clean up contaminated air and water, and also said the company would be required to reimburse the federal government for a new program to provide cleaning services for impacted residents and businesses.
But social media posters began wondering if the chemical plume in Ohio could spread to other states. So we took the question to the experts, to verify.
THE QUESTION
Did toxic chemicals from Palestine, Ohio spread to the D.C. area?
THE SOURCES
THE ANSWER
No, toxic chemicals from the East Palestine Ohio train derailment have not been found in D.C.
WHAT WE FOUND
The train derailed Feb. 3, causing a fire. On Feb. 6, Norfolk Southern, who owns the train, did a controlled burn. The purpose was to prevent an explosion.
Climate scientist Dan Goldberg said the chemical released in the derailment, vinyl chloride, can only last in the atmosphere for a few days.
"Different chemicals can last different amounts of times," he said. "I'm sure there's some chemicals that might last only a few hours, but some might last a few weeks, depending on what exactly is in the what was actually being spilled. There's also dispersion that's going on in the atmosphere."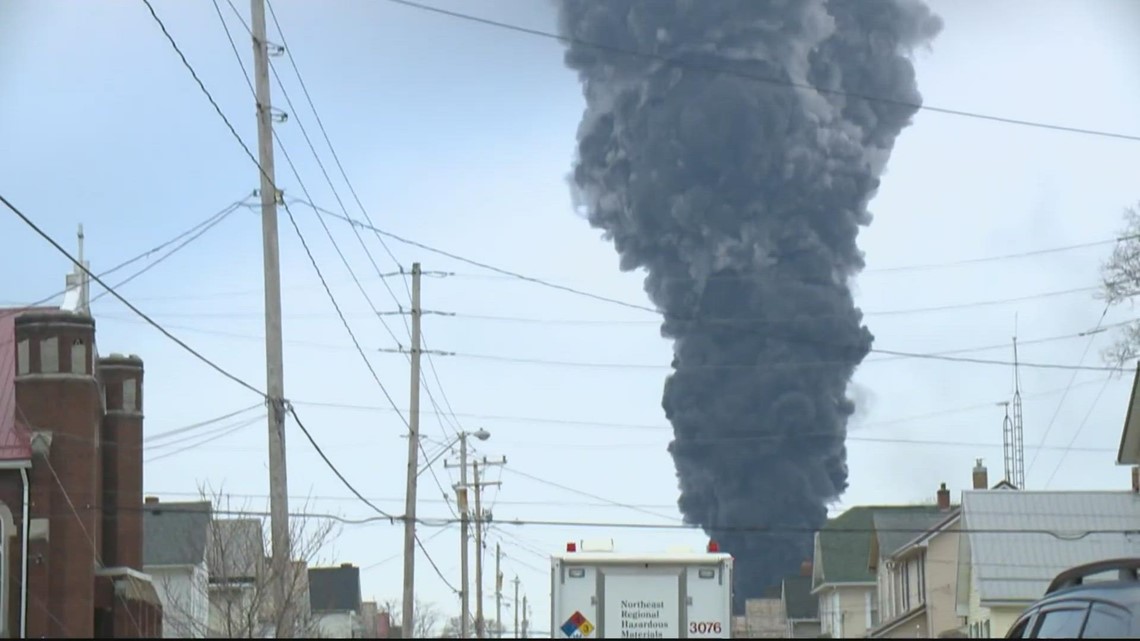 WUSA9 Chief Meteorologist Topper Shutt added that wind patterns are important to make note of on the days of concern.
"Let's talk jet stream first," Shutt said. "At the time of this spill, the jet stream was way to the north of us. That would have kept everything away from us. But really, I don't think the plume went that far up."
Shutt said that had the plume been lower, surface winds would need to be considered.
"Surface winds were from the southwest, blowing it north of us, and quite frankly the mountains believe it or not, did shelter us," Shutt said. "So it was never really an issue for that causing any problems for the DMV."
Maryland's Department of the Environment, with monitoring stations closest to the train derailment, sent this statement to WUSA9:
"The department's air monitoring station in Garrett County measures pollution carried into Maryland. The station currently shows no effect on levels of gas or particulate matter—which may be expected to increase if a large fire, such as the one caused by the derailment, is affecting air quality. The pollutants in our area that are of most concern are particulate matter and ozone on a on a day to day basis," added Goldberg. "NASA is launching a new satellite instrument called Tempo. It's going to be launched in in April. And it has the ability to track some of these pollutants that might be emitted from a train spill such as this one, it can track formaldehyde, it can track if there was a burn. So I'm really excited about this satellite instrument. I think it's important for people to know that NASA is helping out in this in this capacity."
Virginia's Department of Environmental Quality also chimed in, noting that the state's border is approximately 140 miles from the derailment site.
"Winchester is the closest population center to the derailment site at approximately 160 miles and the closest DEQ air monitoring site is approximately 170 miles away in Rest, Frederick County," VDEQ said in a statement. "The Rest site does not monitor for Volatile Organic Compounds (VOCs) but does for PM10 and PM2.5 (Particulate Matter less than 10 microns and less than 2.5 microns in size), both of which were likely emitted during the controlled burn. DEQ did not see any trend in the PM data from the site that can likely be attributed to the derailment."
The derailment happened in the Ohio River watershed, meaning there was no waterborne chemical threat to the DMV area.
So we can verify, toxic chemicals from the Ohio train derailment did not get into the D.C. Metro area.