Are calls and emails from Amazon recruiters offering work-from-home positions ahead of H2Q real?
Nope. The only way to get a "virtual location" position is to apply at: www.amazon.jobs
Better Business Bureau- Scam Tracker
Amazon Inc. announced National Landing (better known as Crystal City) as the site of it's second headquarters, pumping at least 25,000 coveted jobs, with an average salary of $150,000, in Arlington, Virginia.
Those jobs have people buzzing, but some scammers are taking Amazon's good name to the bank and stealing your savings.
Viewer Byron Jones received calls from people purporting to be Amazon recruiters offering work-from-home opportunities for $500 a day. He asked us to fact-check two websites and a phone number: www.amazonwealth.org , www.amazonrecruiter.org , (956) 567-9956.
"With today's announcement that Amazon.com will share a second headquarters group between Northern Virginia and Long Island, New York, I thought it very imperative to warn people to make sure that if they're looking for job opportunities to go through Verify to make sure that they're getting the correct one, and not some of the scams that are out there through email and others," Jones said.
Our researchers went straight to work. Turns out that both the websites and the phone number redirects you to the exact same URL--profitsnews.pw--and it's totally fake.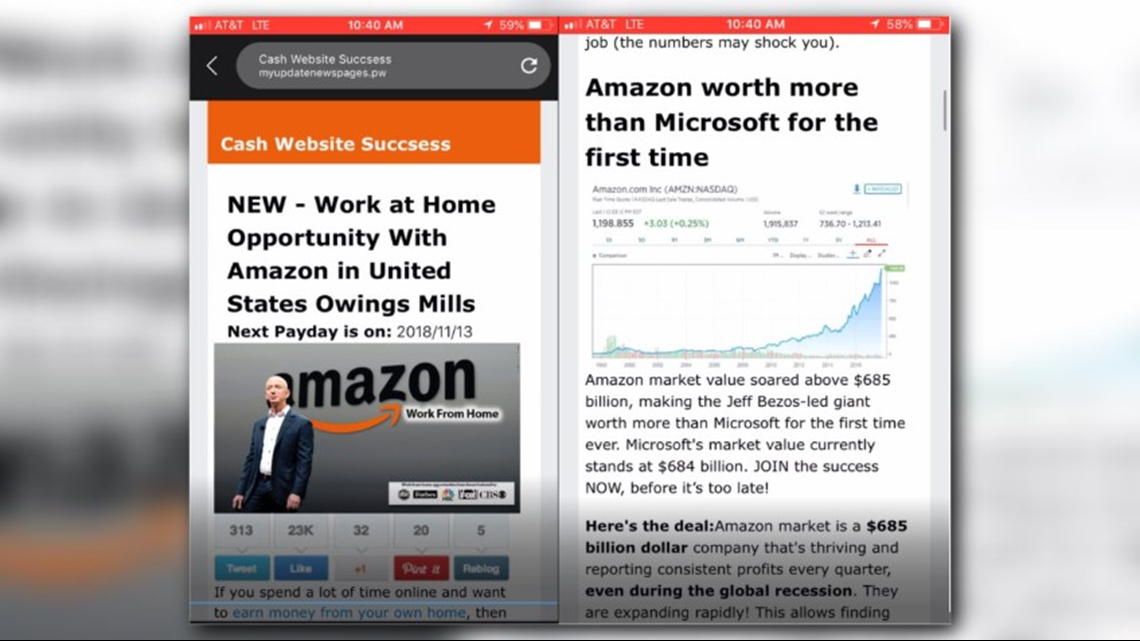 The site advertises jobs that pay $500 for only a few hours of work and says spots are running out to apply. That's a big red flag for anyone who's ever applied for a job.
The interface is basic at best, not the kind of user-friendly experience you'd expect from a company with a net worth of $1 trillion dollars.
We called the 956 Texas number, which went straight to a recorded message and offered $25-$45/per hour work-from-home positions.
If it sounds too good to be true, that's because it is.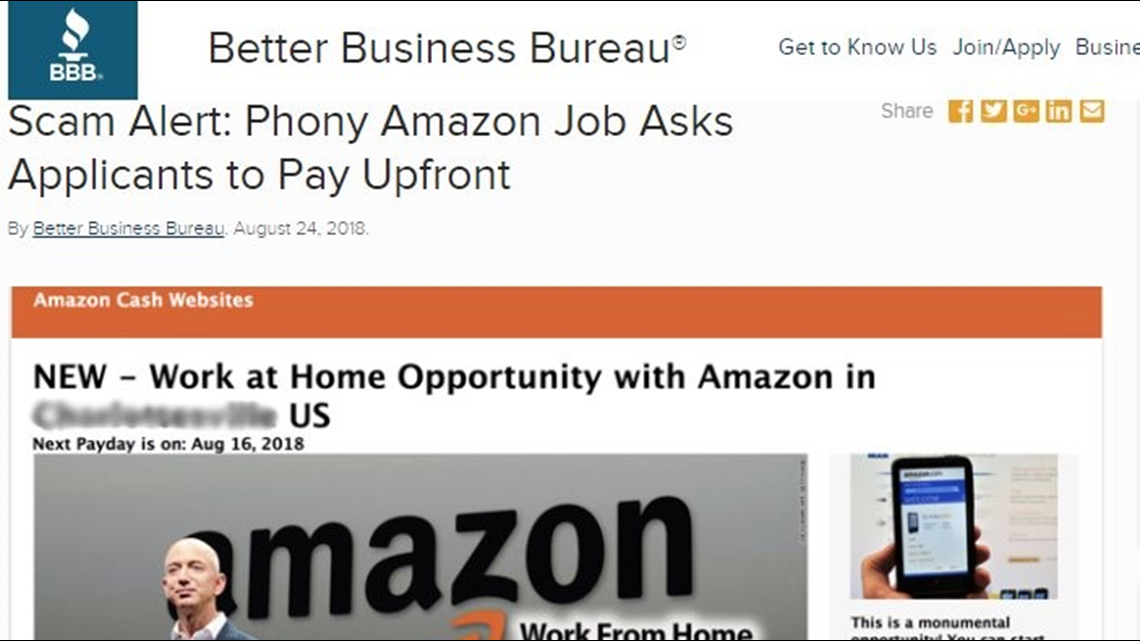 The Better Business Bureau issued a scam alert in August about sites and phone calls like these, which sometimes asks applicants to pay money upfront.
We checked with Amazon and the Better Business Bureau to Verify these sites are fake.
The BBB says since Amazon started taking bids for a new headquarters last September, 520 people reported Amazon employment scams, totaling losses of $29,979.
Amazon does have legit work-from-home positions, 309 of them right now, the URL is www.amazon.jobs.