VIENNA, Va. — On the night of Sept. 26, the Miami Dolphins were taking on the Cincinnati Bengals, in a highly-anticipated AFC matchup. That's when the play happened.
A 300-pound defensive player slammed the Miami quarterback, Tua Tagovailoa, to the ground. The first-round pick would lie there on the ground for some 15 minutes, with his fingers curled back.
Across the country, parents and their kids were watching and reflecting on whether tackle football is right for them.
"We were both watching the game," said Brendon Baird, a Loudoun County parent. "It was definitely a turn-away moment. It was sad and graphic."
Baird spoke with us at a field in Ashburn, Virginia, where his son Gavin was playing for a flag football team. Gavin is a member of the 'Dolphins' in the Loudoun County NFL Flag Football League. Lately he has expressed interest in putting on the pads.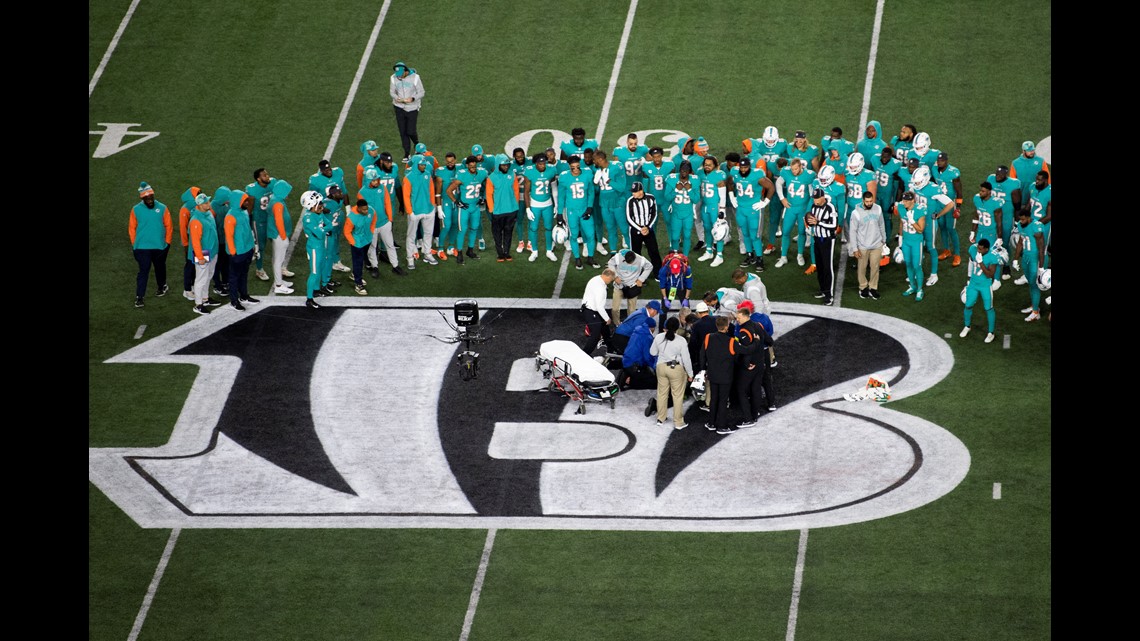 "I feel like I'll probably do it soon," he said.
His father said they'll probably allow Gavin to play, although they're trying to keep him in flag football for as long as possible.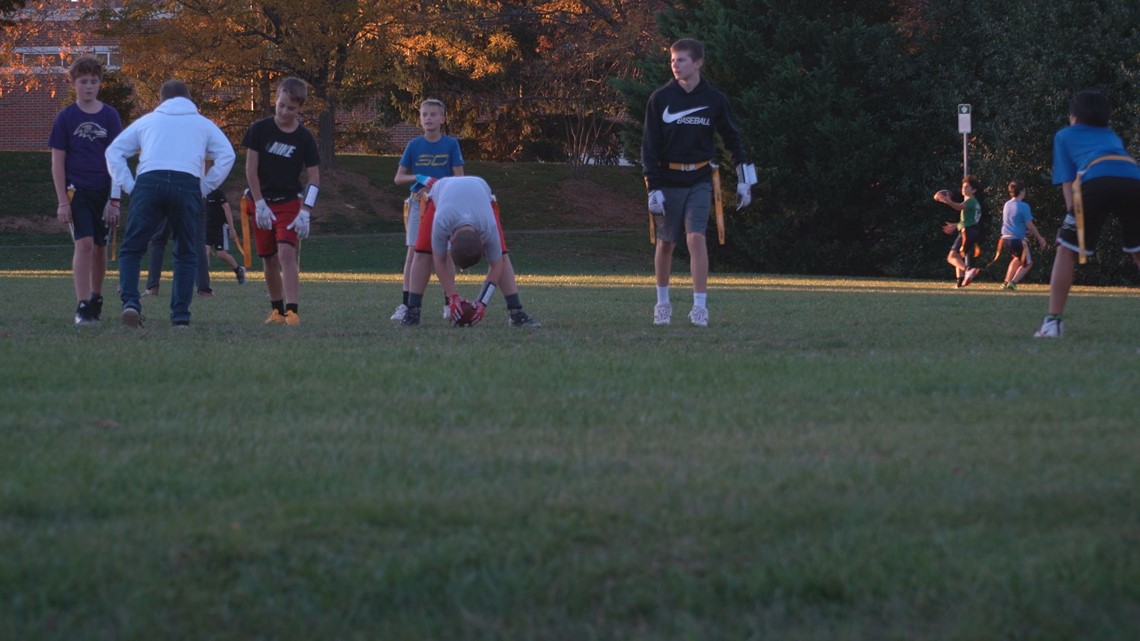 "It's hard as a parent," he said. "You don't want your child to get hurt. And so that's the big issue today. But I also want him to have opportunities and do what he loves because he's very passionate about it."
Flag football is growing in popularity for a lot of parents. The Loudoun County chapter of the flag football league has seen enrollment skyrocket from approximately 300 a few years ago to over 800 this season.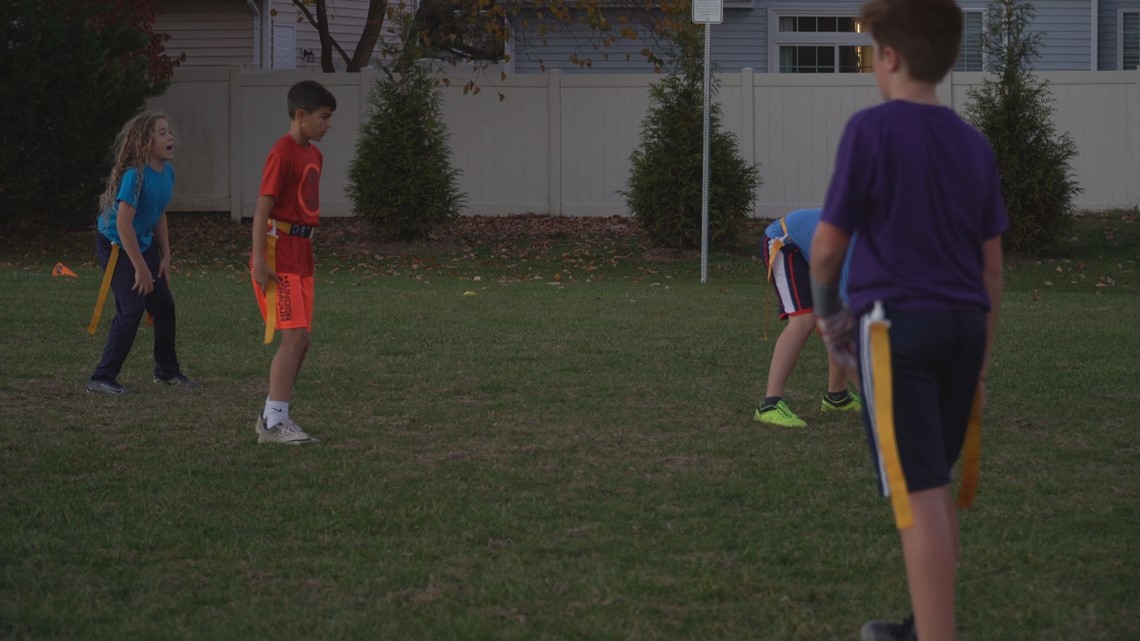 Katie Granja, another parent, was watching her son play flag as well. She said that she would absolutely let her son play tackle.
"I would rather him playing a sport than being at home on Youtube or playing video games," she said.
What Are The Numbers?
The National Federation of State High School Associations releases an annual survey, tracking how many student athletes are playing each sport.
In the latest survey, from the 2021-2022 season, there were 973,792 participants in 11-player football. That's a significant drop from a decade earlier. In 2011-2012 season, there were 1,095,993 participants.
This drop of over 122,000 students is a reduction of approximately 11%.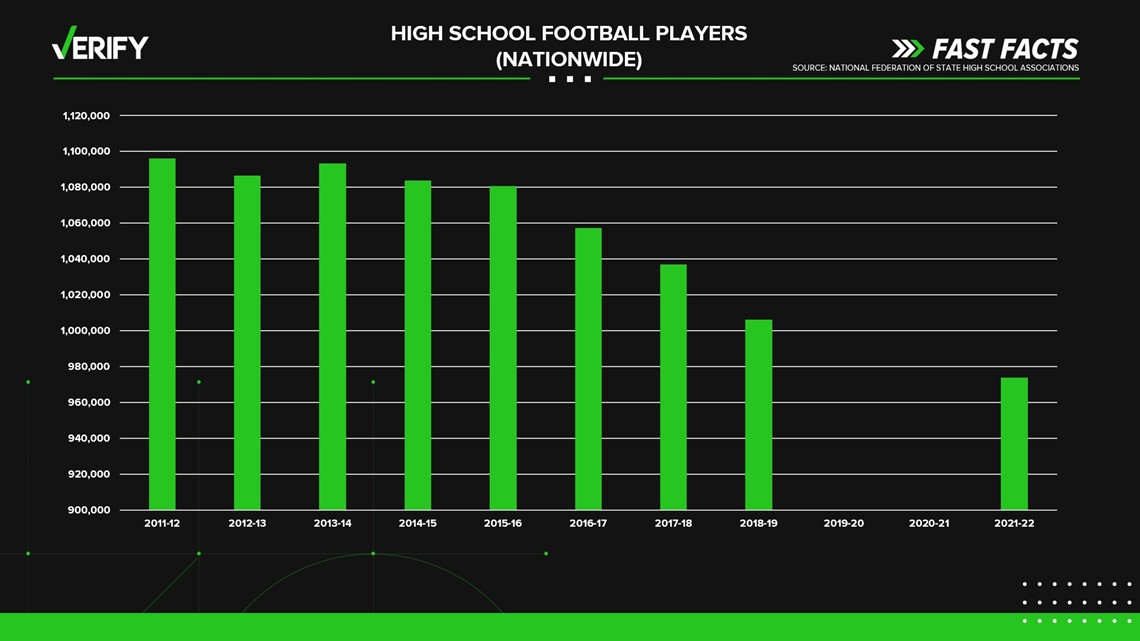 Local Numbers:
There's been a drop in the number of high school football players locally as well, although by varying degrees.
In Loudoun County, there was a minor reduction in the number of kids playing high school football. In the 2021-2022 season, there were 1,447 students, compared to 1,491 students in the 2012-2013 season. This is just a reduction of about 3%.
In D.C., there were a reported 537 athletes enrolled in high school football during the 2022-2023 season. Five years ago, during the 2017-2018 season, that number was 638. That's a reduction of nearly 16%.
In Montgomery County, there were 1,867 high school football players during the 2022-23 season. Ten years earlier, during the 2012-13 season, there were 2,142 rostered players. This is a reduction of nearly 13% over the last decade.
In Fairfax County, there were 3,075 high school football players, which was actually the highest number since the 2017-2018 season. However, this represents a drop of nearly 5% from the 2011-2012 season, when there were 3,222 football players. In 2008-09 season, there were 3,423 football players. Enrollment has dropped over 10% since then.
Despite numerous requests, Prince George's County was unable to provide this data.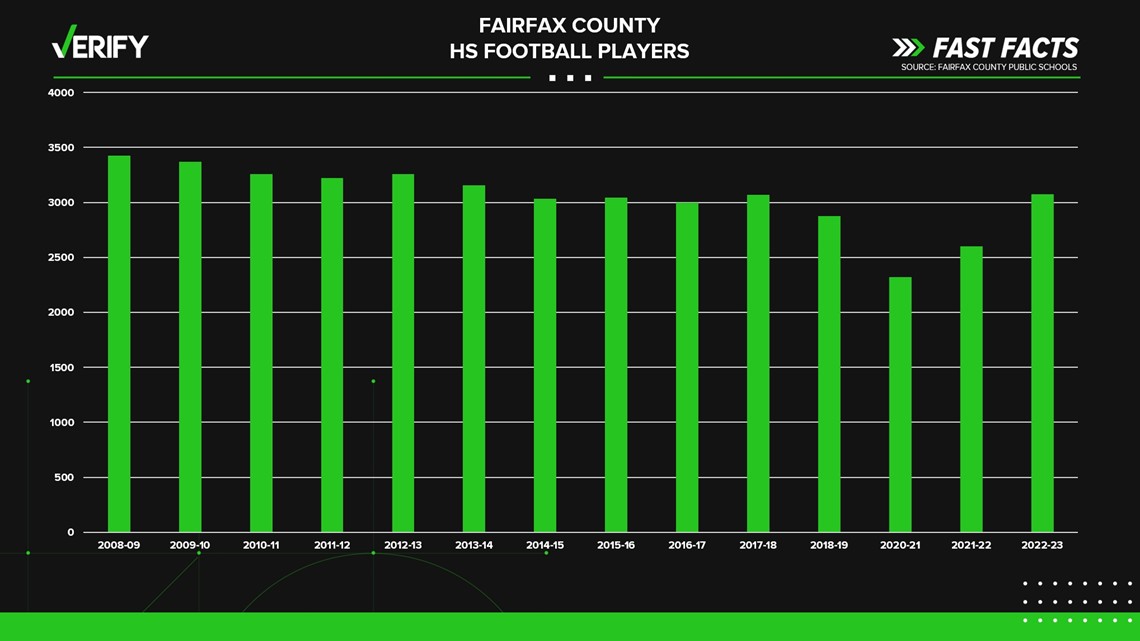 Where Athletes Are Going?
As some families make the decision to leave tackle football behind, some are choosing another sport altogether. At the Junior Tennis Champions Center (JTCC) in College Park, they've been swamped with enrollees.
"It was never an option," said Milena Galova.
Galova said that she put the kibosh on any plans to play football, despite her son Nikola's pleading over the years.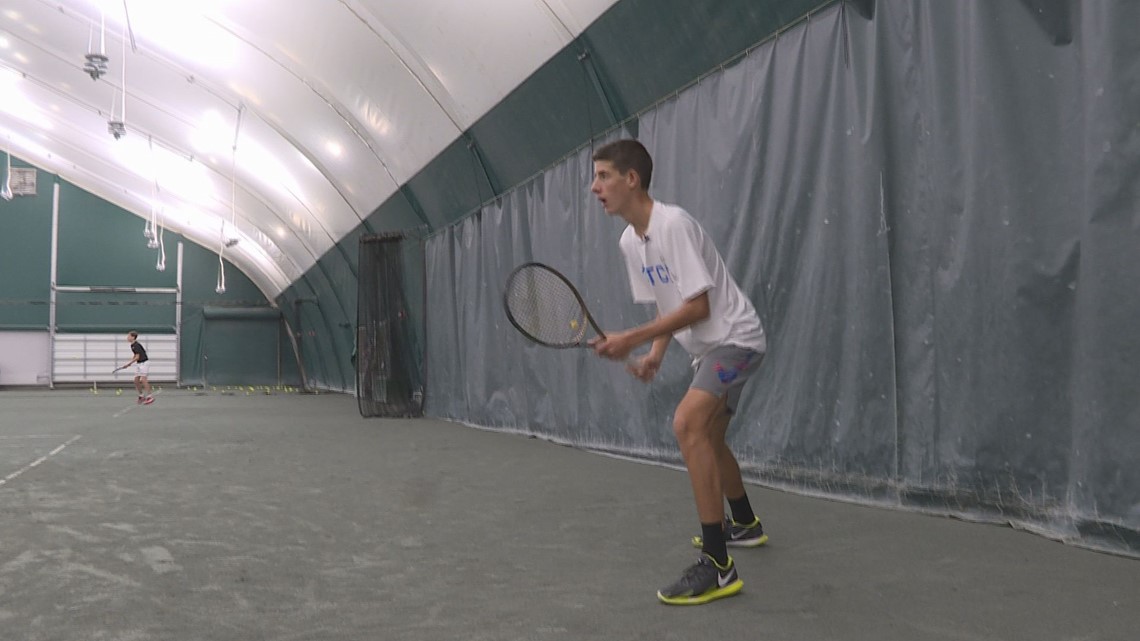 "I've asked my mom so many times when I was little to play football..." said Nikola. "She said it's too dangerous and that she'll never ever let me play no matter even if it's flag football."
"He never understood why," said Milena. "And later we told him that in a way flag football is the first step. If he likes it too much or if he's too good, he will be asking to play."
It's a sentiment shared by many at JTCC, which has seen a growth in enrollment, in part due to the success of local star Frances Tiafoe.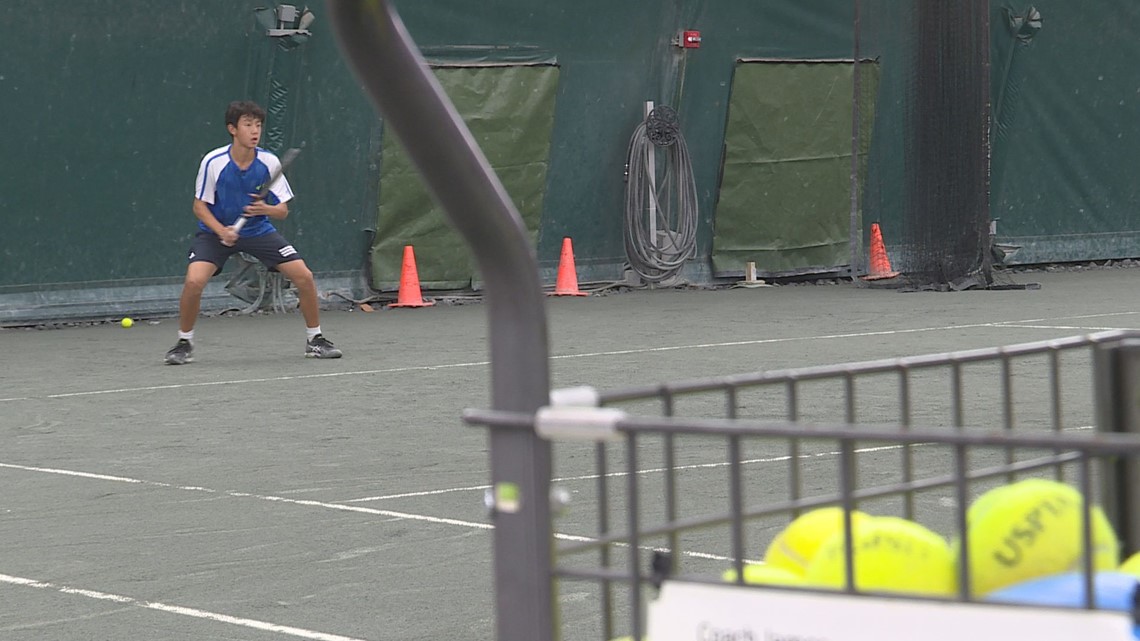 Michael Talley, also a parent, said that he is a big football fan, as is his son. He's allowed his son, Sam, to play flag football, but will not let him put on the pads.
"It's the head injuries - that's it..." he said.
Talley pointed to high profile concussion-protocol "failings" in the NFL, and questioned how young people could be kept safe, if the pros are not protected.
"Why would I give them my child - the thing that's most precious to me," he said. "And have them protect him. They're not."
The Game Adapting:
Across the country, youth leagues are changing their approaches to coaching, to ensure that kids are staying safe, and to encourage more families to sign up.
Todd Casey, the commissioner for the Vienna Youth Football League said that the last decade has brought a lot of changes. In the early 2010's, the league had about 500 kids. He said that number was cut in half, shortly after the 2015 release of the movie Concussion, starring Will Smith.
"When the concussion movie came out," he said. "It really forced youth football to take an inward look and to learn how to teach the game better."

Casey said that there's now more training for proper tackling techniques, which better protect the head. They've also started limiting the amount of hitting drills in practice.
"What we've really done is we've really learned to take the head out of the game," he said. "How we teach football compared to when I was growing up is night and day different."
Casey said that the changes have worked in making the game safer, and he said that enrollment is now starting to grow again. The league had over 300 athletes playing this past season.
"We're really seeing a resurgence," he said. "Vienna parents want their kids to play football. And Fairfax County parents want their kids to play football."