Jon and Melissa Meadows' love story begins in the most unlikely place. They met in a homeless shelter.
"I remember her standing at the phone," says Jon. "The long hair. Red hair, and it was like bam!"
Soon they were married. Then came September 11th.
"One day he comes home and goes he signed up. And I said, "'What?'"
Jon served 2 years in Iraq.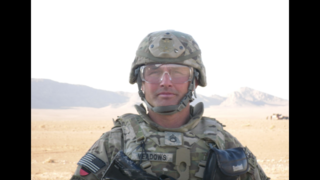 "When I first got there, I was excited, but nervous," says Jon.
It was also the bloodiest time of the Iraq war.
"A lot of times you are just waiting for something to blow up. You know beside you."
Jon's mission was looking for enemy explosives, before they killed his fellow soldiers.
"We knew our luck was going to run out," explains Jon. "We didn't care anymore. It was just get it over with. Just blow up."
After Iraq, there was Afghanistan.
"I just remember a mortar came in. I remember getting knocked back from the blast and hit the back of my head."
This was not the first time Jon had suffered a brain injury. But this one got him shipped home. And eventually to Fort Belvoir.
"The man who got off the plane is not the man I sent over," says Melissa. "The lights were on but no one was home. He was afraid of everything. He wouldn't go anywhere without me. A year and a half, 24 hours a day. 7 days a week. No married couple should be together like that."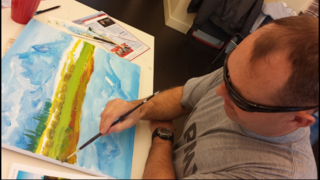 While Jon was being treated for his traumatic brain injury, Melissa tried to convince him to take art classes at the USO-Metro on base at Fort Belvoir.
"He wouldn't do it," says Melissa.
"I didn't want to do any more types of therapy," explains Jon.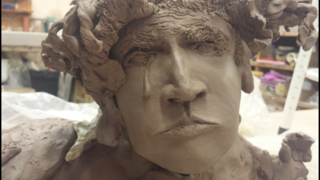 "He didn't want to be around other soldiers. He was uncomfortable. He was embarrassed because of his brain injury. He knew he was cognitively impaired," says Melissa.
Jon eventually gave it a try. Soon he found art gave him a voice. Especially working with clay. He could express his grief, like in a piece showing a soldier hunched over holding a revolver. Or loneliness in his sculpture depicting a soldier reading a letter from home.
"Everything just disappears. And I can sit there and keep going and it's a nice freedom," says Jon. "None of the outside craziness. All that craziness or inside internal craziness."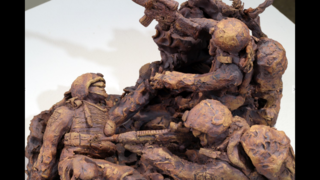 "The art saved his life. It really did," says Melissa.
And for that the Meadows are eternally grateful to the USO.
If you would like to say thank you to military families like Jon and Melissa Meadows this Thanksgiving, please consider donating to the USO's Turkeys for Troops, which provides Thanksgiving meals to local military families. Every dollar stays in our community.
Special note: WUSA9 would like to thank Yorktel for assisting us with the animation for this television story.