Ollie, a 10 year-old Sheltie from Portland, came into an Oregon veterinary very lethargic, having difficulty walking and only eating when he was hand fed.
His owners, Al and Joelle, couldn't figure out why their dog, who loves the outdoors, was acting so out of character, and after several examinations vets at DoveLewis Animal Hospital couldn't figure it out, either.
A full range of tests, including blood work, a urinalysis and a variety of X-rays were performed on Ollie, and yet vets report they simply could not find a reason for the Sheltie's diminishing health. They gave Ollie medication that could have potentially helped, but the pooch's health only worsened the next day.
When Ollie returned that next day, he was nearly paralyzed, unable to eat or even go to the bathroom on his own. Al and Joelle were preparing for the worst.
"We were at a complete loss," Al told vet officials, which they posted on their blog. "What do you do in that situation? He is part of our family, and we've always tried to provide the best care we can for him."
Doctors were preparing Ollie's end-of-life care, despite a nagging wonder why an otherwise perfectly healthy dog was experiencing such symptoms.
Ollie's assigned extern, Neena Golden, was preparing for Ollie's ultimate procedure when she took a moment to comfort Ollie. She was scratching behind his ears and felt a strange lump in his thick fur. The lump turned out to be a tick. A really big tick.
Even though Ollie was wearing a tick collar during his outdoor trip, officials stated, the creature had still managed to lodge itself in Ollie's fur.
The tick was very bloated, doctors said, and there was lots of fecal material from the tick.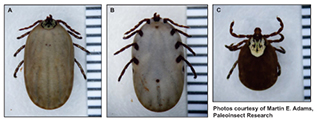 It turns out, the Ollie was suffering from a very reaction to the tick – tick paralysis.
"It's one of those things you learn about randomly in school – it's on one slide during one presentation," said Dr. Adam Stone, Ollie's doctor.
It is so rare that only one other vet professional at DoveLewis had ever seen a tick paralysis case.
The condition is caused by the dog being exposed to saliva secreted by the tick over a long period of time.
Once the saliva has traveled into the dog's neurological system it can cause paralysis. Only certain species of ticks can cause this damage, and removing the tick is completely curative, vets said.
So that's what they did. And to make sure Ollie didn't have more ticks, vets completely shaved the pup's body and sent him home to be monitored carefully.
Jump ahead 10 hours, and Al was reporting that Ollie was roaming about the home, ready to be let outside.
Today, Ollie is back to normal – lively, active and ready to embark on his next outdoor adventure, vets report.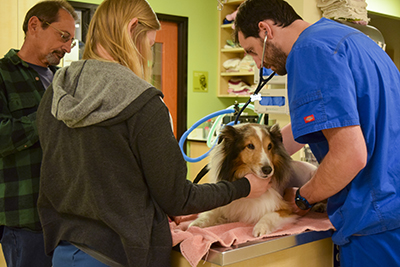 Stone recommended Ollie continue to wear his tick collar as well as take ingestible tick prevention for his next adventure.