WASHINGTON — A Virginia resident facing seditious conspiracy charges told jurors his wife meant Jan. 6 could have been an opportunity to "start the healing process" when she derided Congress for evacuating from the pro-Trump mob – one of a number of incongruous statements he made while testifying in his own defense Tuesday.
Thomas Caldwell, 68, of Berryville, Virginia, took the stand Tuesday morning in his own defense as one of the closing witnesses of the government's first seditious conspiracy prosecution in more than a decade.
Caldwell was one of the first defendants arrested in January 2021 in what would become arguably the government's marquee Jan. 6 case – expanding to eventually include more than 20 alleged members of the Oath Keepers. Caldwell, who has insisted all along he was never an official member of the militia, joined Oath Keepers founder Stewart Rhodes and three other defendants in the first group of those defendants to begin trial on Oct. 3.
Caldwell's attorney, David Fischer, has criticized his client's inclusion in the case for more than a year. In both pretrial filings and during cross-examination, Fischer has hammered the FBI for its early, and incorrect, belief that Caldwell was giving directions to other members of the militia on a Zello chat on Jan. 6 and its suggestion that he was a leader of the group because of his nickname, "Commander Tom." Caldwell served in the U.S. Navy for nearly 20 years and retired at the rank of lieutenant commander.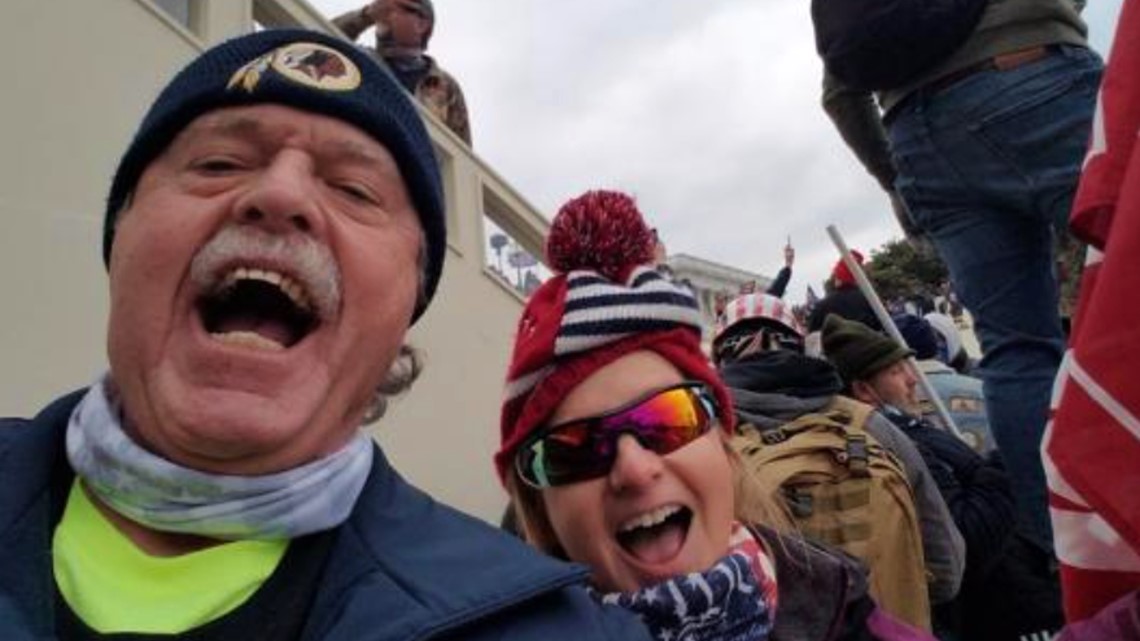 On Tuesday, jurors got to hear about his time in the service. Although most of his military career was spent as a desk jockey, as he put it, his service did include an assignment in the Philippines during which he was injured on a patrol. That injury resulted in damage to four vertebrae and lifelong back problems. Caldwell ultimately retired from the military as a 100% disabled veteran – which Fischer has repeatedly pointed to as evidence against the government's theory that Caldwell joined in an alleged conspiracy with the Oath Keepers to prevent the transfer of presidential power.
Caldwell, who was in contact with multiple militia groups ahead of Jan. 6 and allowed the Oath Keepers to camp out on his Shenandoah Valley farm ahead of the November 2020 Million MAGA March in D.C., told jurors he didn't want to participate in more events led by Rhodes because he found him to be an ineffective organizer and because of his own aversion to joining groups.
"I didn't think the operation which I eventually became a part of was particularly well-planned," Caldwell said. "It was kind of like a Keystone Cop operation."
Jurors saw earlier in the trial that Caldwell quickly agreed to take part in Oath Keepers "ops" in D.C. after meeting Rhodes and North Carolina state leader Paul Stamey at an even in Virginia on Nov. 8, 2020, including a message he sent about having "allied" himself with the group. They also saw multiple messages from Caldwell seeking to obtain a boat for the Oath Keepers' armed quick reaction force stationed at the Comfort Inn Ballston on Jan. 6 – something Caldwell took pains to try to distance himself from. Caldwell claimed a message he sent about the boat being useful for moving "heavy weapons" across the Potomac River was something he'd pulled from a screenplay he was working on and not an actual plan to ferry weapons into the District.
Caldwell's wife, Sharon, took the stand Monday and testified that Jan. 6 was a fun and peaceful day for the couple. He echoed that testimony Tuesday, saying the couple, both in their 60's, had joined the crowd and simply "shuffled" up to the U.S. Capitol Building.
"We thought it was the chance of a lifetime… so we just kind of got in the crowd and shuffled up there," Caldwell said.
On cross-examination from Assistant U.S. Attorney Louis Manzo, Caldwell, who was born in D.C. and worked in the city in his younger days as a Navy officer, elaborated on that thought.
"Why were you so happy as you advanced on the Capitol?" Manzo asked.
"Because I was going to go up to the place where presidents are inaugurated," Caldwell said. "It was a great day for me as a historian and a Washingtonian."
Manzo also asked Caldwell about a video his wife recorded in which she could be heard calling members of Congress "pussies" for leaving the Capitol. Caldwell claimed at the time they believed the certification had been completed and Congress was simply unwilling to face the crowd.
"I think what she was saying there was it was a great opportunity for us to start the healing process as a country," Caldwell said.
As a counterpoint to that, Manzo showed Caldwell a message he sent to his nephew on the evening of Jan. 6 in which he said he "grabbed up my American flag and said let's take the damn capitol [sic]." Caldwell claimed that message, and numerous other similar messages he sent on Jan. 6, were just him exaggerating and overindulging his propensity for creative writing.
Though jurors had already seen multiple messages from Caldwell seemingly in support of political violence – including one in which he wrote about Jan. 6, "If we'd had guns I guarantee we could have killed 100 politicians – his decision to take the stand allowed prosecutors to question him about several other particularly violent comments that had not been entered into evidence prior. In one, Caldwell described, in graphic detail, how a person could kill someone using a fork by repeatedly stabbing them in the eye. In another, Caldwell described using a sniper rifle to kill people in a crowd.
Caldwell claimed that comment, also to his nephew, was a "Call of Duty tip," but under questioning from Manzo could not name a single entry in the Call of Duty video game franchise.
Manzo also confronted Caldwell with his response to a post-Jan. 6 message from North Carolina Oath Keeper Doug Smith, who has not been charged in connection with the case.
"Ranger Doug, on Jan. 9, says we have an opportunity to kill the local Democrats," Manzo said.
"Whew. What a goof," Caldwell replied.
"And you respond you'll try to make it down for the next training weekend," Manzo said.
During redirect, which will continue Wednesday morning, Fischer asked Caldwell about some of the 180 Facebook messages he unsent on Jan. 15, 2021. Caldwell said some of them had to do with an emergency eye condition his wife experiences and had no relevance to Jan. 6. The DOJ has accused Caldwell of destroying evidence in the case and, on the stand, Caldwell acknowledged at least one of the deleted messages appeared to deal with his efforts to obtain a boat for the Oath Keepers' QRF.
After Caldwell's testimony completed, at least two more witnesses were expected to be called in the case. U.S. District Judge Amit P. Mehta, who is presiding over the trial, said Tuesday he believed the government's closing argument could begin as early as Wednesday afternoon.
We're tracking all of the arrests, charges and investigations into the January 6 assault on the Capitol. Sign up for our Capitol Breach Newsletter here so that you never miss an update.