WASHINGTON — Ray Epps, a Marine Corps veteran who found himself at the center of right-wing conspiracy theories surrounding the Capitol riot, pleaded guilty Wednesday to disorderly conduct in a restricted area on Jan. 6, 2021.
Epps, 62, entered his guilty plea in a Zoom hearing before D.C. District Chief Judge James Boasberg. At his attorney Edward Ungvarsky's request, Epps' sentencing hearing on Dec. 20 will also be conducted virtually. While the disorderly conduct charge carries a maximum sentence of up to a year in prison, other Jan. 6 defendants convicted of the same crime have frequently received terms of incarceration of one-to-two months or, in some cases, probation.
Epps, who previously ran a wedding venue in Arizona, was originally placed on an FBI website for unidentified Jan. 6 suspects, but was later removed. The lengthy period between his removal and criminal charges allowed conspiracy theories to flourish accusing him of being an "agent provocateur" or undercover federal agent — which Epps has repeatedly denied. In an interview with the January 6th Committee, Epps said he was not working for any law enforcement agency on Jan. 6 and "has never been an informant for the FBI or any other law enforcement agency."
On Wednesday, in a nod to the years of unfounded claims that have swirled around Epps, a federal prosecutor took the unusual step of stating on the record that Epps was not and had never been a federal agent.
"Mr. Epps, on Jan. 6, was not before, during or after a confidential source or undercover agent for the government, FBI, DHS or law enforcement," Assistant U.S. Attorney Mike Gordon said.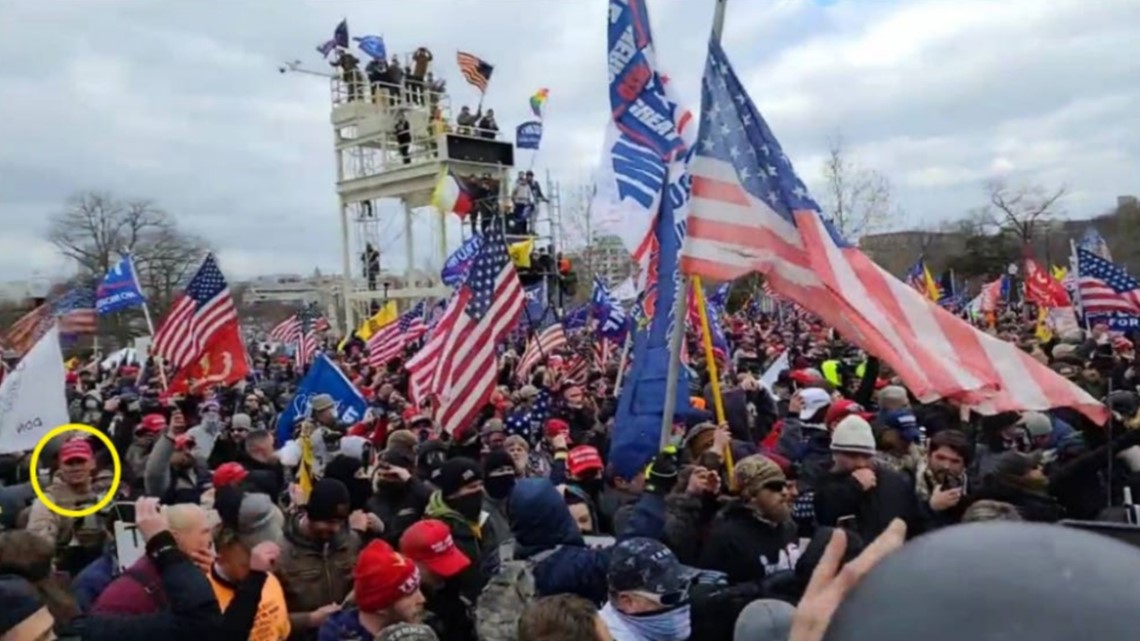 Neither Gordon nor Ungvarsky offered an explanation for the delay in charging Epps, who, according to Ungvarsky, contacted the FBI himself on Jan. 8, 2021, about his involvement in the riot. Boasberg noted Epps' statement of offense included the fact that federal investigators had discovered videos of five separate instances in which he tried to deescalate violence between rioters and police.
Ungvarsky released a statement Wednesday afternoon following Epps' plea saying his client hoped to now move past the conspiracy theories about him.
"Mr. Epps exhorted other supporters of President Trump to be peaceful on January 6 at the Capitol, and outside he repeatedly acted in support of officers to try to deescalate actions," Ungvarsky wrote. "He left without entering the building. Defamatory lies have ruined his and his family's life. Today was a step in putting his life back together."
Epps, who told the January 6th Committee he came to D.C. because he "had some questions about the election" and wanted elected officials to hear his concerns, can be seen in video in multiple places on the west side of the U.S. Capitol on Jan. 6. He first appears in video a night earlier encouraging a crowd of Trump supporters on the streets of D.C. to enter the Capitol the next day.
"Tomorrow we need to go into the Capitol!" Epps shouts to the crowd. "Into the Capitol!"
The next day, Epps, wearing a long-sleeved camouflage shirt and a red "TRUMP" hat, can be seen on another video again urging people to go to the Capitol.
"As soon as President Trump is finished speaking we are going to the Capitol," Epps can be heard saying. "That's where our true problems lie."
Once the riot began, Epps is visible in various places on Capitol grounds, including near the first breach of bike rack barricades on the west side of the building. In an image that has become central to conspiracy theories about him, Epps can be seen whispering something to another man, Ryan Samsel of Pennsylvania, before Samsel rushes the barricades and joins other rioters in tearing them down. In the process, prosecutors say Samsel, who continues to await trial, knocked down U.S. Capitol Police Officer Carolyn Edwards and caused her to suffer a concussion.
In his interview with the January 6th Committee, Epps said he was trying to deescalate the situation when he spoke to Samsel.
"I went out and talked to him and told him, okay, you know, that's not why we're here," Epps said. "You've got to be peaceful, pulled him back and told him, it's not what we're about."
Samsel, who faces felony counts of assault, obstruction and civil disorder, reportedly backed up Epps' version of events in an interview with investigators. According to reporting by the New York Times, Samsel told the FBI Epps has tried to calm him down and it was actually another man, Proud Boy Joe Biggs, who encouraged him to push barricades. Biggs was convicted of seditious conspiracy alongside other leaders of the Proud Boys earlier this year and sentenced last month to 17 years in prison.
Epps can be seen later in the day still on the west side of the Capitol near Proud Boy Zachary Rehl as Rehl appears to spray chemical irritant toward police. Rehl was also convicted at trial and sentenced last month to 15 years in prison.
Unfounded conspiracy theories about Epps being an undercover agent of the federal government quickly gained momentum on the right. They were rocketed to national prominence when former Fox News host Tucker Carlson featured Epps in his "Patriot Purge" documntary, which suggested Jan. 6 might be a false flag operation. Epps' name was also raised by Republican Sen. Ted Cruz (R-TX) during a Senate hearing. Republican Rep. Marjorie Taylor Greene (R-GA), a staunch supporter of Trump who has referred to individuals charged in connection with Jan. 6 as "political prisoners," has repeatedly referenced Epps on her social media account.
In July, Epps sued Fox News and former host Tucker Carlson for defamation, arguing they'd falsely accused him without evidence of being an undercover federal agent. Epps has said the conspiracies surrounding him, which he says Carlson helped promote, have threatened his safety and forced him to leave his home. The suit was filed in the same Delaware court where Fox agreed to pay Dominion Voting Systems $787 million for broadcasting lies about the 2020 election. Fox has sought to have Epps' lawsuit dismissed on First Amendment grounds.
On Wednesday, the attorney representing Epps in his suit against Fox, Michael Teter, released a statement urging Fox News and Carlson to settle the suit.
"Fox News should take a lesson from Ray and accept responsibility for its conduct," Teter wrote. "If it won't, we are confident that a civil jury will impose that accountability itself."