WASHINGTON — The Justice Department is in plea negotiations with a Capitol rioter accused of breaking into Speaker of the House Nancy Pelosi's office on January 6.
In a bond review hearing Tuesday afternoon, a federal prosecutor said the DOJ was in plea talks with Richard Barnett, the Arkansas man photographed with his feet up on Pelosi's desk during the Capitol riot. The Justice Department said no formal offer had been made yet.
Barnett is accused of breaking into Pelosi's office with a stun gun – which he claims was deactivated at the time – and leaving a note that read, "Hey Nancy, Bigo was here b*atch." "Bigo" is Barnett's "preferred nickname," according to charging documents.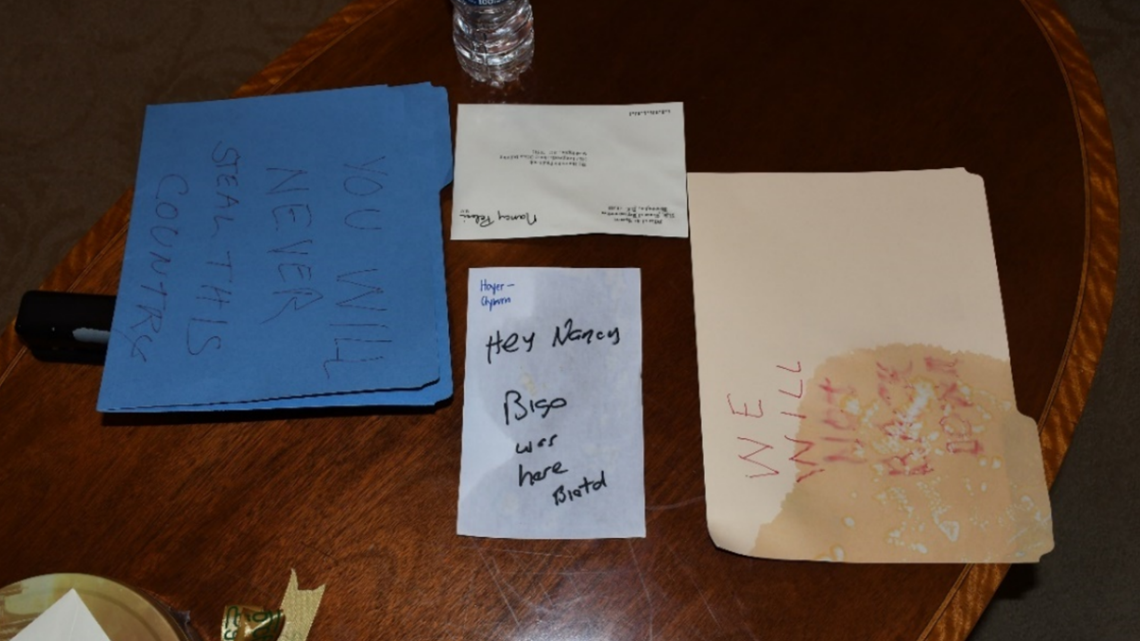 Barnett, who has been in custody for four months, has been vocal about his displeasure at being locked up. In a courtroom outburst in March, Barnett lashed out at the judge, prosecution and his own defense team, saying the judge was making him "sit here for another month when everyone else is getting out. Prosecution keeps dragging this out. Everyone else has worse charges than me [and] is already home."
In his latest attempt to be released, filed last week, Barnett pointed to fellow Capitol riot defendant Federico Klein, who was released on an unsecured bond despite being accused of using a riot shield against the police line. Klein, a State Department appointee of former President Donald Trump, was released earlier this month despite what a judge described as his "demonstrated willingness to use force to advance his beliefs."
The Justice Department has argued that Barnett should be held in custody, saying in addition to leaving an "angry and threatening" note for Pelosi that he came armed with a stun gun to the Capitol and threatened police, allegedly saying, "'Ya'll gotta pick an [expletive] side. This civil war, this isn't, 'Oh, somebody broke the law' – the [expletive] Communists have declared war on us, boys."
On Tuesday, U.S. District Court Judge Christopher Cooper, who is presiding over Barnett's case, ordered Barnett released to home detention in Arkansas with GPS monitoring. Cooper pointed out during the hearing that, with the 7-8 months the DOJ says Barnett could face in a plea situation, he could potentially be eligible for time served.
We're tracking all of the arrests, charges and investigations into the January 6 assault on the Capitol. Sign up for our Capitol Breach Newsletter here so that you never miss an update.