If you walked down Hyattsville's Baltimore Avenue one year ago, you would've passed an entire block of untouched, broken buildings.
Directly across the street from the abandoned lots sat the design firm and boutique Green Owl Design. Co-founders Erica Riggio and Angela Justice looked our their front window and saw plywood, broken windows and things falling off the buildings. They were sometimes embarrassed to invite clients to their boutique and noticed that people rarely walked by.
"There were a lot of cars whizzing by us, but there wasn't anything for the people to really stop and slow down and look and want to visit," said Justice.
Modeling their approach after public arts projects happening throughout the country, Riggio, Justice and local artists worked to create a welcoming environment that all residents could enjoy with paintings and murals.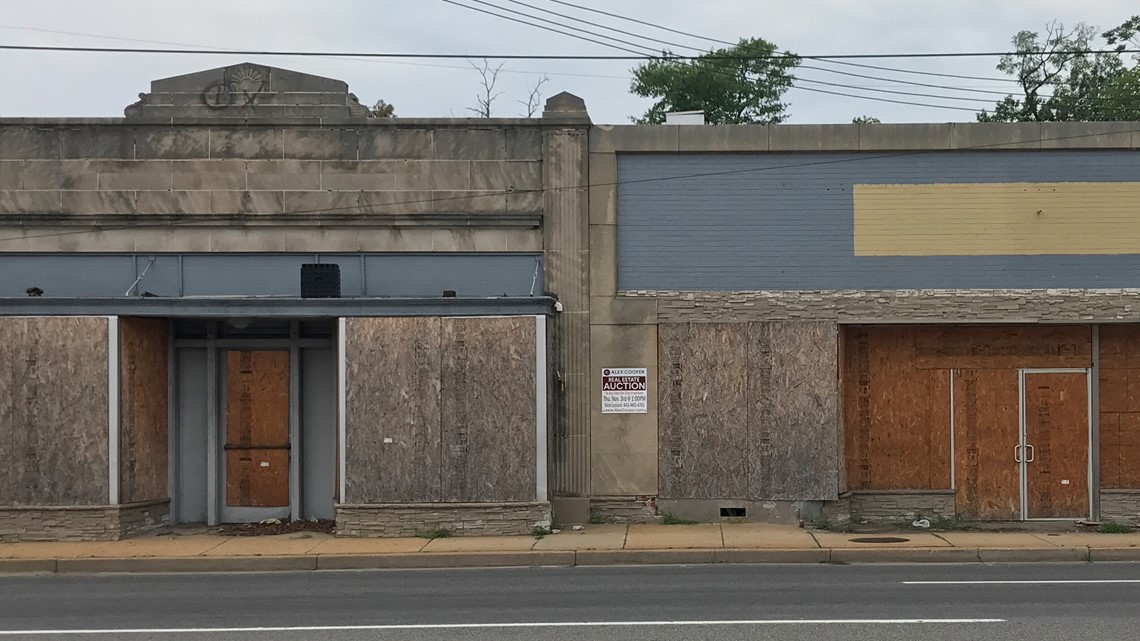 Hyattsville is already a flourishing arts community
Hyattsville is no stranger to using art to revitalize the community. Since 2001, the city has been a part of the Gateway Arts District, a two-mile corridor in Prince George's County dedicated to developing arts spaces.
In the past 17 years, the city has provided tax incentives for arts facilities, like studios, boutiques and artists' residences. They've encouraged new businesses and restaurants to set up shop in the community, including the popular Busboys and Poets and Vigilante Coffee Company. They've also tried to infuse art into public spaces whenever possible.
"Whenever we get a chance to put art on new infrastructure, we do so," said Stuart Eisenberg, the executive director of the Hyattsville Community Development Corporation since 2005 and member of the Gateway Arts District management team.
Real estate investors have also purchased property throughout the city, including the abandoned buildings across from Green Owl Design. While the buildings will be demolished in the next few years, Riggio and Justice hoped to use art to beautify the area in the meantime.
Making the dream a reality by painting the walls bright pink
The women at Green Owl Design worked with the developer and created a plan for how they could temporarily transform the broken buildings.
They also started mapping out the specifics – like what paint colors they would use. Many of the walls were painted hot pink because it would "get people's attention," said Riggio.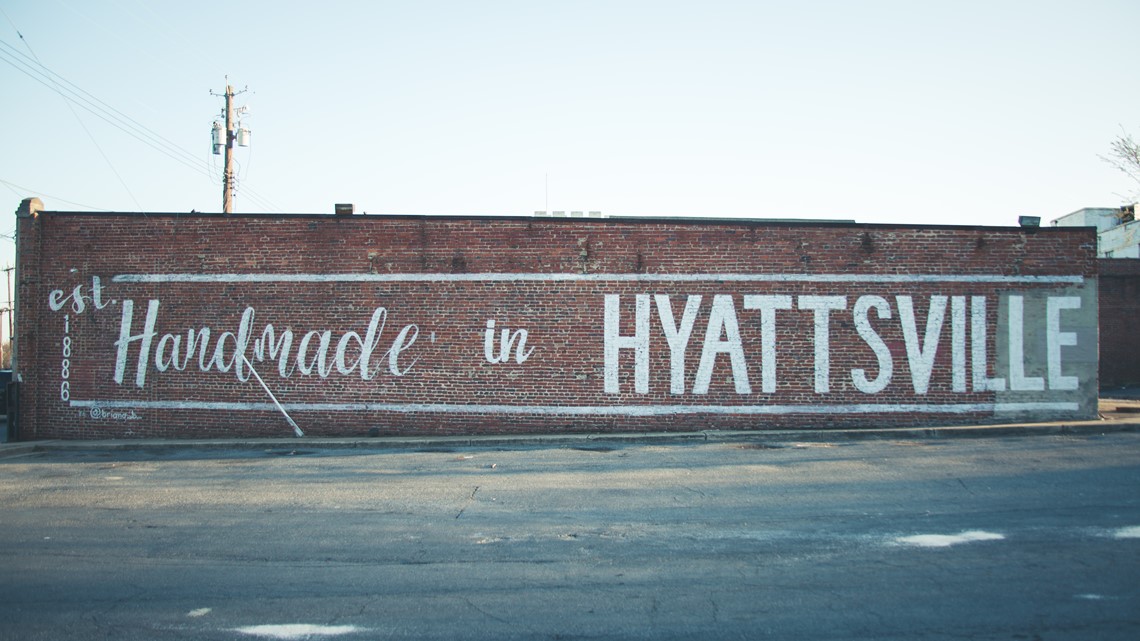 But it all couldn't be done without help from the community; Riggio and Justice included residents every step of the way.
They recruited 10 local artists to cover the buildings with murals, using supplies from a local art store. Riggio and Justice were actually able to pay the artists who helped thanks to a budget granted by the developer.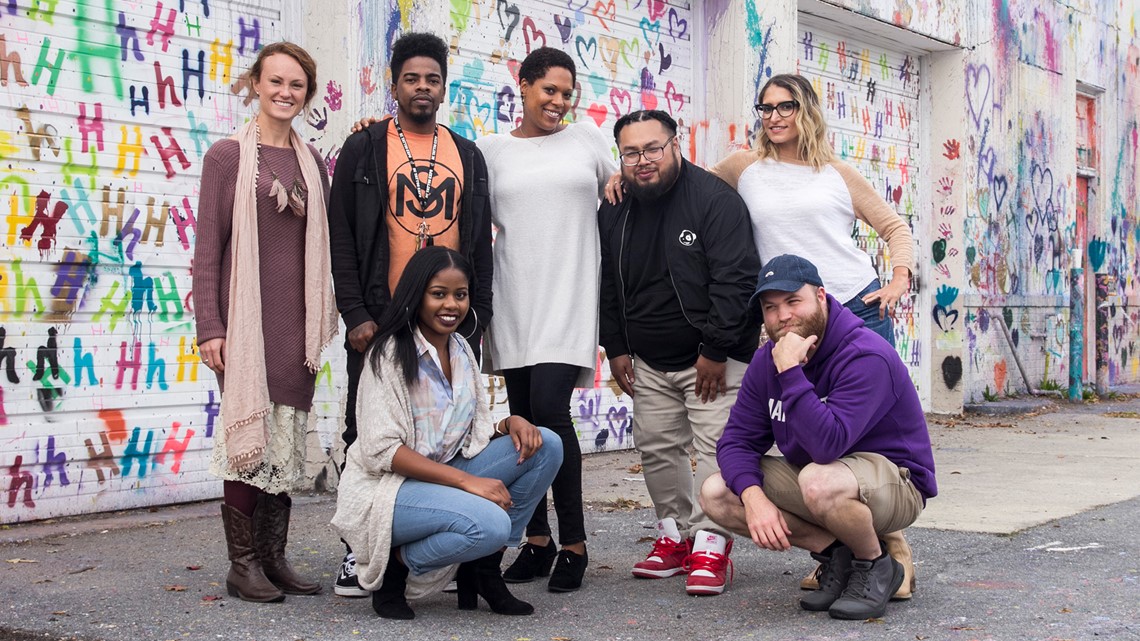 They also let non-artists participate.
One of the buildings was left for locals to design. "We made it like a community event where people could come and paint hearts and Hs to show their love for Hyattsville," said Justice.
Abandoned buildings become Hyattsville's hottest selfie spot
From start to finish, the process took about three-and-a-half weeks. So was it all worth it? Riggio and Justice say yes.
More people are actually walking down Baltimore Avenue and interacting with the art.
"Now everyday I see somebody walking through like a family," said Justice. "So it's nice to see that people feel safer… and explore different areas of the city."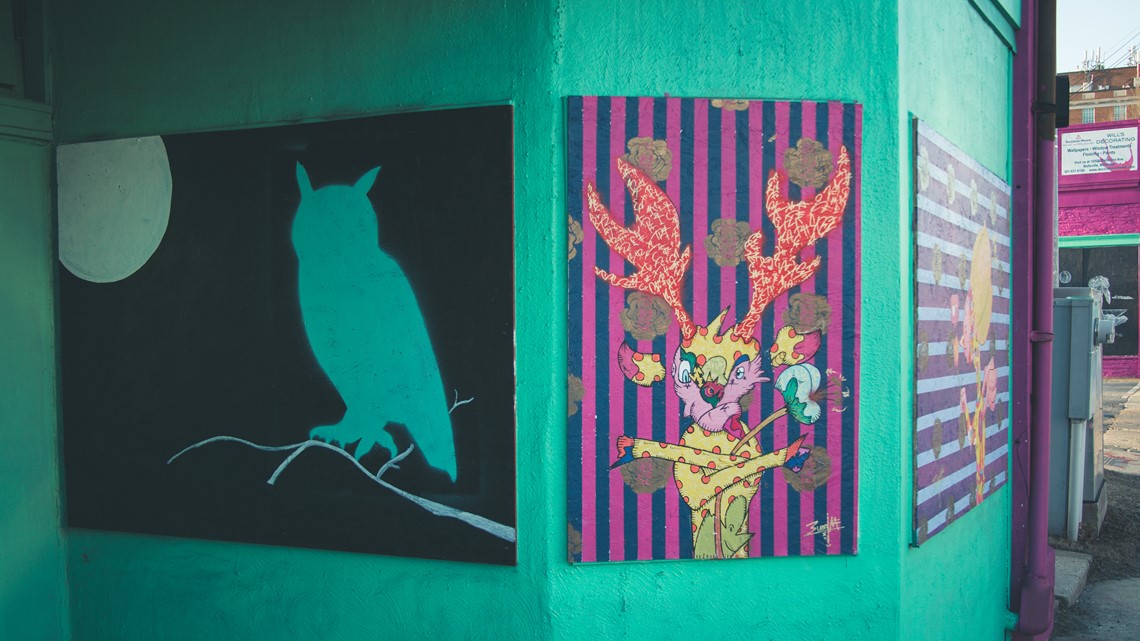 And it's not just residents who are enjoying the space. People from outside of Hyattsville – like visitors from Washington, D.C. – have come to explore.
Increased foot traffic also means that more people are visiting the Green Owl boutique and other businesses in the area.
But most important to Riggio and Justice is that people are happy and smiling more.
"That's worth it. There's not a price you can put on that," said Riggio.
Maryland artists and designers fight urban blight with art