Investigators have yet to nail down a motive for the mass shooting in Las Vegas. Stephen Paddock had no criminal history and no history of gun violence. But a former FBI profiler believes he was a psychopath who saw his life coming to an end and committed suicide in the most sensational way possible.
She believes he may have used a real-life playbook.
"It's a very cold, calculated, callous crime. It's predatory. He's on a perch 32 floors up. It's what a hunter does up in a tree," said former FBI profiler Mary Ellen O'Toole, now the director of the Forensics Science Department at George Mason University.
She said the Las Vegas shooting is very similar to the 1966 University of Texas Tower shooting committed by 26-year-old Charles Whitman.
"He took a trunk of weapons, multiple weapons, long barrel weapons, pistols, and he dragged that trunk up an elevator and then flights of stairs to the top of the Texas Tower," she said.
He killed 16 people and an unborn child. It ended when police shot him dead.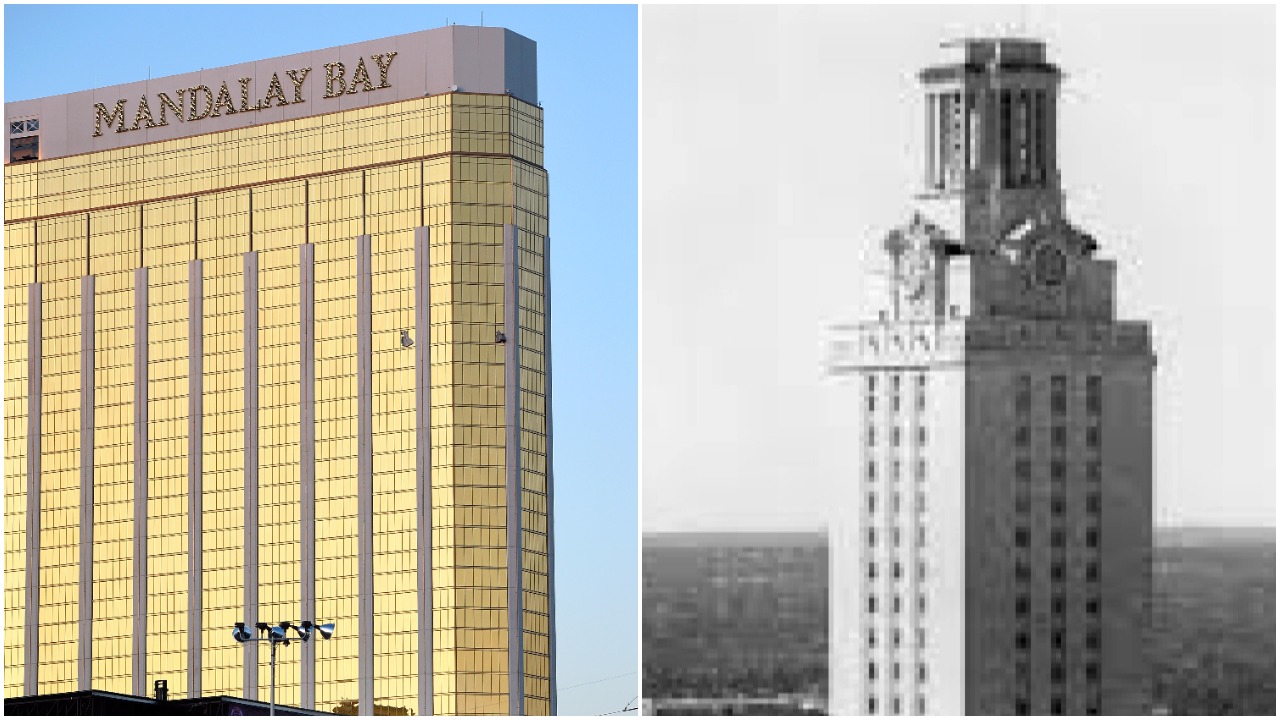 Paddock put his weapons in suitcases. O'Toole said both Paddock and Whitman carried weapons up to their sniper perches in front of other people. They positioned their guns in different places for maximum carnage. Whitman placed his around the Tower in turrets. Paddock knocked out two windows.
"Initially people thought there were multiple shooters on the top of the Tower that day because the shots were coming from so many different locations, but when in fact it was only one shooter," said O'Toole about Whitman's attack.
She believes it's likely Paddock researched the Texas shooting. He would've been about 13 years old when it happened.
"Frankly, I'm surprised it took this long to have one so similar," she said.
Based on their actions, O'Toole believes both shooters were psychopaths.
"When you have those personality traits, callousness, coldblooded, predatory, really well-thought out instrumental violence--instrumental violence is killing people you don't know and never did anything to you--it's a very unique kind of violence. And it's a violence that's preferred by individuals that have psychopathic personality disorder," described O'Toole.
480263457
Psychopaths rarely commit suicide because they're optimistic people, O'Toole added. But, when they feel like their back is up against the wall, like their life as they know it is over for some reason, they can commit suicide and they do it in a most elaborate, sensational way, said O'Toole.
Las Vegas shooter may have researched 1966 #TexasTower massacre; former FBI profiler finds many similarities @wusa9 pic.twitter.com/LEnCLhtbNW

— Peggy Fox (@PeggyTV) October 3, 2017
"Their thought process goes like this, 'There's no way now, at 64 year old, I can fix this. But, by God, you're not going to ruin my life. If my life is over, it's going to be on my terms,'" O'Toole said.
She believes we will find out what drove Paddock to commit mass murder and that he had his secrets.