WASHINGTON -- A DC mom is upset after a violent weekend in the city.

Her 14-year-old son was shot in Southeast and now she is preparing to send a big message to the shooters.

"What you did wasn't right. You hurt my family," Robin McKinney said.

McKinney said her 14-year old son was heading home from the grocery store along Alabama Avenue late Saturday, when he heard gunfire, started running and was hit in the shoulder by a bullet.
"My son called me and he said mom, I've been shot. I'm at the Giant parking lot, but I'm ok," McKinney recalled.

She said 12 and 13-year-old kids were with him at the time. They weren't injured.

Saturday night, an 18-year old was shot to death on Stanton Road in Southeast and a teen was shot in the Kenilworth neighborhood in Northeast, but he survived.

Suspects in these cases are still out on the streets.

Meantime, McKinney is planning a Peace Walk at 6 p.m. on Tuesday, starting at 1920 Martin Luther King Jr. Avenue and ending in the area where her son was shot.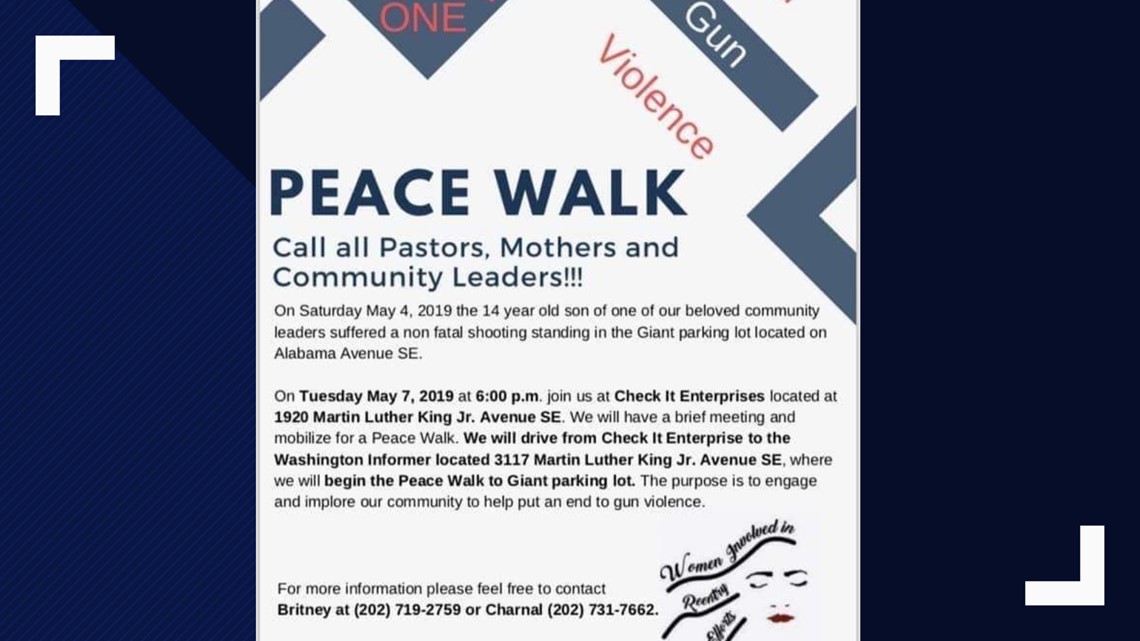 This march, she said, is all about getting the community to step up, get involved and not run away from the crooks terrorizing their neighborhood.

"You had no compassion about the youths out here in our community. At that point, I'm angry. I'm angry as a parent," McKinney said.

Her son is at home recovering.