A "tragic case of road rage" is how police are describing the murder of Muslim teenager Nabra Hassanen.
Darwin Martinez Torres, 22, of Sterling, is in custody charged with murder and assault in Nabra's death. He also has a detainer against him, according to Immigrations and Customs Enforcement, or ICE, meaning he's in the country illegally.
"I want to look him in the face and ask him, 'Why you kill my daughter?' We don't do anything to him, to anybody. I raised my kids to love everybody," said Nabra's father, Mahmoud Hassanen as he cried.
A few dozens students from South Lakes High School, where Nabra was a sophomore, came to the Hassanen's apartment to offer their condolences to the family. Several of the students had been among the group of teenagers with Nabra when the attack happened.
According to police, the 17-year-old girl was walking back to the ADAMS Center mosque in Sterling with a group of approximately 15 teens at 3:40 a.m. Sunday. The group had been attending an overnight observance of Ramadan and had walked to McDonald's to break their fast. Several witnesses said they later recognized the picture of the suspect as a man they saw in the restaurant.
The teens were walking and riding bikes in the road and on the sidewalk along Dranesville Road in Fairfax County when Torres drove up and confronted the group, police said. One of the male teens argued with Torres, who then drove his car up onto a curb. Witnesses said he tried to run them over.
The group of teens ran away, but police said Torres pulled off in a nearby parking lot where he got out of his car with a baseball bat.
Torres chased the teenagers and caught Nabra, investigators said.
"It appears the suspect became so enraged over this traffic argument that it escalated into deadly violence," Julie Parker with Fairfax County Police said.
"It was just blind rage," said one of the teenage witnesses.
Torres took Nabra in his vehicle to another location, police said. Her body was found in a pond in the 21500 block of Ridgetop Circle in Sterling, Va.
An autopsy revealed Nabra had blunt force trauma to her upper body.
At this time, police said there is no evidence that shows this was a hate crime, but if new evidence emerges during the investigation, police will take the appropriate actions.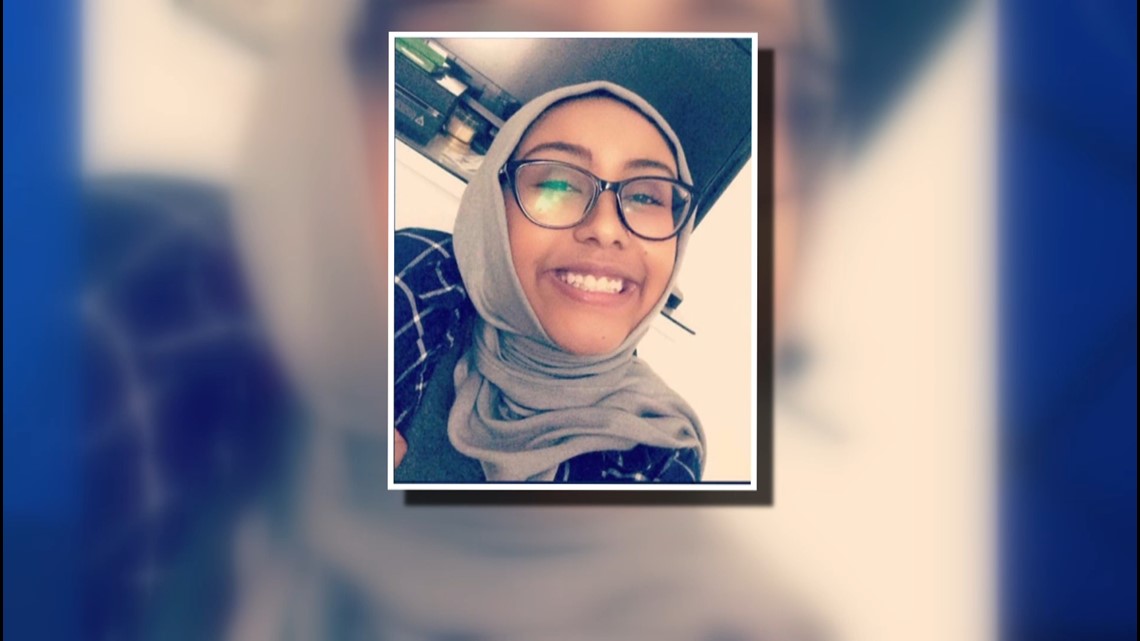 Nabra was a sophomore at South Lakes High School in Reston, Va. and would have been starting her junior year this fall, friends said.
The murder occurred during the holy month of Ramadan, when Muslims abstain from eating from dawn to sunset. Many mosques hold late night prayers, and people eat a pre-dawn meal called suhoor before they begin fasting. Muslim leaders across the country have been sharing this GoFundMe page that has raised more than $20,000 to help support the family.
Sterling District Supervisor Koran Saines and members of the Sterling, Va. community gathered for an interfaith prayer service outside of the Mosque on Monday. Strangers then lined the entrance, some holding candles. Rizwan Jaka, Board Chairman for the ADAMS Center Mosque, shook their hands and thanked each person for being there, one-by-one.
"This is what America is about. The solidarity and the friendship that everyone is coming with," said Jaka, before choking-up. "And we appreciate that and that warms our heart in this most difficult time," he said holding back tears.
Jaka and the victim's father, along with all of those part of the ADAMS Mosque, are calling for a thorough investigation into the motive.
A funeral prayer service for Nabra will be held at 1:30 p.m. Wednesday, Jun 21, 2017 at the ADAMS Center in Sterling, Va.
On Monday afternoon, Immigrations and Customs Enforcement confirmed it launched a detainer against Torres. The agency released this statement:
"On June 19, ICE lodged a detainer on Darwin Martinez Torres, a citizen and national of El Salvador, with the Adult Detention Center in Fairfax, Virginia. ICE lodges detainers on aliens who have been arrested on local criminal charges when the agency has probable cause to believe an alien is removable from the United States. Mr. Martinez Torres has no prior encounters with ICE."