BRISTOL, Va. — Virginia Gov. Glenn Youngkin announced Thursday that he has signed several bills that aim to further his "All-American, All-of-the-Above Energy Plan."
The governor called it a great day for both Virginia and American energy.
He said with each signature Virginia moves closer to delivering on his "All-American, All-of-the-Above Energy Plan."
"We can, in fact, make Virginia energy more reliable, affordable, and clean while creating jobs and spurring innovation and today is a testament to that," Youngkin said in a news release. "We're not just making Southwest Virginia the energy capital of the Commonwealth, we're unleashing our rich, limitless potential to deliver for all. This is just the beginning."
On Thursday, Youngkin signed four senate bills and six house bills. Those bills include: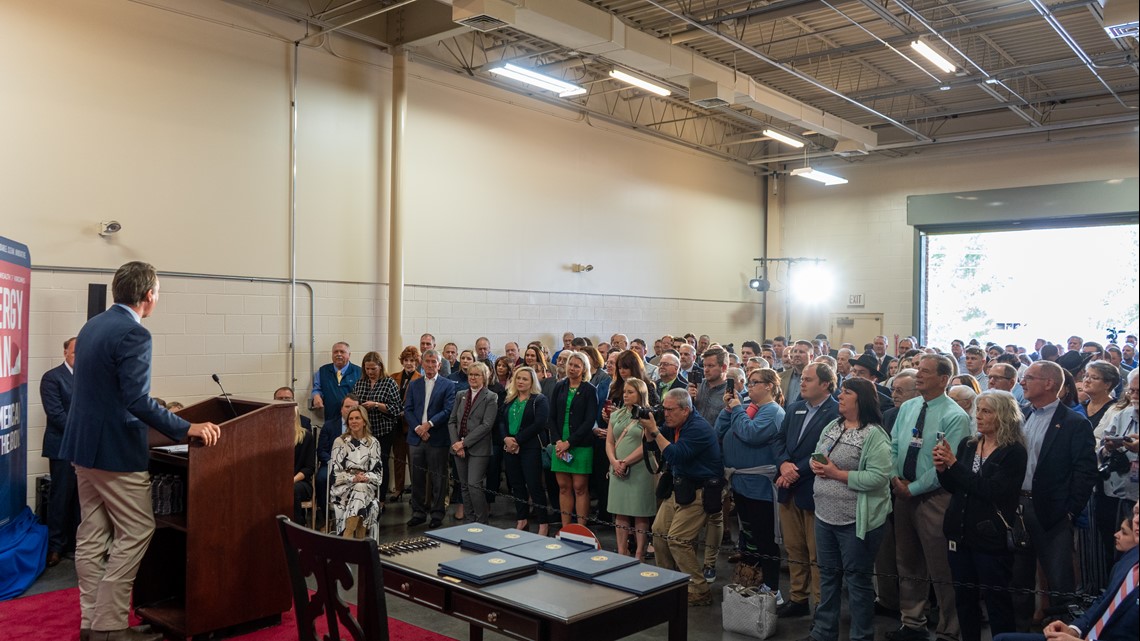 House Majority Leader Terry Kilgore applauded the legislation, saying energy innovation has brought good-paying jobs to Southwest Virginia.
"My bill to support the capture and use of coal mine methane from former coal sites is another example of Southwest Virginia leading the way in energy innovation," Kilgore said.
Sen. Jill Vogel explained how states across the country are taking action and investing in more energy industry jobs in the right move for Virginia.
"I firmly believe there is no better place for our own energy sector to be located than right in Southwest Virginia. Hydrogen, advanced nuclear technologies, fuel cells, solar, and carbon capture technologies require a workforce energized toward new opportunities and focused on innovation. The Power Innovation Fund will advance this here and across Virginia," said Vogel.
Virginia Tech nuclear physicist Ali Haghighat helped champion the creation of a new Virginia Nuclear Innovation Hub. "This is a great day for nuclear engineers." When asked what the allocated $10 million will mean for nuclear research, Haghighat answered, "We truly need to train a lot of good engineers and scientists for the next generation of nuclear technology in Virginia and beyond."
Currently, nuclear reactors power 30% of Virginia's energy needs. Dominion Energy hopes to bring a new type of nuclear reactor online within 10 years.
"It truly can be built very fast. These are smaller and meant to be modular," added Haghighat.
"He's [Governor Youngkin] championing some legislative victories that just quibble at the margins of research and development into other technology, but climate champions in the Virginia Senate stood up to his efforts to slow our clean energy roll-out," said CCAN's Victoria Higgins.
More than 55% of Virginia's energy needs come from natural gas, most coming from burning methane from abandoned coal mines. Jobs turning coal mine gas into electricity are now eligible for "Green Job Creation" tax credits.
"Any policy that incentivizes burning that methane once it has captured from the coal mine is poor climate policy. The best solution is to store it," added Higgins.