FAIRFAX COUNTY, Va. – Police are warning residents after a small dog was attacked and killed by a coyote in Fairfax County, Virginia.
The incident happened in the forested area of the Parklawn community.
Loki was a beloved Jack Russell terrier who was crazy about chasing tennis balls.
"If I was expecting him to die of not old age, I would expect him to die of a heart attack from chasing the tennis ball for hours," said Loki's owner.
A few weeks ago, she (the owner does not want to be identified) was tossing Loki a tennis ball around 3 p.m. when the ball bounced over the fence and into the woods.
As they've done dozens of times before, she and Loki opened the chain link fence gate to retrieve the ball. Suddenly, a coyote jumped out from the brush and went after Loki.
"I'm screaming. I was picking up pieces of wood that were there and was flinging it. If I knocked my own dog unconscious, if that's what it took to save him, I didn't care," she said. "I was just flinging wood and screaming and calling for the dog. Through the woods and towards that next hill in that next neighborhood is where I eventually found his body."
Fairfax County Police put out a black and white image of a coyote that was capture by cameras in those same woods.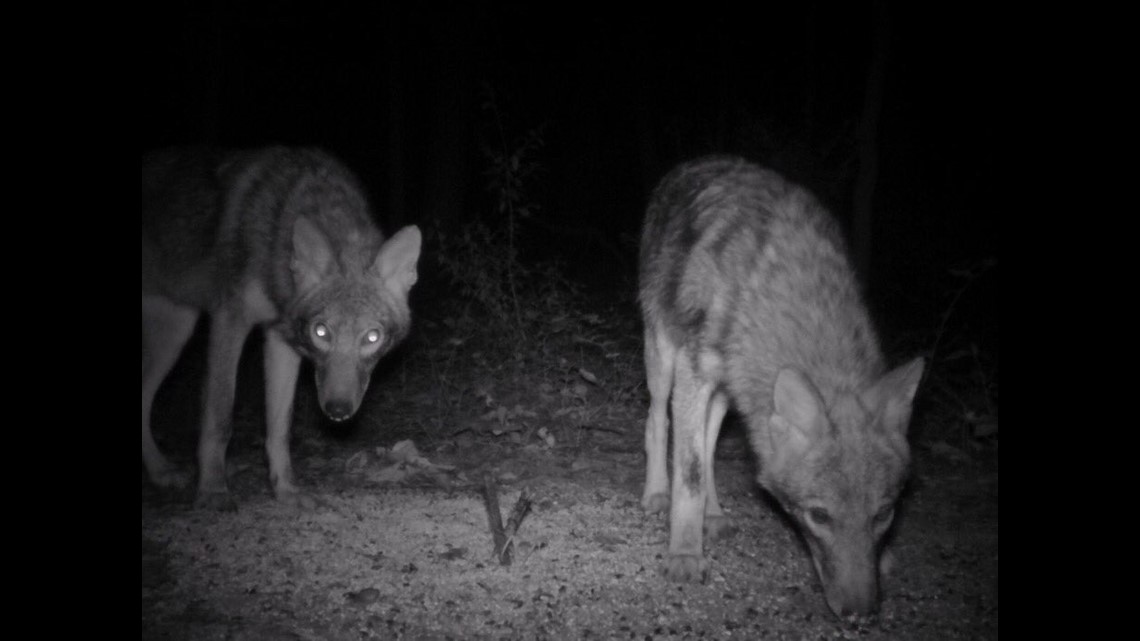 Wildlife specialists installed the cameras after the attack on Loki to see how many coyotes live in Holmes Run Stream Valley Park where Loki was attacked.
They're not trying to capture the coyote who attacked the animal, just to learn more about them, such as whether there's a den with offspring.
Animal protection officers and Fairfax County Wildlife Management specialists are monitoring the coyote activity in the area. They said dogs are vulnerable to coyote confrontations, especially when unattended.
"Basically coyotes are an established part of our wildlife community. They've been here for a number of years.In most cases, coyotes pose little conflict with people. But, there can be a risk to pets left outside. Coyotes don't differentiate between small pets and prey," said Fairfax wildlife specialist Katherine Edwards.
She said coyote attacks are rare, and extremely rare when people are present.
According to Fairfax police, conflicts between dogs and coyotes can happen year-round but are more likely during coyote mating season (January-March) and when coyotes are caring for their young (March-August).
Wildlife officials released the following precautions:
Never feed a coyote
Securely cover your trash bins and compost piles
Do not feed pets outside or store pet food outside
Do not leave your pet unattended, even in a fenced yard
Keep cats indoors
Pick up ripe, fallen fruit and do not let it accumulate on the ground
Keep dogs on short leashes (less than 6 feet) while walking outside
Install motion sensor lights or a motion activated sprinkler around your home
The Fairfax County Police Department's Animal Services Division is working to monitor coyote activity in the area using area searches and game cameras. Personnel are coordinating these efforts with the Virginia Department of Game and Inland Fisheries to determine if additional actions need to be taken. Reports of aggressive, sick or injured animals should be made to the Fairfax County Animal Protection Police through the Police non-emergency number at 703-691-2131.