As many saw the blaze, they reacted on Twitter, showing how far and massive the smoke cloud could be seen across the DMV region.
One firefighter and one civilian were taken to the hospital for minor injuries.
Alexandria Fire Department received calls to the 2800 block of Poag Street off North King Highway around 9:40 a.m.for a building fire. Poag Street is located in the Groveton area of Fairfax County.
Fairfax County Fire Chief John Butler said when fire officials arrived, there were two buildings under construction that were fully engulfed in flames.
WUSA9's own Mike Valerio saw the fire from what he said was probably 10 miles from the actual fire.
The National Weather Service tweeted the fire picking up on several satellites and radars and WUSA9's own radar picked up the blaze too.
WUSA9 radar picks up Alexandria fire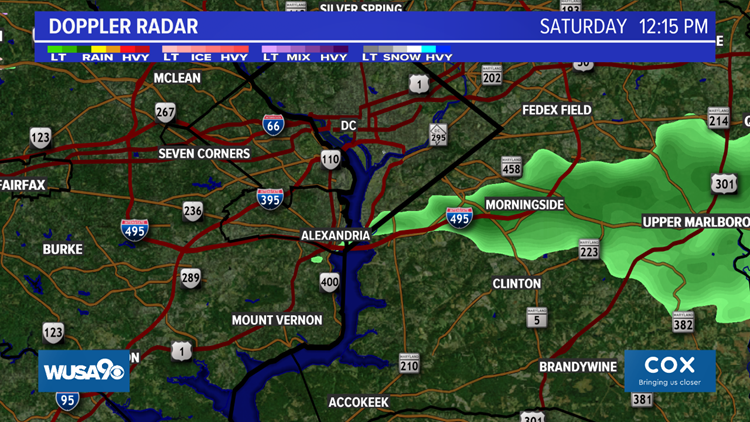 800 customers are experiencing power outages due to the huge fire, according to Peggy Fox, Dominion Energy Media Communication's Manager.
Fox said, "The Operations Center de-energized lines in the immediate area temporarily to keep everyone safe while Fairfax County Fire and Rescue battles the blaze."
In 2017, a similar incident occurred at a development called Fuse 47 that went up in flames causing nearly $40 million in damage.
The College Park apartment building was set to open to residents in July 2017.
University of Maryland Junior Nicholas Bentley had signed a lease to move into the apartment building earlier this year. He told WUSA9 he was informed by Fuse 47 that he would receive his application fee and deposit fund back.
Currently, building codes allow structures as high as five stories to be constructed using a wood frame, as long as they are protected by modern sprinkler systems. Fuse 47 included a three-story garage built with a concrete frame and five stories for residential living, which was built with a wood frame. The project was still under construction at the time of the fire, and the sprinkler system was not yet functioning.