FORT BELVIOR – Lt. Col. Tony Lindh of the U.S. Army and his wife Christina have a combined 23 years of active duty service. They have two beautiful children, 5-year-old Penelope and 4-year-old son Tripp.
Last year, Tripp was diagnosed with B-Cell Acute Lymphoblastic Leukemia and the family has had to adjust to their new normal.
"It's been tough. It was pretty gut-wrenching when he was diagnosed," said Christina.
The Lindh family wasn't prepared for the diagnosis, but they were used to being put to the test. They've completed three deployments. They even served one of those deployments in the same area, something they say made them grow even closer.
"Being in the Army we have the Army values. One of them is selfless service and knowing what you are doing is for soldiers, knowing what you are doing is for our country," said Lt. Col. Lindh.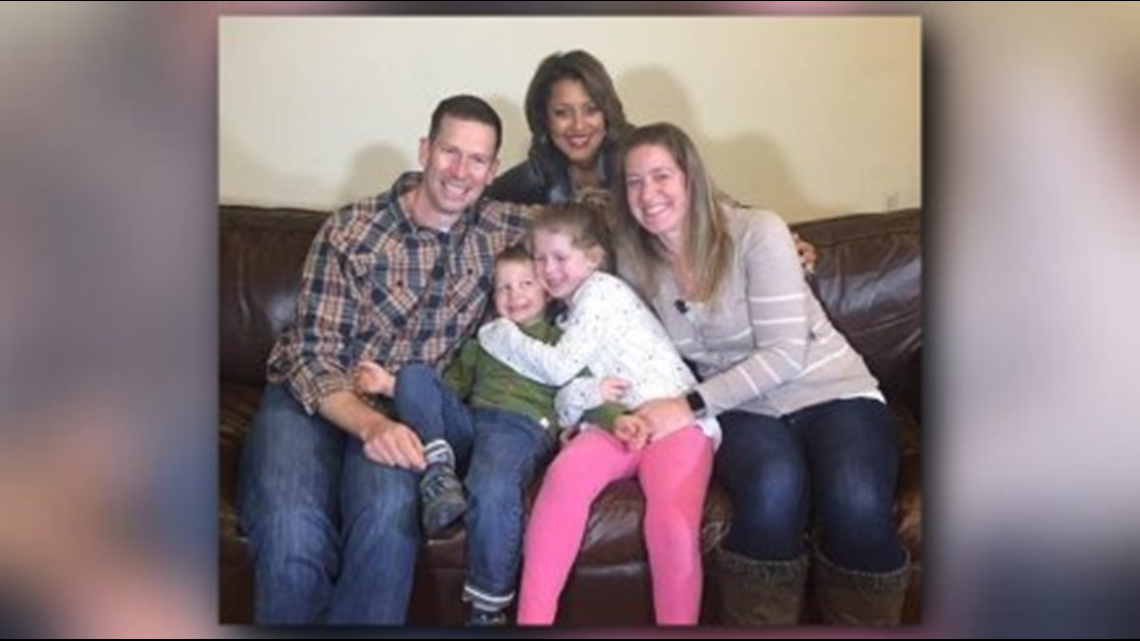 It's those values that help them deal with their son's illness.
"He started pre-school this year. He made it seven days and then he was in the hospital for a week, which is not normal right? It's normal for us," Lt. Col. Lindh expressed.
It's also tough on Penelope. At just 5 years old, she, is Tripp's big sister and protector.
"I was sad that he had to go to the hospital because I got to see him less than I usually did," she said.
Penelope has missed out on play dates and other active school activities because Tripp's immune system is compromised.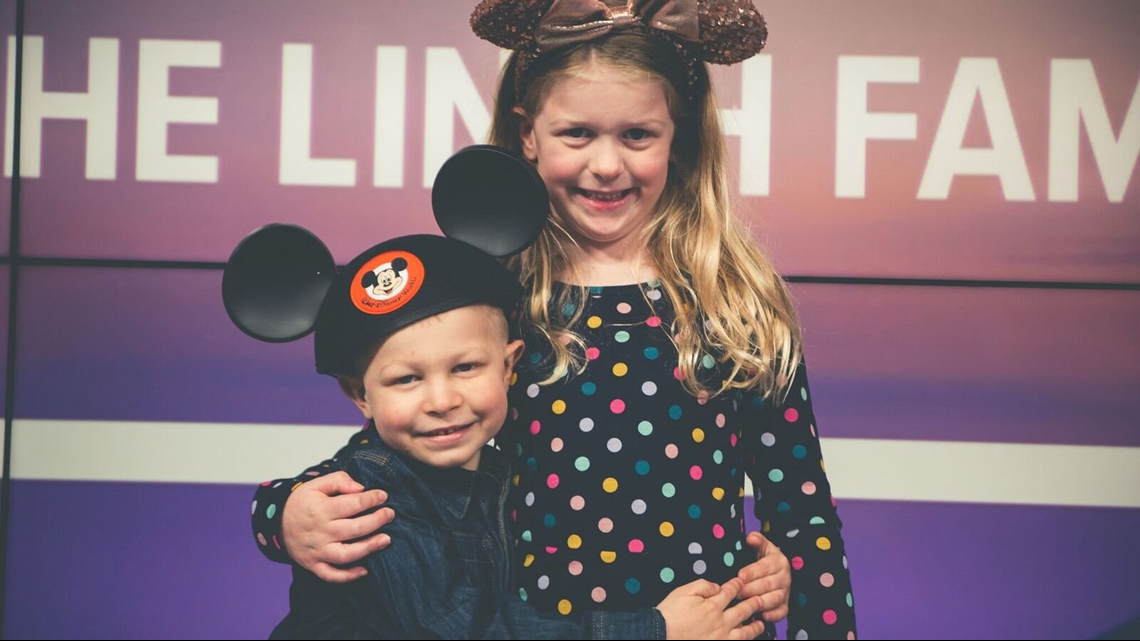 When he's not receiving outpatient care at Walter Reed National Military Medical Center, the family tries to do as much as possible as a family.
Many of those experiences come through the USO of Metropolitan Washington-Baltimore. They've arranged for Tripp to meet Miss America 2018, as well as attend a Nationals Game where the family got to interact with some of their favorite players.
For Christina and their family, those experiences and the support is priceless.
"Having anyone come through it brightens him up and gives him a moment not to think about what he's going through," Christina said. "Sometimes you can feel forgotten because of what you are going through."
Our WUSA9 Impact team refused to let the Lindh family feel forgotten. Journalists teamed up with USO-Metro and Sheehy Toyota, to give the family a surprise of a lifetime.
When the Lindh family arrived at WUSA9, they thought they were getting a tour of the studios.
They had no idea what was coming up next. When they entered the studio, it was full of members of the community who were there to support them.
There was even a message from Cara Mund, Miss America 2018.
"Hi Tripp and family! We met earlier this year at Walter Reed on one of my visits with USO-Metro. I had such an amazing time. I've been thinking of your family ever since. Tripp you are strong, brave and an inspiration to all other kids. Sending love and well wishes to all of you!"
The surprises didn't stop there.
Kevin Runey, Mike Wright and Jim Foskey of Sheehy Toyota of Fredericksburg and Stafford had a very special gift for the family. "
Tony, Christina we are super excited to be here. Thank you for your service. We'll never forget it. We want to present you with these boxes," said Kevin Runey.
When they opened them, they found four pairs of Mickey ears inside. "
You're going to Disney!" the team told the Lindhs.
PHOTOS: Army family with son battling Leukemia gets surprise trip to Disney World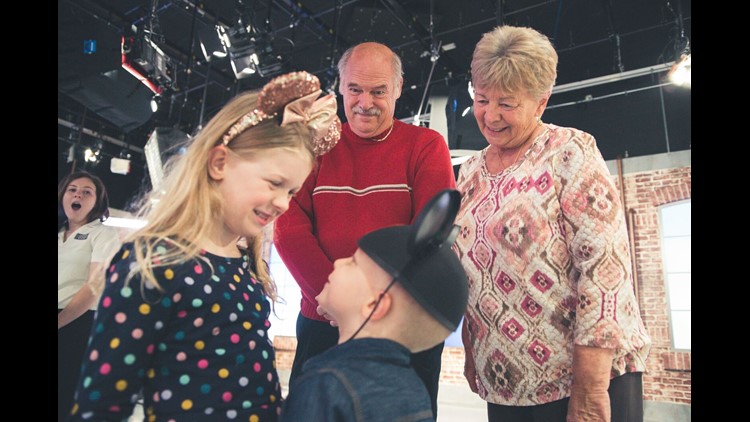 The Sheehy team was so impressed with the Lindh family; they didn't want to stop with just one trip.
They also had another surprise for the Lindh family -- a $30,000 donation toward the USO's Salute to the Troops Orlando program in their honor.
Thanks to that donation, a plane full of Military families dealing with critical illness will get the chance to go to Disney World next year. It's a program USO-Metro has supported for the past several years and is made possible through partnerships with American Airlines, the Walt Disney Company and the Gary Sinise Foundation. Funding for the 2019 Salute to the Troops Orlando trip is complete with this final donation from Sheehy Toyota.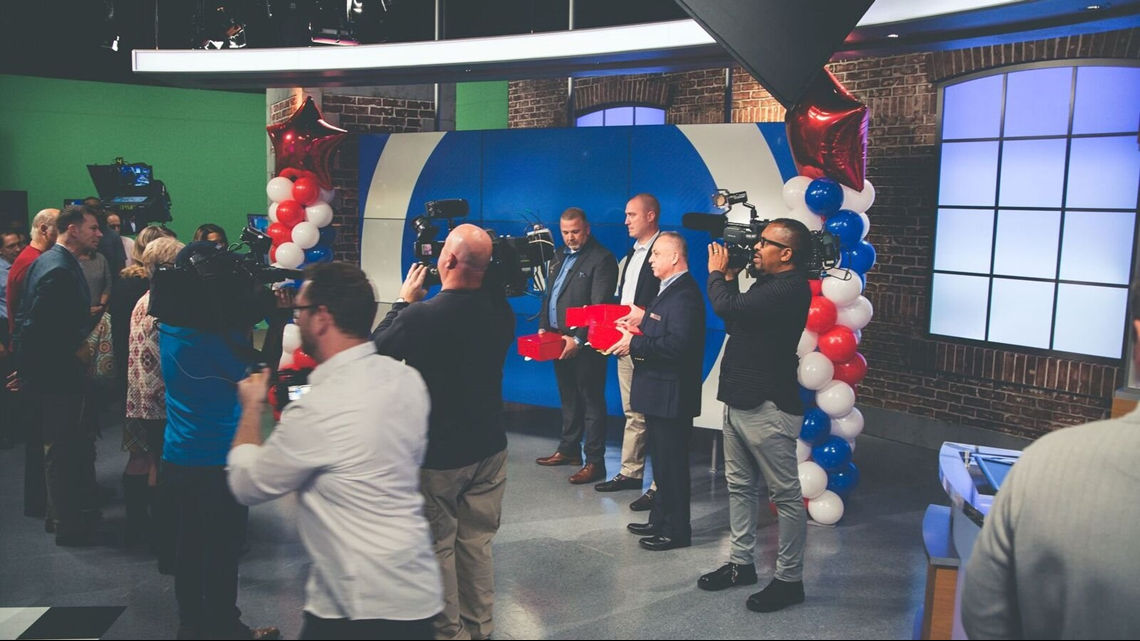 "What they do for us, keeping us safe at home. If we can do that little something for them? It's a great feeling," said Kevin Runey, the General Manager of Sheehy Toyota Fredericksburg.
For Elaine Rogers, the President and Chief Executive Officer of USO Metropolitan Washington-Baltimore, this partnership helps spread the word about the kind of work the USO does for local families.
"A lot of people don't think of the USO in this kind of role, but we have so many resiliency programs right now and truly this is one of them," said Rogers. "It makes such a difference in these military families' lives that they get an opportunity to go to Disney World and be together as a family outside of the hospital. It is an amazing opportunity and we are so thrilled to have so many people helping us."
The Lindh family is now counting down the days until their special trip.
"They're just the perfect ages," said Christina. "Being able to see the joy on their faces, I just can't wait!"