ADELPHI, Md. -- They don't always wear capes. But the staff at Buck Lodge Middle School in Prince George's County are heroes to the students in their care.
At Buck Lodge, most of the students and their families are newcomers to this country. Many face daily challenges with scarce resources. But that doesn't stop the effort to have them tap into their own superpowers.
With just under 1200 students, this middle school is the third largest in Prince George's County. The halls are adorned with signs that proclaim the power in their numbers. The pride in their population.
Every one of them has a story.
WHAT DO THE STUDENTS NEED?
Ninety-four percent of the tweens and teens here ride the bus. Many qualify for free or reduced lunches.
"My population of students I consider to be school dependent. They depend on school for needs outside of academics," said Buck Lodge Principal Kenneth Nance.
Nance is entering his fourth year as the Superhero in Chief of the school. On this campus, the staff serves not just the children, but their families.
Buck Lodge is a United Way Community School. They received funding from the United Way to assist with their mission of meeting the needs of the entire community. Sometimes it's food. Other times it's clothes. And, sometimes, it's even keeping those clothes clean.
Principal Nance walked WUSA9 IMPACT team members into an old room, fairly dark, with a chipped floor and gray walls.
It's stocked with an industrial sized washer and dryer that have been there for more than a decade. The custodians park boxes in there, too. But this room has more utility than most.
"We've been in situations where kids – they may have spilled some items on them," said Principal Nance, referring to children who may not have clean uniforms. "And we may bring clothes in here to wash if we need to."
It's a resource that might not come to mind when you think about a school.
"A lot of times we have parents who may have issues with purchasing uniforms as well as keeping those uniforms clean, throughout the school year," said Principal Nance. "So, having an in-house laundromat at the school would more than help my population of students and parents."
Middle school can be a challenging time for developing children. But having a clean uniform can help make a difficult time, a little easier day-to-day. Students at Buck Lodge wear uniforms with designated colors based on their year.
One student told us, "If I come to school with a dirty uniform, I don't feel like happy." Another shared, "A clean uniform makes you feel brand new."
Principal Nance wants to do even more for his Buck Lodge family. He hopes to plant other seeds that grow within the community, to sustain it.
It's an effort that takes students into a different kind of learning environment.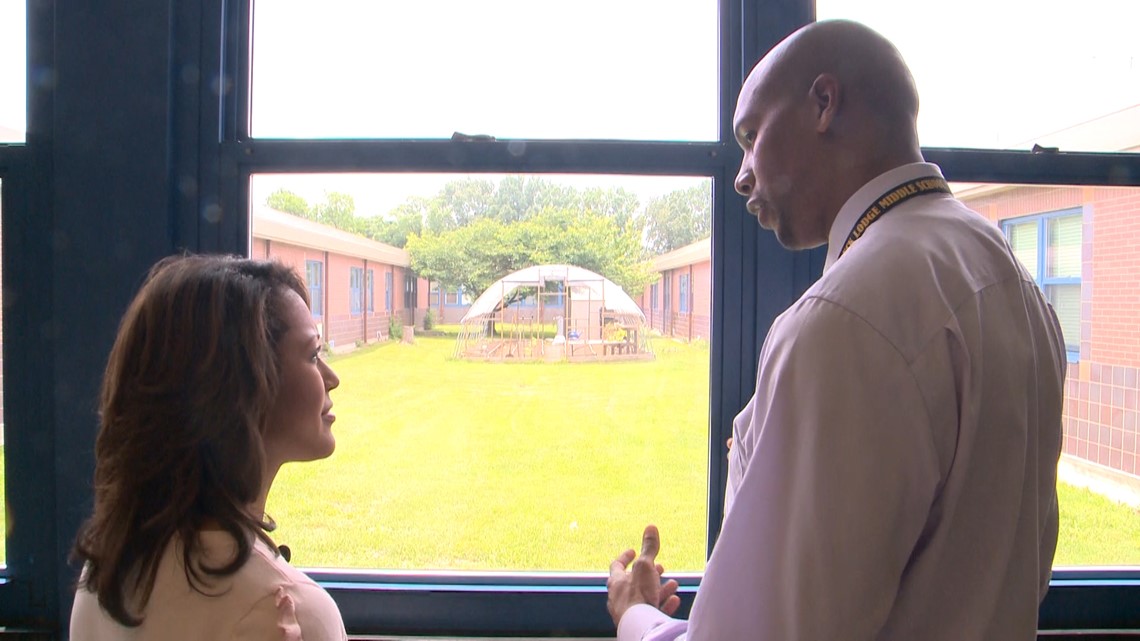 Principal Nance and Buck Lodge Science Department head, Deborah Branch, decided to take the classroom outdoors to show students the power of growing their own food. There's a greater sense of urgency around this mission at a school where food insecurity is an ever-present issue.
"The big vision that I have for our hoop house was to have our urban rangers grow tomatoes, garlic, onions and cilantro in order to create salsa," said Principal Nance. "So, then we'd create an Entrepreneurs Club to actually sell the product in the community for that whole self-sustainability piece and fundraising.".
Our WUSA9 Impact team was moved by the dual mission at Buck Lodge to create a laundry room and upgrade their hoop house. So, we got to work, with help from the community, to be "heroes" to them!
THE SURPRISE!
50 Floors donated an instant upgrade to the laundry room. The WUSA9 IMPACT team rolled up their sleeves and added some paint to the room, thanks to supplies donated from Strosniders Hardware. Plus, we got them a new washer and dryer.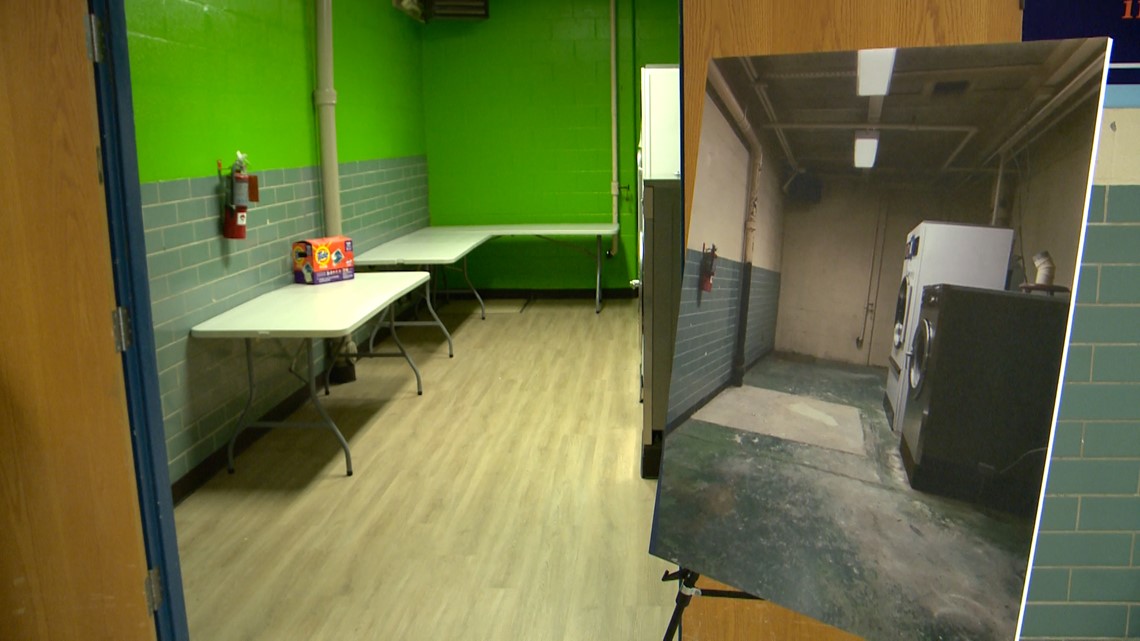 Now, it was time for the surprise!
WUSA9 Anchor and Impact Defender in Chief, Lesli Foster, gathered together with a crowd of parents and teachers at Buck Lodge to show them what we had done.
"We are gathered here today to see your new and improved laundry room! This is what it used to look like, you all remember what it used to look like? Do you want to see what it looks like now?" asks Lesli.
"Yeah," the crowd chanted.
We opened the doors to the enhanced laundry room to reveal a new space – with bright paint – and tables for folding clothes. Another washer and dryer and updated floors to hold the weight of clothes, and take away the worry of students who may need to visit.
And, our WUSA9 IMPACT team is hoping to get a great designer to paint something to inspire the students on the wall!
"I think they're going to love it, and sometimes not even having a clean uniform can really make an impact on their social well-being, so I think everybody is going to be really excited about it," said Tatiana Sandoval, the Community Coordinator for Buck Lodge Middle School.
"This is beautiful, really nice," said one parent.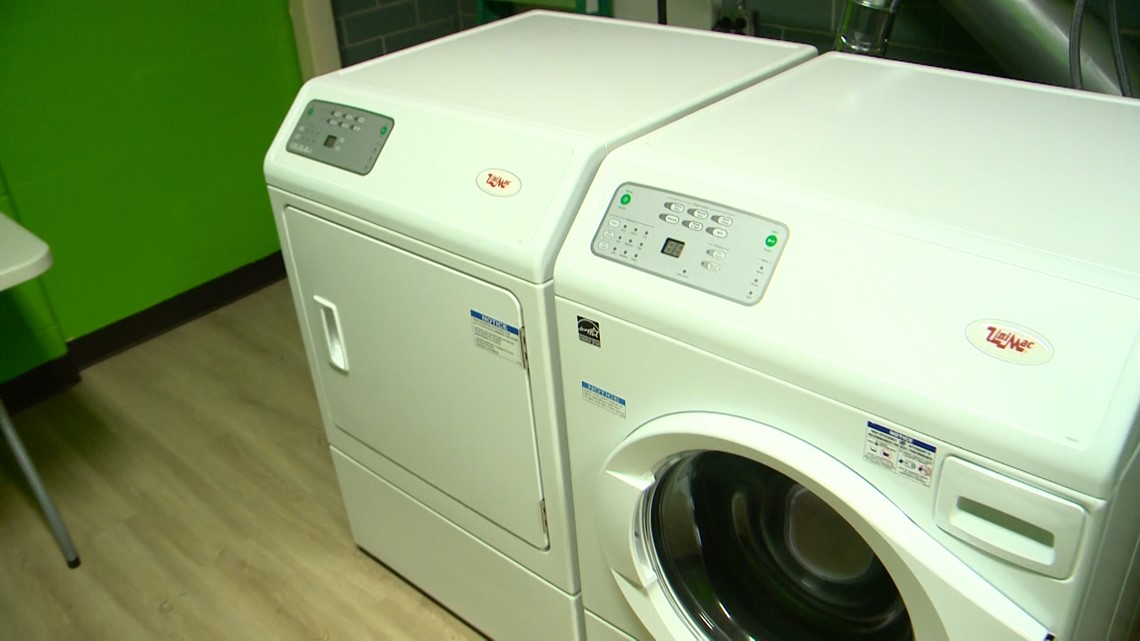 There was still one more surprise!
The old hoop house was restored to its previous glory and ready for hands and hearts to tend to the community garden within the contained space. The kids came out with blindfolds on – counted to three – and then took a look.
"It's awesome, pretty awesome, it looks great," said one student. "I love it," exclaimed another.
So many lessons here at Buck Lodge. So many reasons to teach them. So many children to learn them. And, for our Impact Team and our partners at the United Way of the National Capital Area, so many reasons to support their growth.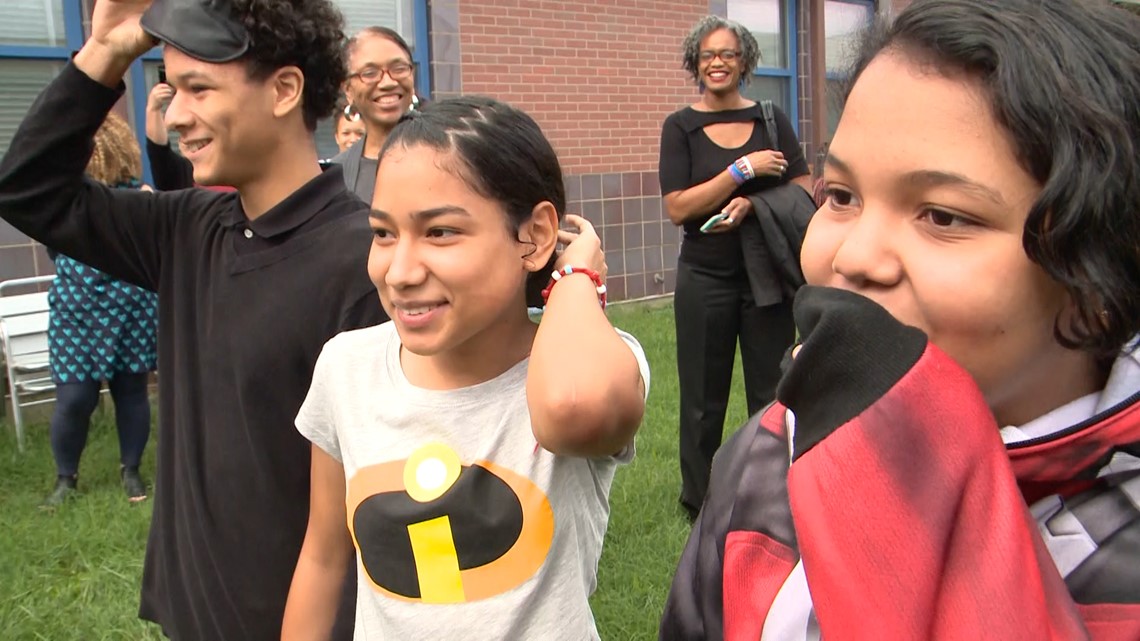 "The one thing people don't realize about gardening is that it forces you to be patient," said Principal Nance. "You can't put a seed in the ground and the end of the day, get some vegetation. You have to be patient, you have to take care of it, and the skill that they'll learn, growing food will actually last them for a lifetime."