WASHINGTON -- In just 24 hours, more than 94-hundred people stepped up to make an impact for non-profit in D.C., Maryland and Virginia. Those donations totaled over $1.4 million dollars.
"We're super excited about what's happened in the last 24 hours," said Rosie Allen-Herring, President and CEO of United Way NCA, "We're so excited about what the work will mean for the many families in need. You United Way is really overwhelmed," she said.
For most people, the season of giving is synonymous with November and December holidays, which is when a lot of nonprofits see a big boost in donations. But often those funds are running out by time May and June roll around.
That's why the United Way of the National Capital Area's Do More 24 is so important. It helps nonprofits get the donations they need to help their clients for the rest of the year.
"So many of our nonprofits really need this money to get to the finish line," said Allen-Herring.
Looking at the total, Allen-Herring was amazed. "I just proves we as a community can literally do anything," she said.
For the last seven years, the United Way NCA has helped more than 800 local nonprofits spread the word about their mission and raise critical funds over a 24-hour period of giving.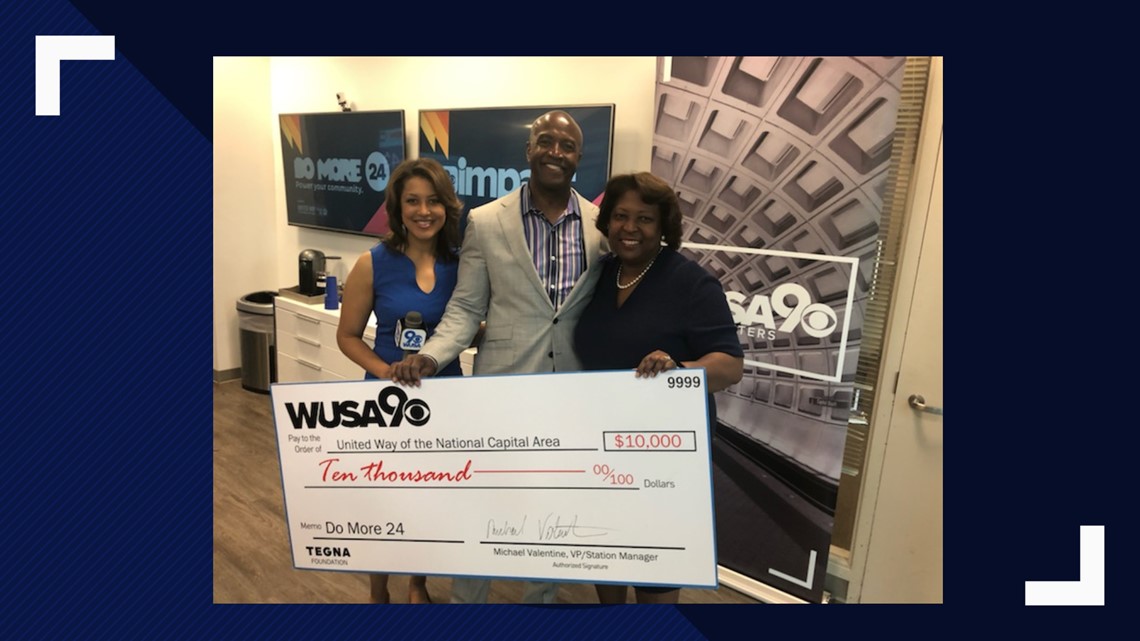 But it's also about more than just dollars.
"It really is about how many more people we can get engaged with the needs of the community," said Allen-Herring. "How many more families can we get to care? How many more neighbors can we get to volunteer? That's our gauge this time. It's really about impact."
One way to make an impact is by supporting the United Way NCA's Project Homeless Connect. The one-day event in October connects people experiencing homelessness with vital resources like health screenings, access to records like social security cards and employment assistance. Each person is assigned a volunteer to take him or her through the day.
WUSA9 is proud to partner with the United Way of the National Capital Area for 2019's Do More 24.