WASHINGTON -- Dance class was in session at Center City Charter School in Petworth. Budding performers held tight to the wall, to ledges, to whatever they can fashion into a barre for support. The school day was over, but their teacher started a new lesson.
"Plié, plié, straight down, like if the book was on top of your head," Miss Jordan instructed.
By day, Jordan Daugherty teaches her students all about music. But two days a week, when the last bell sounds and class is dismissed for the day, she starts a second round of instruction in a makeshift and modest ballet studio. They use old, used shoes for their lessons.
WUSA9 reporter Marcella Robertson went to college with Jordan. She learned about her mission to share the love of arts with her students on social media.
"And, when I saw that she was teaching her students ballet, on her own time and her own dime, I knew that I wanted to share her story," Marcella said.
And, when WUSA9 Anchor and Impact ambassador Lesli Foster saw Marcella's story, she says she thought "BOOM! Impact!"
Impact is what happens when WUSA9 journalists team up with the community to solve a problem. We weren't the only ones who wanted to help make a difference for Ms. Jordan's students.
Reston Limo donated a bus to take the budding dancers to a class at the Washington Ballet studios.
"I think it's a great opportunity for them," said driver Charles Booker. It was also a great experience for Booker. "To have that social consciousness ... to have a company that's willing to reach out and do this kind of stuff, it's a really great feeling."
As the dancers filed into the studio, they had no idea what's about to happen. The students listened attentively as a pianist for the ballet settles his fingers on the ivory and begins to play the notes that guide a class taught by principal ballerina, Ashley Murphy-Wilson.
A ballet surprise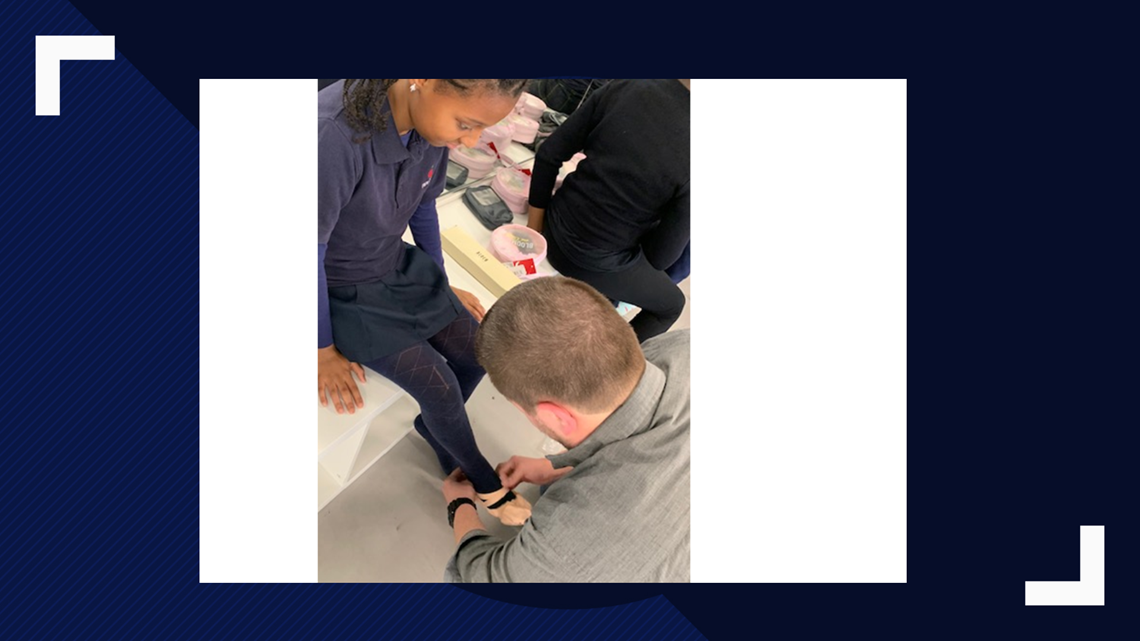 She glided across the room with a lightness and ease on her feet. And, she looks just like them.
Leaps and jumps. Twists and twirls. Murphy-Wilson lead the dancers through a master class that left them with an opportunity to behold.
Marcella said the whole experience was something so special for Ms. Jordan's dancers.
"It gave them a chance to do experience something that a lot of kids would really never get the chance to do," said Marcella.
But our Impact team didn't stop there. The next surprise would leave them with mouths agape and widened eyes. We introduced the children to the owners and staff of Footlights Dance & Theatre Boutique.
"Footlights is coming in to set you up with dance wear – we're gonna get you guys fresh leotards and tights!" said Joe Ellis.
And, Joe shared another surprise. "And after that, we're gonna get you guys all fitted in your own ballet shoes!"
The children's faces lit up and the sound of squeals of delight and "thank yous" filled the Northwest DC studio.
"When my mother started the company back in '91, it has always been her belief that every dancer, no matter the background, no matter where they come from, they should be able to experience the art of dance and be properly dressed for it," said Ellis. "It makes it all the more rewarding … because they've leaving us with the right gear, and they're going to go and enjoy class."
Barbara Berti watched as the dancers skipped across the floor. As the Public Relations Coordinator for the Washington Ballet, she knows their mission is for all children to have access to dance in the city. It was a proud moment. The ballet company believes in community outreach and in the power of self-expression.
"They felt immediately how different moving feels with the right shoes so, they'll have a great time in their next class," said Berti.
The Washington Ballet also hosted the students during the holidays to see the perennial favorite, Nutcracker production. The budding dancers got to watch the professionals rehearse and then watch the big show.
Ms. Jordan's students took a moment to soak in the day.
"I used to do gymnastics and my family wasn't really able to afford going to gymnastics classes and stuff so I think that I'm pretty grateful to be here right now and to be able to get this stuff," one of the dancers said.
"To see their eyes light up, this is all for me, this is like an amazing opportunity" said Daugherty. "A little surprise for them is a really big deal."
So many people were inspired to wrap their arms around this class. An anonymous donor even shared a $500 gift card for the school to use for a barre or a mirror. And, Center City hopes to one day have a classroom for these dancers to use their new found gear. Until then, there's gratitude for what they do have, for now.
"Thank you, so much, we're beyond grateful … I don't know if we have enough words to thank you for doing that," Daugherty said. "I hope that this transforms their perspective on dance."