GREENBELT, Md. — A multi-agency search is underway for a missing Prince George's County Public Schools elementary teacher.
Greenbelt Police say Mariame Toure Sylla, 60, was last seen in a condominium community on the 6500 block of Lake Park Drive on Saturday around 8 p.m. Neighbors say Sylla lived in the community and would always be seen walking.
A friend of Sylla told WUSA9 that the Dora Kennedy French Immersion School teacher would often walk around Schrom Hills Parks which is located across the street from where she lives. She added that Sylla had spoken to her son, and told him she was heading on a walk before sunset prayer, but she never made it to prayer.
"It's a community effort -- she is part of the community that is loved, and I just came out here to see what I could do," Melinda Conrad-Brown told WUSA9.
Conrad-Brown is a substitute at Dora Kennedy French Immersion School, where Sylla is a third grade teacher.
"She is very beloved," Conrad-Brown said. "She's the sweetest person. She's always smiling."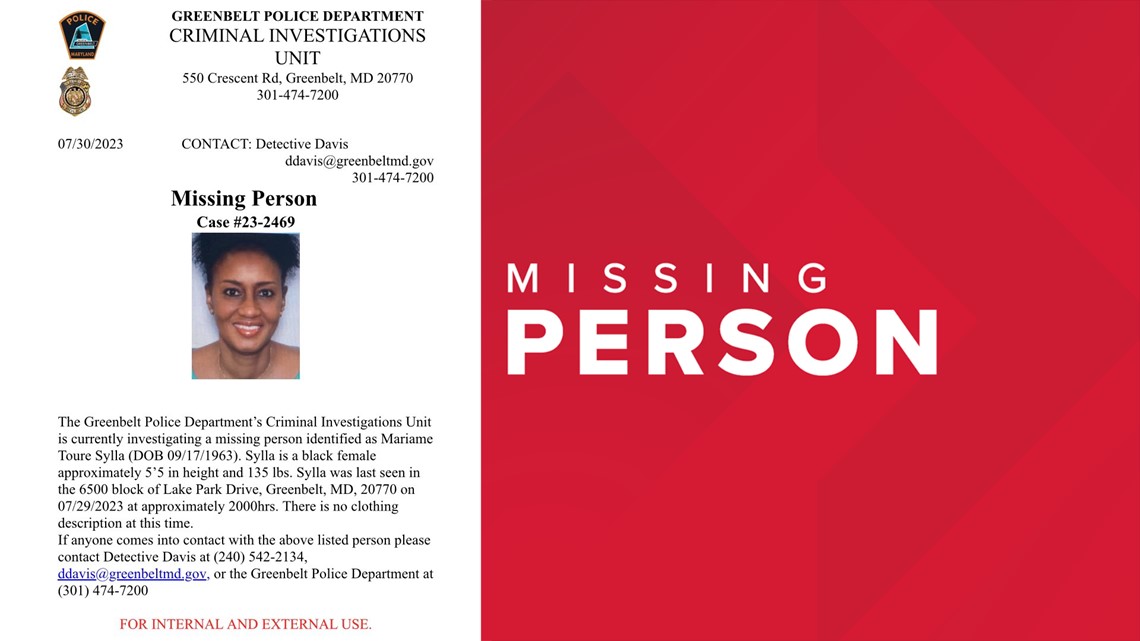 For hours on Tuesday, Schrom Hills Park in Greenbelt was closed as various agencies continued their search for the missing third-grade teacher. WUSA9 was on scene when Greenbelt Police, Maryland State Police troopers, and Laurel Rescue volunteers were looking for the missing woman. K-9 units assisted investigators.
Friends have placed missing posters in Sylla's neighborhood and at Schrom Hills Park.
So far, investigators do not suspect foul play, but there is concern because Sylla took medication that she may now be in need of.
Colleagues say she is a beloved teacher that has been with the program for over 15 years. Martha Leighty, who works with Sylla, says she was a health-conscious educator who liked to take walks with her kids and would buy them popsicles during hot weather.
Sylla is approximately 5'5" and 135 lbs. Police have not provided a description of her attire but flyers posted by friends say she was wearing a long multi-colored dress and a head scarf.
Family friends say Sylla lived in Greenbelt with her son who would fly back and forth from Africa.
If anyone sees Sylla or knows where she is, please contact Detective Davis at (240) 542-2134, ddavis@greenbeltmd.gov, or the Greenbelt Police Department at (301) 474-7200.