BETHESDA, Md. — Officials with Montgomery Parks say they are extending the county's opening of several parkways for pedestrian use through Memorial Day.
The Open Streets initiative was first launched in Montgomery County last month to expand safe access to park facilities for recreation and exercise during the COVID-19 crisis.
Portions of Sligo Creek Parkway in Silver Spring, Little Falls Parkway in Bethesda and portions of Beach Drive in Kensington are open for pedestrians and bicyclists every weekend from Friday 9 a.m. through Sunday 6 p.m. For Memorial Day, the parkways will remain open until Tuesday at 8 a.m.
"We love it," Colleen Fahey said. She lives in Bethesda. "We've been coming down to bike rides every weekend for the last couple of weeks, so it's really nice."
Sections of the parkways open for walking, running and biking include:
• Little Falls Parkway from Massachusetts Ave. to Arlington Rd. (1.3 miles)
• Beach Drive from Connecticut Avenue to Knowles Avenue (2.7 miles)
• Sligo Creek Parkway (2.6 miles)
o Old Carroll Avenue to Piney Branch Road
o Forest Glen Road to University Boulevard
Previously, the county had closed sections of Sligo Creek Parkway on Sundays from sunrise until sunset to allow for nonmotorized vehicle and pedestrian use of the parkway.
"We've received an outpouring of support from the public for the open streets program. I've enjoyed seeing so many residents get outside to exercise to support their physical and mental health. It's very encouraging that we are seeing park users following the recommended physical distancing guidelines to foster a safe and healthy environment for everyone," said Mike Riley, Director of Montgomery Parks, in a news release.
"It helps relieve the crowds on the Capital Crescent Trail, so we're happy to have it open," JoAnn Symons said. She, too, lives in Bethesda. "We wish they'd continue it year round."
Not everyone is happy about the closed off streets, though. Some neighbors told WUSA 9 that now, people are driving in and using their parking spaces. Others said they found masks and latex gloves littering the ground, causing more of a headache than it's worth.
The Maryland-National Capital Park and Planning Commission said as long as the street doesn't require permits, drivers have the right to park there.
The Commission's spokesperson said if neighbors see littering, however, they should report it to Park Police.
Montgomery Parks placed signs along the roads, reminding drivers of the change and pedestrians to stay six feet apart when using the parkways.
"Most people are pretty good about keeping their distance," Fahey said. "Not everybody's wearing masks."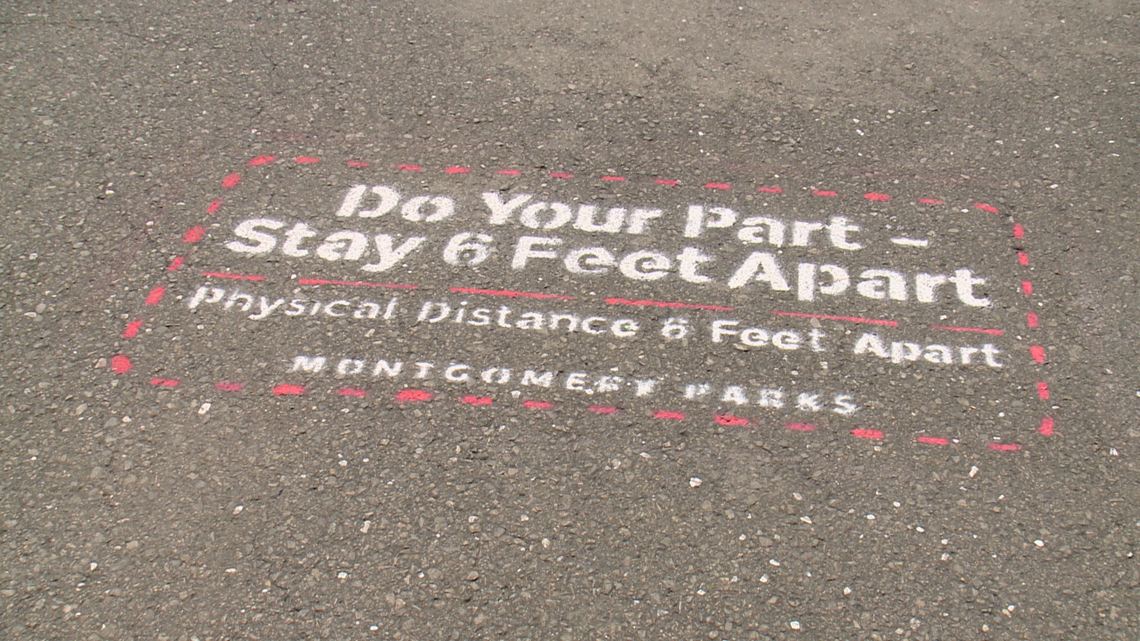 Over in Virginia, Arlington County reopened its 148 parks this weekend. But, Saturday morning at least, the parks didn't draw any large crowds.
Still, some believe quarantine life has created a craving for fresh air.
"I think in the end what's going to happen is people are going to appreciate the outdoors much more down the road once hopefully this thing is gone," Mike Davidson. He lives in Bethesda.
Residents in D.C. have asked Mayor Muriel Bowser to institute similar street closures to help with social distancing and outdoor seating at restaurants once the District begins phase one of reopening, which could happen as early as May 29.