Rescue crews in Montgomery County responded to hundreds of calls during Friday's windstorm, and one family said they are lucky to be alive.
"It's pretty shocking," Claudia Balla described a scary situation.
A colossal tree ripped from the ground on Clarendon Road in Bethesda.
RELATED: 300 people displaced after partial building collapse in Suitland
"The tree just fell right on top of us," Pamala Balla recalled.
Pamala and Claudia Balla were driving when the huge tree trunk slammed through their windshield.
The mother and daughter told WUSA9 they panicked before figuring out how to save themselves.
Pamala Balla climbed out of a back window and helped her daughter escape the vehicle.
RELATED: Damaging winds hit on Friday, gusts over 45 mph into Saturday morning
"When the police came they were like I'm very surprised that you're alive because we expected someone dead in the passenger seat," Claudia Balla said.
The mother and daughter survived with minor injuries.
"A few cuts and glass in my head," Pamala Balla explained.
Trees fell all over Montgomery County and left some neighbors happy to clean up the mess.
"The firewood falls from the sky," Brian McQuade said.
PHOTOS: Damage from strong winds in the DMV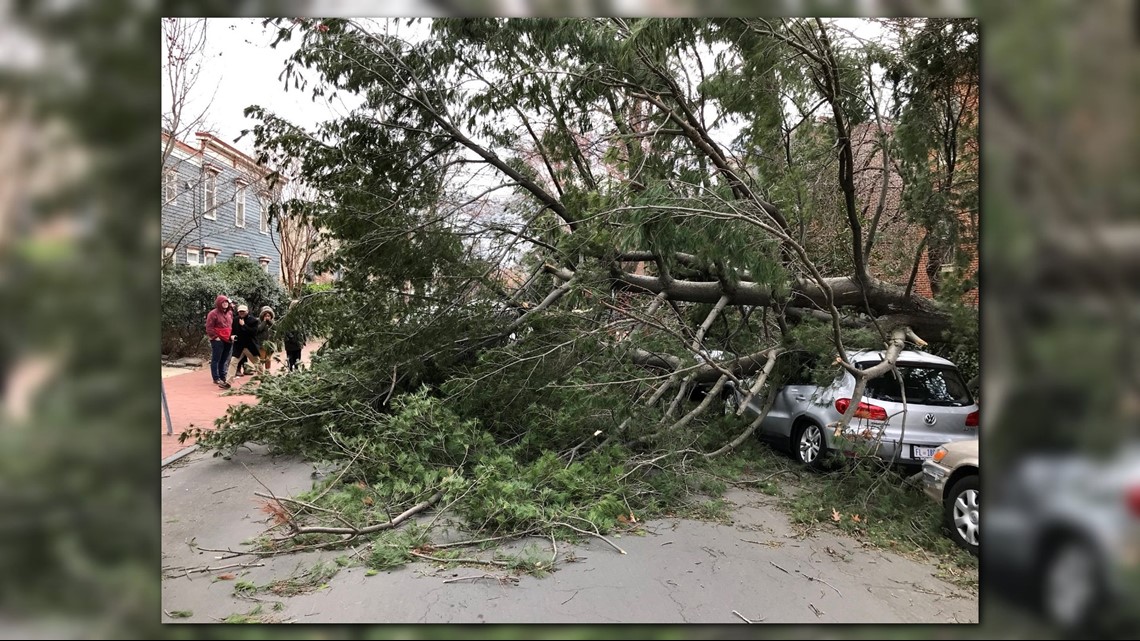 However, other residents were forced to sit in the dark.
"I was just hoping the electricity wouldn't be off," Doug Davies said. "Well, it went off just a little while ago."
Crews also worked to fix traffic lights and to return things back to normal as the Balla family coped with an abnormal experience.
"Thank God they're not hurt. Just thank God," Steve Balla said.