BETHESDA, Md. -- The U.S. Navy said "improper use" of the alert system led to active shooter alerts being sent out Tuesday afternoon at Walter Reed National Military Medical Center. Officials later said the active shooter reports were unfounded.
A tenant command accidentally enacted the notification system while preparing for a planned upcoming drill, the U.S. Navy said in a series of tweets. The alerts, however, did not contain the words "exercise" or "drill."
After the initial report, around 2:15 p .m., the Pentagon said the incident was just a drill. Around 4:20 p.m., the Naval Support Activity Bethesda (NSAB) said the report of an active shooter was a false alarm and not part of a scheduled drill. After a call came into security around 2 p.m., NSAB said security found no indication of an active shooter.
According to the U.S. Navy, it was people who saw the alert that notified security.
Multiple sources said all patients and staff were moved to secure locations and were advised to remain on lockdown until notified by security, who instituted an installation-wide active shooter response.
Around 3:30 p.m., Walter Reed Bethesda said the hospital was secure from a Code White and hospital operations would continue as normal. According to dcmilitary.com, a Code White is exercised to ensure staff know what to do in the case of an active shooter.
An all clear was given at Walter Reed at 3:17 p.m., Pentagon officials told WUSA9.
Even though the incident was confirmed to be an exercise training, there was a lot of confusion about what was happening at Walter Reed. People on Walter Reed's campus said they did not know it was a drill. Some people were reaching out to their families to confirm their loved ones safety.
For many patients, including those suffering from post-traumatic stress disorder (PTSD), events like this situation can cause additional concern and trauma, especially with no evidence of an actual active shooter.
PHOTOS: Reports of active shooter at Walter Reed was a drill, Pentagon says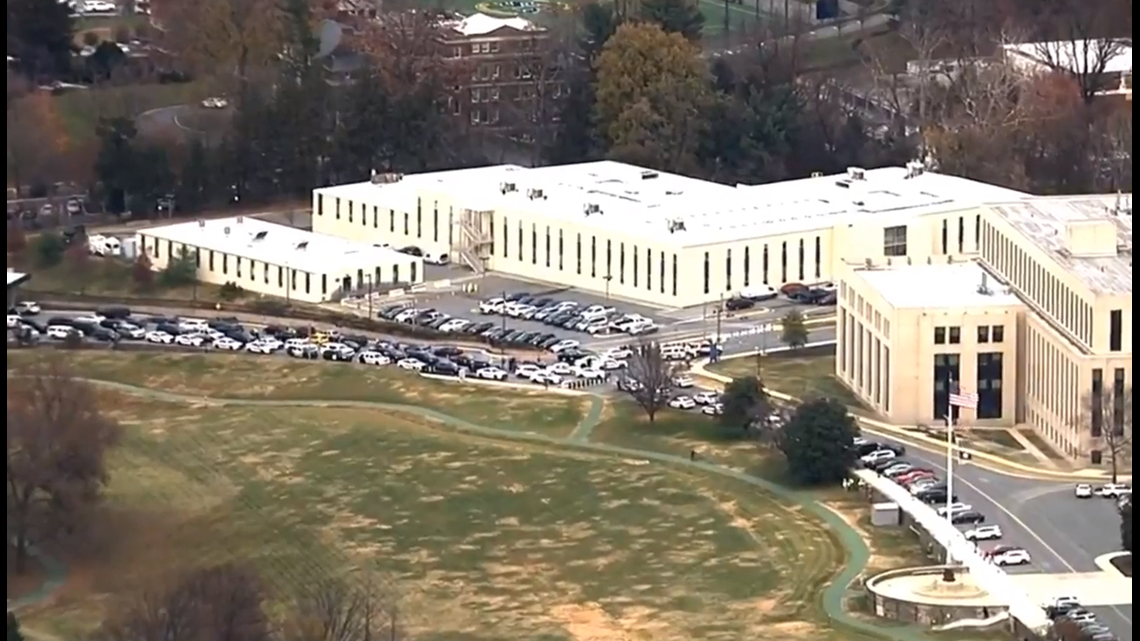 People expressed outrage and concern that the situation was not properly handled and communicated.
"Why didn't someone just tell me what was going on?" one person asked WUSA9's Michael Quander.
Many people criticized Walter Reed for not notifying people earlier about what exactly was going on.
The U.S. Navy tweeted that they were aware of the report of an active shooter, but WUSA9 has since learned that there is no threat.
Montgomery County police tweeted that officers arrived at the scene around 2:20 p.m. to assist with the incident.
Rep. Dutch Ruppersberger, D-Md. 2nd district, said via Twitter that he was safe after being told of reports of an active shooter. Ruppersberger Spokesperson Jaime Lennon said Ruppersberger was very angry and that the incident was very confusing.
"Someone messed up. This was not done properly," Ruppersberger said.
People were reporting that conflicting emails were being sent out on Tuesday addressing the incident at Walter Reed. Some emails say "exercise active shooter" and some say "this is not a drill."
Before the Pentagon officials confirmed otherwise, people inside the hospital reported being on lockdown and being afraid for their lives without knowledge of the drill.Tweets from possible hospital employees began appearing on Twitter around 2:15 p.m.
Walter Reed Base Map by WUSA9-TV on Scribd